Teacher Job Satisfaction Hits 25-Year Low
Is this the reason for our ailing education system?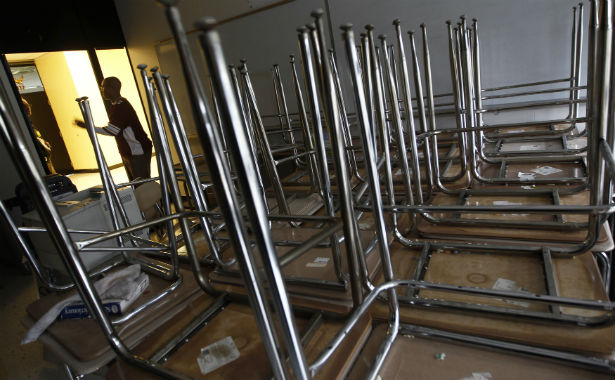 Jim Young/Reuters
A new survey paints a troubling portrait of the American educator: Teacher job satisfaction has hit its lowest point in a quarter of a century, and 75 percent of principals believe their jobs have become too complex.
The findings are part of the MetLife Survey of the American Teacher: Challenges for School Leadership. Conducted annually since 1984, the survey polled representative sampling of 1,000 teachers and 500 principals in K-12 schools across the country.
Only 39 percent of teachers described themselves as very satisfied with their jobs on the latest survey. That's a 23-percentage point plummet since 2008, and a drop of five percentage points just over the past year. Factors contributing to lower job satisfaction included working in schools where the budgets, opportunities for professional development, and time for collaboration with colleagues have all been sent to the chopping block.
Stress levels are also up, with half of all teachers describing themselves as under great stress several days per week, compared with a third of teachers in 1985.
"This news is disappointing but sadly, there are no surprises here. Teacher job satisfaction will continue to free fall as long as budgets are slashed," said Dennis Van Roekel, president of the National Education Association. "Educators are doing everything they can to provide the best education possible for their students, but the rug just keeps getting pulled out from under them."
Dana Markow, vice president of Harris Interactive - which oversees the MetLife survey - says while it might seem logical to place much of the blame for the drop in job satisfaction on the recession, there's more at work here. Here's what Markow told me (read the full interview here):
"Factors other than simple economic pressures may have a role, such as the support they receive from school leadership and their colleagues. Teachers with higher job satisfaction are more likely to rate the job their principal is doing as excellent and to rate the other teachers in their schools as excellent, and they're less likely to say their time to collaborate with other teachers has decreased."
Teachers in the survey were significantly less likely to get a rating of "excellent" from their principals and peers if they worked at a school with a large population of students from low-income families. The excellent ratings ranged from 48-51 percent at the poorer campuses, compared with 73-75 percent at school serving more affluent student populations. That lines up with criticism from advocacy groups such as the Education Trust, which contends that the neediest students often get the weakest teachers.
Ed Trust "has long been concerned about our most vulnerable students - those from low-income families and students of color -- are not getting access to the same quality of teaching as their more affluent peers," said Sarah Almy, the organization's director of teacher quality.
So what's the solution? The way to get more effective teachers into higher-poverty schools "is making those schools places good teachers want to go and stay," Almy told me. "Some of the reasons why teachers are dissatisfied (on the survey) relate to opportunities for leadership and collaboration -- things we know are really important, and things that high-poverty and low-performing schools can and should be addressing."
I had to wonder what the low job-satisfaction numbers might mean for the pipeline that turns classroom teachers into school leaders. But Markow says that based on the survey, job satisfaction doesn't appear to be a dominant factor in a teacher's decision to become a principal. As for the principals, while there's been a decline in job satisfaction for them as well - to 59 percent from 68 percent in 2008 -- there wasn't a corresponding jump in the percentage who said they were planning to leave to the profession.
(For more on the pipeline issue, check out my interview with Jody Spiro, director of educational leadership for the Wallace Foundation, regarding their new report on the hallmarks of effective principals. There was also an interesting panel discussion recently at the American Enterprise Institute on "Cagebusting Leadership.")
As for the majority of the surveyed principals - 77 percent - believing they were prepared well for their responsibilities, Spiro called that finding "important - and perhaps surprising." In an emailed response to a request for comment, Spiro said that:
"The quality of preparation programs for principals seems to be improving, many based on research-based principles of what makes such programs effective. There is still a long way to go to improve the quality of these programs throughout the country, but this feedback from principals is a good start."
This year's survey also contained new questions about the Common Core State Standards, which are being put in place in 46 states. About half of all teachers and four out of every 10 principals say they're very confident they can successfully implement the new standards. But at the same time, a much smaller percentage of educators - ranging from 17 to 24 percent - believe the new standards actually will improve learning, or make students better prepared for the rigors of college or the workforce.
Markow of Harris Interactive said she's interested to see "if those confidence levels will perhaps be tempered by the reality of the actual implementation. I think some of it is perhaps a 'show me' situation - they'll have more confidence if they see results."
While many of the survey's findings could be characterized as negatives, there are some silver linings. Markow said there are some positive associations between high quality school leadership and strong student achievement. Teachers who rated their principals as "excellent" were also more likely to report that their students were performing at least at grade level in reading, writing and math. The same teachers were also less likely to say it was challenging for their school to maintain an adequate supply of effective teachers, to help struggling students, or to engage parents and the wider community. And that, says Markow, is "very good news."
---
This post also appears at The Educated Reporter, an Atlantic partner site.