Skull & Bones: It's Not Just for White Dudes Anymore
The Yale secret society that helped launch the careers of John Kerry and George W. Bush may finally be shedding its elitist image.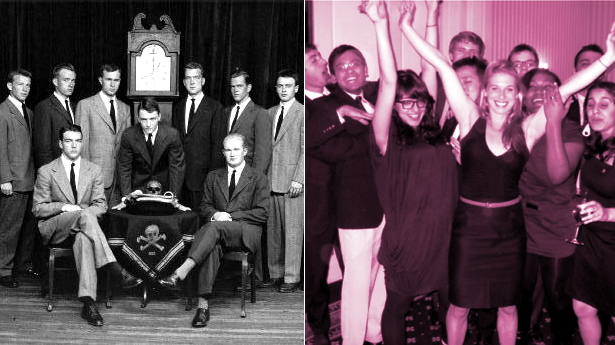 Yesterday, John Kerry embarked on his first trip abroad as secretary of state. The foreign dignitaries he meets will be aware of many of his accomplishments -- from his service in the Vietnam War to his ascent to chairman of the Senate's powerful Foreign Relations Committee -- but they may not know of a peculiar honor that was bestowed upon him during his junior year at Yale: membership in one of America's oldest secret societies, Skull and Bones.
Whatever else is secret about Yale's famed -- or notorious -- society, the reach of its network is not. Presidents William Howard Taft, George H.W. Bush, and George W. Bush were all members. So were Supreme Court Justice Potter Stewart, Time magazine founder Henry Luce, and an assortment of CIA officials, Fortune 500 CEOs, and politicians who, like Kerry, have had the president's proverbial ear.
For generations, the organization's alumni corps has granted a coterie of white, privileged, predominately heterosexual men easier entry into the upper echelons of American society.
But that was then. More recently, the organization has become the antithesis of what it was when Kerry joined in 1966: Racist, sexist and elitist practices have been jettisoned in a rush towards more egalitarian standards. Yale's famous old boys' club has become a mélange of minorities, genders, and sexual identities that's less dynastic and more dynamic than ever.
Fifteen Yale seniors are tapped annually to join the ranks of Skull and Bones, their names published in the Yale tabloid Rumpus at the end of every school year. The class of 2010 included more ethnic minorities than Caucasians; 2011's delegation included two gay students, plus one bisexual and one transgender. Last year, women and men were equally split, according to Yalies familiar with the members.
"We try to come up with a group that is representative of the diverse social elements Yale offers," says a Bonesman from recent years.
Because members take an oath of secrecy, persuading one to speak to the press is as difficult as getting a lawyer to break attorney-client privilege. About five percent of the 200 members contacted for this article agreed to interviews, but only on the condition that their names and graduation dates would not be disclosed.
The organization's seismic shift also affects the way new members are selected. Bonesmen now actively seek out diverse candidates, in some cases to atone for their predecessors' role in shunning them.
"Some of us wanted to undo certain attitudes of the past," says E., a woman selected in the 2000s. "We wanted to actively negate them."
The organization's omertà-like code dates back to 1832, when Yale student William H. Russell created the Order of Skull and Bones after visiting an occult society in Germany. Returning to campus, he used that organization, in which secrecy was paramount, as a blueprint for his own.
That mystery has led to allegations of malice. Chief among critics was Antony Sutton, a historian who wrote a Skull and Bones exposé in 1986 called America's Secret Establishment that's become cyber catnip for conspiracy theorists. The book argued that old-line families in the Order were trying to transform America into a Bonesmen-run dystopia.
However, everyone interviewed for this article disagreed with his thesis. "We weren't inducted into an Illuminati-like society that guarantees our success," says E. "None of us plan to establish a 'New World Order.'"
What they have done, since the Order's inception, is meet two evenings a week. They spend one of the nights socializing and the other debating cultural and political affairs. Since 1856, they've assembled in a brown sandstone mausoleum known as the Tomb -- a crypt-like, windowless structure that non-members are forbidden to enter. Skeletons, skulls, and other ghoulish objets d'art adorn the interior walls, along with portraits of distinguished members.
For more than a century, these Bonesmen were all white men. Even in 1964, the year of the landmark Civil Rights Act, Skull and Bones failed to induct an African American. The discrimination didn't go unnoticed: Future Senator Joe Lieberman declined a tap that year because of it. "The changes this year were not sufficiently significant," he wrote in his letter of rejection. Instead, he joined a society called Elihu, which was known for its progressive practices.
"Worries of a lack of diversity died in realizing that the group will range from a Catholic Socialist to a fat cat, St. Paul's, Fence Club type," Lieberman wrote.
The following year, the Order inducted Orde Coombs, a black student and herald of racial equity. "Skull and Bones wanted to tap campus leaders," says Barrington Daniels Parker Jr., a federal judge who was Coombs' classmate, "and Orde was a big man on campus."
Though the group's policy banned women, it didn't include racial restrictions, Bonesmen say. "Orde was chosen because he was a smart, interesting guy who happened to be a minority," says a Bonesman from his class. "He became my first real African American friend." Most of the delegations that followed upheld the precedent, but African Americans were tapped only in token numbers.
It was Coombs' club that tapped a trophy-winning debater who was president of the Yale Political Union: John Kerry. At the time, such accolades were often rewarded with membership: the Yale Daily News editor(Lieberman), the football team captain, and the student council president were Bones shoo-ins.
So were legacy taps. George W. Bush was the seventh Bush scion to enter the Order, a result of his family lineage, Bonesmen say.
By the 1960s, dozens of Yale secret societies had been created, and all but three --Skull and Bones, Wolf's Head, and Scroll and Key -- admitted women shortly after the university turned co-ed in 1969. Though the Bonesmen of 1971 proposed women's integration, older alumni balked at the plan.
The Order suffered an unprecedented decline for years thereafter. New Haven had become a hotbed of student activism where patriarchal values were offensive. Increasingly, top Yalies rejected Bones bids in favor of more progressive societies. In 1986, when Kerry personally tapped Jacob Weisberg, now editor-in-chief of the Slate Group, Weisberg responded, according to Alexandra Robbins' book
, "You're a liberal -- why do you support this organization that does not admit women?" Like Lieberman, Weisberg joined Elihu instead.
"There were rituals that some women would find offensive," says a Bonesmen from the 1960s, who refused to elaborate. "Some [alumni] wanted to fight to make sure those traditions didn't have to change."
The Bonesmen of 1991 wrote a letter to their alumni saying the society had become known as "flagrantly discriminatory and bigoted," according to Robbins' book. In a spat that made national headlines, members past and present voted to settle the issue. When the pro-women faction won, dissenters led by conservative icon William F. Buckley obtained a court order that negated the measure. But Buckley's troop lost a second society-wide vote, and the first Boneswomen entered the Tomb.
Now, like Congress, the Oval Office and the U.S. military, the Order has reached new levels of diversity, in part because today's Bonesmen want to quash any remaining vestige of exclusivity.
"The stereotype of the society as a bastion of white-male privilege has survived for way longer than it was true," says a Bonesman from the mid-1990s.
Members are fond of saying their delegations reflect Yale's diversity: about 58% of Yale students accepted in 2011 were white, down from around 73% in 1995. The LGBT increase is harder to gauge, but anecdotal evidence depicts a clear progression.
"When I first arrived at Yale in 1998 there were straight students who chose not to take courses on gay history for fear they would be presumed gay," says Professor Marianne LaFrance, a social psychologist in Yale's Women's, Gender and Sexuality Studies department. "But now they're some of the most popular classes."
With gay rights at the forefront of America's political discourse over the past decade, Yale's secret societies have striven to include LGBTs, to the point that some members have felt tokenized.
Rachel Schiff, who helped head Yale's LGBT Co-op in 2009, says she felt she was selected by another of the university's oldest secret societies for the wrong reason. "There was a part of me that knew even if I was an amazing campus leader, some folks may have been interested in me primarily because I could fulfill their LGBT quota," she says.
Though Skull and Bones doesn't set actual quotas, its recent classes usually divide equally between men and women and almost always include Hispanic, Asian, African American, and LGBT students. The merit and legacy-based tap lines of old have greatly diminished. Instead, Bonesmen pursue the leadership of Yale's culture houses, like the Black Student Alliance and the LGBT Co-op.
Once admitted to the Tomb, each member delivers an oral autobiography, a time-consuming event meant to forge friendship. In recent years, the Bones crypt has transformed into a forum where women and racial and sexual minorities express their struggles (scenes that may have Bonesman William F. Buckley Jr. turning over in his grave). Hispanic members have explained they've felt like second-class citizens; Arabs have revealed incidents of Islamophobia; women have confessed to bouts of bulimia; and gay students have affirmed how hurtful epithets like "fag" can be, Bonesmen report.
C., a Bonesman from the 2000s, realized he had made an ignorant misjudgment during one the "bios." He'd developed a tense relationship with a Hispanic student who lived in his dormitory. C. was a popular athlete, dismissive of his neighbor's social awkwardness.
"He told us he was taught it was disrespectful to look people in the eyes," says C. "I knew he was partially talking about me when he said he felt people thought he was either stupid or shy because of it."
When Bush and Kerry were vying to become president in 2004, some critics berated them for Skull and Bones' history of discrimination, arguing they belonged to an establishment with little respect for democratic values. If a Bonesman from the Millennial generation runs for high office, it's unlikely he, or she, will be criticized for the same reason.