On the Atlantic's Scientology Ad (and Aftermath)
I agree with (my former Atlantic colleague) Andrew Sullivan that the bright new age of "sponsored" online content creates all kinds of challenges for publications, readers, and even advertisers.
But his chronology today on his site, about the Atlantic's policy on these ads, is off in an understandable but significant way. You can read his sequence of "quotes for the day"
here
. For the record, the actual sequence was this: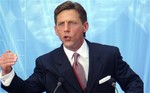 - On January 14, the Atlantic ran an unfortunate "sponsored content" / advertorial from the Church of Scientology lauding its leader David Miscavige (right), which is no longer available on line.
- Later that same day, the magazine pulled the ad and
ran a statement
that began "we screwed up."
- The next day, I
posted an item
(following one
from Ta-Nehisi Coates
) saying that the ad had been a mistake of both concept and execution. I also said, echoing the official statement, that we were starting a review of our ad policies in light of everything that was in flux in the online age.
- A few days later, in a morale-boosting internal email never meant for general circulation, the Atlantic's president Scott Havens
said that
ad had been a mistake of execution only. That note was immediately (and inevitably) leaked, and was widely and mistakenly taken as the result of the promised ad-policy review. In fact the review had barely started. Scott Havens was just trying to be nice to people on our staff.
- Havens's email is the one that Andrew has posted, juxtaposed with mine, to suggest disagreement in the ranks.
- The actual revised advertising policy, which is different from that internal email, is now available. If you're interested,
here it is,
the official "Advertising Guideline" memo that the magazine's business staff has produced in the wake of the Scientology flap. Two points of particular relevance to the discussion Andrew and Ben Smith of Buzzfeed
have kicked off
:
The Atlantic will not allow any relationship with an advertiser to compromise The Atlantic's editorial integrity.
All advertising content must be clearly distinguishable from editorial content. To that end, The Atlantic will label an advertisement with the word "Advertisement" when, in its opinion, this is necessary to make clear the distinction between editorial material and advertising.
I realize that Andrew Sullivan misunderstood, rather than misconstrued or misrepresented, the sequence of views on the Atlantic's site. All publications are trying to figure out how to stay afloat, and how to keep their honor and principles while doing so. I admire the new model Andrew has set up for his site. We're trying our best here too.