'Imagine the Worst Possible Scenario': Why a Guantanamo Prosecutor Withdrew From the Case
Lieutenant Colonel Stuart Couch truly believed Mohamedou Ould Slahi was guilty. He also believed that Slahi's interrogators had broken the law — tormenting him physically and sexually, and threatening the gang-rape of his mother.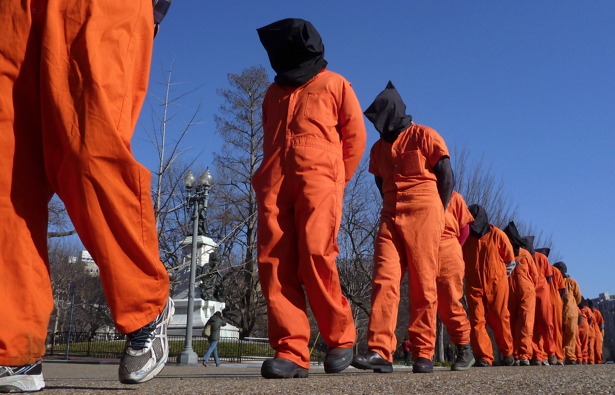 Stuart Couch had been waiting nearly two years to start this job. He had been waiting since September 11, 2001.
Couch, a lieutenant colonel in the United States Marine Corps, was a military prosecutor. When President George W. Bush decreed that the 9/11 perpetrators would face trial by military commission, a form of martial justice last used against German and Japanese war criminals following World War II, Couch had volunteered for the mission.
Arriving at Guantanamo in October 2003, Couch was startled by an unlikely sound: grating, blasting, heavy-metal music. He went to look into the commotion. Perhaps some off-duty guards were fooling around with a boom box, he thought.
With his escort trailing behind, Couch followed the music toward an open door, where a strobe light's flash was spilling into the corridor.
Couch turned into the doorway. He froze.
On the floor, amid the flashing lights and the deafening metal sounds, was a shackled detainee, kneeling, mumbling, rocking back and forth. Praying. This man was in agony.
Let the bodies hit the . . . floor! the song roared. Beaten, why for (why for).
Couch suddenly noticed that two men in polo shirts — apparently civilians, judging by their hair length — also were in the room. They planted themselves in the doorway, blocking his view.
"Can I help you?" one of the men shouted over the music. They looked to be in their late 20s or early 30s. Neither seemed particularly fit, nor were they groomed like military men. One wore hair mousse. The other, the fatter one, had a chin-beard.
"I'm Lieutenant Colonel Couch, and I'm trying to have an interview over here," Couch said. "You guys need to turn that down."
The men shut the door.
That scene was still resonating through Couch's mind when he met with his CITF investigator. The top priority was Mohamedou Ould Slahi — the detainee, Couch concluded, with "the most blood on his hands."
Born around 1970, Slahi, a military interrogator later said, was "bright, capable, likable." Slahi knew Arabic, French, and German when he arrived at Guantanamo and picked up casual English by his second year at the prison.
This sophistication was remarkable, given that Slahi came from simple circumstances in Mauritania. He was the eighth of a camel herder's 13 children. After his father died, Slahi's mother kept the family together. Mohamedou revered her.
In 1988, Slahi won a scholarship to study in Germany. He was the first in his family to attend university — or fly on an airplane. He studied computers, electrical engineering and microelectronics.
"He was supposed to save us financially," his younger brother Jahdih later said. On a visit home, Slahi brought toys, cameras, and soccer balls.
"It was very clumsy," Slahi later said, "but they wanted to give the message that 'We are watching you.'"
But Slahi spent much of 1990 through 1992 in Afghanistan, one of many Arabs helping fight the Communist regime in Kabul. He trained at the al Farouk camp, took the alias Abu Masab, and pledged allegiance to Osama bin Laden.
After the Communists fell, Slahi returned to Germany, where over the next six years he ran low-profile businesses that U.S. intelligence later suspected were al Qaeda fronts to launder money and recruit fighters. After making the hajj, the pilgrimage to Mecca required of Muslims, Slahi moved to Canada and became a prayer leader at a mosque in Montreal.
Western intelligence agencies had been aware of Slahi before the Millennium Plot, which involved plans to bomb the Los Angeles airport and four popular tourist sites in Jordan. When Ahmed Ressam was arrested for his role in the plot in December 1999, intelligence officials learned that he belonged to the Montreal mosque where Slahi led prayer services.
Canadian authorities questioned Slahi, sent officers to his mosque, and put a police car on his tail. One night, Slahi later said, he was awoken by agents drilling holes into his third-floor apartment to plant surveillance cameras. He called the local police station, saying his neighbor was spying on him; the police suggested he cover the holes with glue.
"It was very clumsy," Slahi later said, "but they wanted to give the message that 'We are watching you.'" He moved to a room at the mosque, but the surveillance continued.
Tired of constantly having "people right behind me, at the market, watching my butt," Slahi decided to return to Mauritania. The FBI tracked his itinerary: flying via Brussels to Dakar, Senegal, where his brothers were to pick him up for the 270-mile drive north to Nouakchott, the Mauritanian capital.
At Washington's request, Senegalese police arrested Slahi when he landed. He was questioned about the Millennium Plot and his jihadist past, but denied everything. Four days later, the Senegalese put Slahi on a private plane to Nouakchott, where he was arrested again.
An American team came to interrogate Slahi. He continued to deny wrongdoing, and after three weeks the Mauritanians released him. "The Americans keep saying you are a link," Slahi later said Mauritanian officials told him. "But they didn't give us any proof, so what should we do?"
After 9/11, American agents went back to question Slahi in Nouakchott. One struck him with a plastic water bottle and threatened torture, Slahi said. The next month, Mauritanian intelligence called Slahi in for more questions.
Why not flee?
"Maybe I'm stupid, I don't know," Slahi later said. "I went to the police and said, 'Why do you want me?' They said, 'Please don't worry, it is just formalities.' "
After a week in jail, however, he learned he was being sent to Jordan. This was disturbing, Slahi thought, because "the Jordanians have [a] very bad reputation when it comes to treatment of detainees."
"Can you turn me over to the United States?" he asked. "What do I have to do with Jordan? Turn me over to America."
"The United States wants you to be turned over to Jordan," he was told.
"Then, man," Slahi said, "what happened to me there is beyond description."
Jordanian agents pressed him on the Millennium Plot. One "struck me twice in the face on different occasions and pushed me against concrete many times because I refused to talk," Slahi said. "He threatened me with torture" and pointed out another prisoner, "this guy who was beaten so much he was crying, crying like a child." As the months dragged on, Slahi said, he lost so much weight that he looked "like a ghost."
In July 2002, U.S. agents showed up to retrieve him.
"They stripped me naked like my mom bore me, and they put new clothes on me," Slahi said. Aboard the plane, he was chained in place and fitted with a diaper. "I had to keep my water for eight hours straight," he recalled. "Psychologically, I couldn't [urinate] in the diaper. I tried to convince myself that it was okay, but I couldn't and I was exploding [on the inside]."
Slahi figured he would be returned to the Germans. "I was happy, because [I] know Germany and I think Europe is a lot more liberal than America," he said. "I thought they were going to ask me a few questions and then I would go to jail and I will be all right."
When Slahi arrived at Guantanamo, the FBI insisted on taking charge. For several months, he was questioned exclusively by FBI and CITF investigators, who generally followed their law enforcement training.
"The FBI guy said, 'We don't beat people, we don't torture. It's not allowed,"' Slahi said. "I was, every once in a while, taken to interrogation. Okay, so far so good."
Up until this point, Slahi was considered a Qaeda operative linked only to the Millennium Plot. Then, in Pakistan, Ramzi Binalshibh was captured. At Guantanamo, things "changed drastically," Slahi said.
Binalshibh told officials that in 1999, he had been on a train in Germany with Mohammed Atta, Marwan al-Shehhi, Ziad Jarrah, and Ramzi when they were approached by a fellow Arab who noticed their pious beards. They discussed Chechnya, and jihad.
Later, Binalshibh and Shehhi telephoned the man about joining the fight. He referred them to Slahi, who told them to come to Duisburg. Once they arrived, Slahi provided instructions on obtaining visas, contacts, and a connection in Karachi for travel to Afghanistan.
After Binalshibh disclosed the Duisburg meeting, Slahi suddenly became "the highest value detainee" at Guantanamo, "the key orchestrator of the al Qaeda cell in Europe," a brigadier general later testified.
Slahi's interrogators were under pressure. Stop "playing games," the FBI man told Slahi. "I am advising you to just tell the truth." But Slahi stuck to his story.
On May 22, 2003, the FBI interrogator "said this was our last session. He told me that I was not going to enjoy the time to come," Slahi said. It sounded less like a threat than a lament. Once military interrogators take over, you won't "be invited to tea and snacks," the agent said.
"I don't care," Slahi said. "Goodbye, good friend," the agent said.
The Defense Intelligence Agency had its own plan for Slahi. A January 2003 agency memorandum listed "interrogation tools" that included yelling, strip searches, shaving the head and beard, and twenty-hour days. Water could be poured on Slahi's head to "enforce control." He could be ridiculed, placed in a mask, made to wear signs with Arabic labels like "liar," "coward," or "dog." Dogs could be brought in "to bark and agitate" him. Slahi himself could be forced to act like a dog — collared, barking, and performing tricks.
Slahi was childless and divorced, and interrogators sought to exploit his presumed feelings of sexual inadequacy.
He could be treated as a woman and forced to wear a burka or confronted with a female interrogator in "close physical contact." The plan called for preventing Slahi from praying or, alternatively, forcing him to worship a stag idol. Violating such "religious taboos" would "reduce the detainee's ego and establish control," the plan explained. He could be kept in a completely white room "to reduce outside stimuli and present an austere environment," or have light filtered through "red plastic to produce a stressful environment." Interrogators could question Slahi while using a strobe light to "disorient [him] and add to [his] stress level." Or he could be hooded while being questioned, thus inducing "feelings of futility."
On July 1, 2003, the Guantanamo prison commander, Major General Geoffrey Miller, signed the DIA proposal. By August 13, 2003, when Rumsfeld himself signed off on the "special interrogation plan," but this was merely a formality: military intelligence had been interrogating Slahi for six weeks.
"The single most important aspect of these techniques is the initial shock of the treatment," the plan said. Slahi was forced to stand, stripped naked, bent over; his anal cavity was searched. He was beaten — medical records later recorded "rib contusions" as well as bruises and cuts to his lip and head — placed in isolation, subjected to temperature extremes, including a room called the "freezer." He would be accused of breaking rules, of hiding things in his cell, then insulted and disciplined again. The "interrogation team will make detainee feel psychologically uncomfortable, emotionally uncomfortable, assert superiority over detainee, escalate stress, play loud music, and continue to condition detainee to menial tasks," the plan said.
Slahi was childless and divorced, and interrogators sought to exploit his presumed feelings of sexual inadequacy. One female interrogator adopted a "maternal role and said things to him like, 'I'm very disappointed in you.' When she eventually left for another assignment, Slahi cried," said one person familiar with the interrogations.
Other female interrogators removed their camouflage tops and rubbed their breasts against the shackled prisoner, fondled his genitals, insulted him, and laughed at him. Photographs of the reproductive process, of vaginas and birth canals and babies, were plastered on the walls. A woman interrogator ridiculed him for failing to impregnate his wife.
By July 8, the shackling, strobe light, and rock music treatment had begun. Stripped and yelled at, Slahi was kept "awake and in a state of agitation," records say.
That day, a masked interrogator called "Mr. X" visited. Mr. X would direct when Slahi was forced to stand or shackled in place, when he would freeze under an overworked air conditioner or melt as the heater was turned up.
On July 17, Mr. X told Slahi about a recent dream. In his mind's eye, Mr. X said, he had seen four detainees "chained together at the feet. They dug a hole that was six feet long, six feet deep and four feet wide." Into that grave the detainees lowered "a plain, unpainted, pine casket with the number 760." It was Slahi's Guantanamo serial number, painted in orange, the color of detainee uniforms.
Perhaps Slahi was ready to die for his cause, Mr. X said. But what about his loved ones? Must they, too, pay for his recalcitrance?
Three days later, Mr. X informed Slahi that his family in Mauritania had been "incarcerated." Later, Slahi was told that his mother and brother were taken from Mauritania. Placed aboard a cargo plane, they wept during the flight.
On August 2, 2003, the White House adviser on detainee operations, a Navy officer named Captain Collins, arrived. Collins was a busy man, and minced few words. The United States had taken custody of Slahi's family. Things looked particularly bleak for his mother, who might well be transferred to Guantanamo. Camp Delta was stuffed with desperate men who hadn't seen a woman in years. Unfortunately, the United States couldn't guarantee her safety. How would Slahi feel if his mother was gang-raped? If that happened, Collins said, it would be Slahi's fault.
"Slahi had a special link to his mother, and that was used on him," a person familiar with the interrogation explained.
Captain Collins offered Slahi a way out.
"You can be part of the solution or you can be part of the problem," he said. "We are two men here in this room. We can stop the killing and make the world a better place."
After planting that seed of hope, the pressure was increased. An August 2, 2003, memorandum relates that the interrogator returned to Slahi's cell with a message.
The interrogator told Slahi to imagine "the worst possible scenario he could end up in." Surely, "beatings and physical pain are not the worst thing in the world," the interrogator said. Instead, he urged, just focus on "what scares [you] more than anything else."
On August 24, 2003, the plan called for military police in riot gear, accompanied by German shepherds, to hood Slahi, drag him from his cell, and trick Slahi into thinking he had been taken from Guantanamo to some place far worse.
When the plan was executed, Slahi was taken to a boat, in blacked-out goggles and shackles, and was beaten. Groaning in pain, he could hear discussions, in Arabic, about his fate. He was to be killed, his body dumped overboard. He urinated in his pants.
Instead, the boat made landfall and Slahi was pulled ashore. "I was moaning and I recognized a voice, and he was talking to two Arab guys," Slahi later said. "They told him in Arabic that they were there to torture me." Soon "they were hitting me all over. They put ice in my shirt until it would melt," he said. Next a doctor came in, but he "was not a regular doctor, he was a part of the team. He was cursing me and telling me very bad things," Slahi said. "He gave me a lot of medication to make me sleep."
The sensory manipulation apparently worked. "Slahi told me he is 'hearing voices' now," an interrogator wrote in an email to Lieutenant Colonel Diane Zierhoffer, an Army psychologist on the special projects team. "He is worried as he knows this is not normal . . . By the way . . . is this something that happens to people who have little external stimulus such as daylight, human interaction etc.???? Seems a little creepy," the interrogator wrote.
"Sensory deprivation can cause hallucinations, usually visual rather than auditory, but you never know," Zierhoffer responded. "In the dark you create things out of what little you have."
Slahi asked to see Captain Collins. The "detainee had made an important decision," interrogation records said. He "was not willing to continue to protect others to the detriment of himself and his family."
"After he broke, he gushed, he told us more than we could process," said a person familiar with the interrogations. "He wrote and wrote, he did homework every night. We gave him a computer, and he immediately wrote a long autobiography. Then he began to map out the structure of al Qaeda — each name with a hyperlink, showing who else he knew."
It would be months before Stu Couch got a fuller picture of the Slahi interrogation. But as he began to piece together the facts, he became increasingly alarmed. Each detail suggested a sustained, systematic regime of physical and psychological coercion that undermined the reliability of everything Slahi said. The trial could end up being more about what the government did to Slahi than what he did for al Qaeda.
Couch was convinced that Slahi had spent years organizing the Qaeda network in Europe, culminating with recruitment of the Hamburg cell that supplied hijackers for 9/11. If any detainee deserved the death penalty, it was Slahi.
Yet Couch hesitated. He ruminated for weeks. Was the United States justified in beating Slahi, in subjecting him to isolation, sensory deprivation, temperature extremes, and sexual humiliation? Was it justified in constructing elaborate scenarios that literally put the fear of death in him, convincing him that he was about to be killed?
One threat, Couch believed, was the worst of all: To have his mother raped.
"Military guys are real big about their mommas," Couch said. And few more than Stu Couch. "Other than my wife, my mom is my best friend," he said. "That's just who I am."
Couch wondered if he could prosecute Slahi at all.
He would lie awake for hours almost every night. During the 10-hour workdays at commissions, dark circles under Couch's eyes exaggerated his hangdog look.
One Sunday, as usual, Couch drove his family to church. He was distracted as the service unfolded, possessed by the Slahi case. He mechanically obeyed when the minister called on worshippers to stand.
"Will you seek and serve Christ in all persons, loving your neighbor as yourself ?"
"I will, with God's help," came the echo. All persons. That included Osama bin Laden. And Mohamedou Ould Slahi.
"Will you strive for justice and peace among all people, and respect the dignity of every human being?" Every human being.
He was surrounded by people, but suddenly Couch felt very, very small. It was as if he stood alone in a dark, cavernous hall, a bright, single shaft of light illuminating him, unseen persons, or powers, awaiting his answer.
"I will," he said. "With God's help."
After the service, he told his wife, Kim, of the threat to rape the prisoner's mother. It was the linchpin to the prisoner's cooperation, the foundation of the entire case.
He told Kim he would have to drop a case. A 9/11 case. "I hate to say it," he said, "but being a Christian is gonna trump being an American."
Colonel Bob Swann, a military judge at Kentucky's Fort Campbell, had been at Crystal City for three days when Couch went to see him about Detainee 760, Mohamedou Ould Slahi.
Couch sketched out the Slahi case and its many problems. He had determined that Slahi's treatment was torture, and Article 15 of the Convention Against Torture prohibited using his statements. Couch said he had reflected deeply on this troubling situation before reaching the conclusion: He could not bring charges.
Swann's small eyes bore in on him, angry and impatient.
"What makes you think you're so much better than the rest of us around here?" he said.
"That's not the issue at all! That's not the point!" Couch said, slamming his hand on Swann's desk." Swann grunted, and made a dismissive gesture with his hand. Commissions staff would grow familiar with it; they called it "the wave." It indicated the discussion wasn't worth his time.
"Gimme the stuff and I'll give it to someone else," Swann said. "Fine," Couch said. He turned to leave. Later, Swann made his thinking clear. "I don't want to hear anything else about international law," he told a staff meeting.
A week later, Couch sent Swann a memorandum. "Due to legal, ethical, and moral issues arising from past interrogations of this detainee, I refuse to be associated with any further prosecution efforts against him," it said. "As a legal matter, I am of the opinion these techniques violate provisions of the 1984 United Nations Convention Against Torture and Other Cruel, Inhuman, or Degrading Treatment or Punishment, and any statements produced by them should be excluded as evidence against this detainee pursuant to Article 15 of the Convention. If these techniques are deemed to be 'torture' under the Convention, then they would also constitute criminal violations of the War Crimes Act, 18 U.S. C. §2441."
In other words, the interrogators should be prosecuted. Couch continued:
"As an ethical matter, I opine that the interrogation techniques utilized with this detainee are discoverable by defense counsel, as they relate to the credibility of any statements given by him. As discoverable material, I have an ethical duty to disclose such material to the defense.
"As a practical matter, I am morally opposed to the interrogation techniques employed with this detainee and for that reason alone, refuse to participate in his prosecution in any manner."
---
This post is adapted from The Terror Courts: Rough Justice at Guantanamo Bay.