How the Sequester Could Devastate Our Poorest Schools
The military isn't the only public good threatened by funding cuts. Lawmakers are also putting low-income school districts on the chopping block.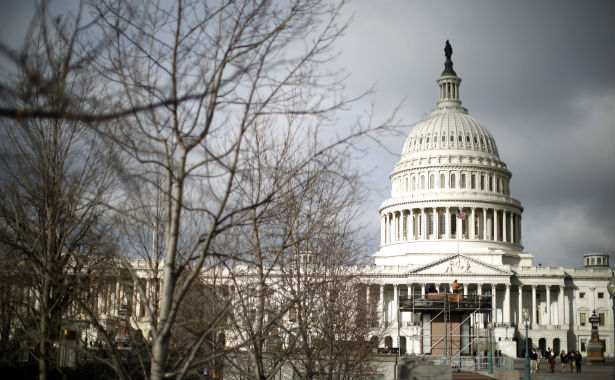 Jason Reed/Reuters
Without a last-minute deal by lawmakers across-the-board reductions in funding to every federal agency -- known as sequestration -- will happen Friday. While public schools wouldn't see most of the cuts take effect until the new fiscal year on July 1, education officials at the local, state and federal levels are warning of dire consequences for programs and services that assist the most vulnerable students.
Talking with reporters last week, U.S. Secretary of Education Arne Duncan estimated that $725 million in Title I funds, earmarked for schools serving the largest populations of poor students, is on the chopping block. Additionally, states could lose close to $600 million in special education funding. On Face the Nation over the weekend, Duncan said 40,000 teachers could lose their jobs. (The cuts would also be significant at the higher education level, with public colleges and universities losing money in a wide range of areas including financial aid and research.)
Some critics of the nation's public school system contend that there's plenty of money to meet students' needs, and that what's already allocated isn't spent wisely enough. The conservative nonprofit Heritage Foundation contends that sequestration won't hurt education, arguing that "Washington has not spent federal taxpayer money judiciously on education. Real education reform would save billions of dollars, while improving children's educational opportunities by empowering states and parents." (Politico is also pushing back on whether the overall effect of sequestration would be as dire as the White House contends.)
But at the same time, there's also a case that can be made that the question of equity needs to be part of the debate over sequestration's potential impact.
Nationally, federal dollars account for about 12 percent of a local school district's operation budget. Not surprisingly, that figure is higher in states like Alabama than it is in Connecticut. That means if sequestration happens, schools serving less affluent communities in states that are more reliant on federal dollars will be hit the hardest. If you take a look at a report from the American Association of School Administrators, it's clear the sting could be much more painful for Louisiana and Mississippi than it would be for New Jersey or Vermont. And in states like Mississippi and Idaho, more than half of the school districts get at least 20 percent of their budgets from the feds.
The administrators' association asked its members how many districts were planning ahead for the cuts -- just over half of them said they already had plans in place for the new fiscal year. Others said were waiting to see if a last-minute deal would be brokered. Eventually, it would be up to individual states to figure out how they might make up for those missing dollars: Some might opt to cut staff, while others could increase class sizes. But with personnel costs accounting for the vast majority of a district's budget (from about 65 percent to over 92 percent, depending on the school and how those costs are categorized), administrators can only get so far by trimming bus services for high schoolers, canceling band or eliminating programs for gifted students. At some point, shedding jobs becomes necessary.
So what's next? As Politics K-12 blogger Alyson Klein notes in her first-rate FAQ sheet on the issue, there's no shortage of questions. We don't know whether certain federal funding streams for schools could end up exempt, how quickly the dollars would dry up for programs like Head Start, or how the cuts would be carried out at the state and local level. But we do know that as the clock ticks down to Friday's deadline, time is running out for lawmakers to come up with the answers.
---
This post also appears at The Educated Reporter, an Atlantic partner site.