How Sonia Sotomayor's Memoir Outsold Clarence Thomas's
The charming and intelligent justice has a great story -- one that's been topping bestseller lists for the past month.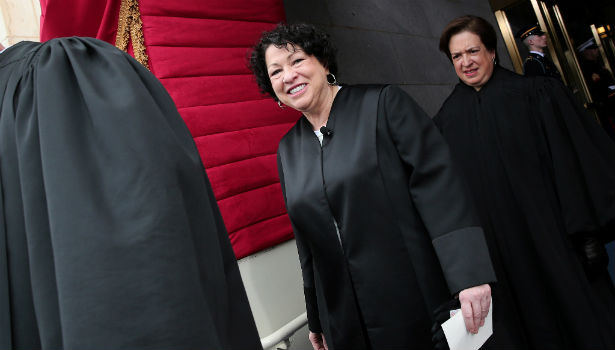 Win McNamee/Reuters
Since its release last month, Justice Sonia Sotomayor's memoir, My Beloved World, has earned admiring reviews, successful media appearances, and a steady place at the top of the New York Times bestseller list. So much of what goes on in our national life and public discourse in recent years has been surly or cynical. This inspiring story, notably devoid of self-righteousness, has been a very welcome addition to the literary canon of what many Americans clearly would like to read about ourselves.
I was surprised to learn from Publisher's Weekly that Sotomayor's book is the 354th title written by a member of the Supreme Court. I had not realized how many justices have chosen to reach beyond their courtroom constituency to assess some element of jurisprudence or their worldview, even today, when the Court itself struggles to maintain as much privacy as possible in today's intensely scrutinized legal landscape. But Sotomayor's book sets itself apart from most of the writing of the justices because of its intimacy of message.
She has endured diabetes nearly all her life. Her father was an alcoholic and died while she was still a child. She went to Princeton and Yale Law School without, she says, realizing what it meant to be an outsider in these bastions of meritocracy. She was married young, but soon divorced, and devoted herself to a career on the bench that was distinguished enough to earn a Supreme Court nomination from Barack Obama, whose own life had many of the same outsider features of Sotomayor's. In fact, Michiko Kakutani, chief literary critic of the New York Times, compared My Beloved World to Obama's memoir of growing up, Dreams from My Father.
When she was confirmed to the Supreme Court in 2009, Sotomayor was widely regarded as a highly competent jurist who would add to the Court's moderate wing. The fact that she was of Hispanic origin was expected to broaden the Court's cultural breadth.
From all indications, Justice Sotomayor will fulfill those expectations with opinions that are thoughtful and incisive. What we now know is that Sotomayor also came to the court and to national prominence with a determination to make her accomplishments into a narrative intended to move a wider audience. "The challenges I faced," she explains, "are not uncommon, but neither have they kept me from uncommon achievements."
Sotomayor soon selected a literary agent, Peter W. Bernstein (a former journalist who happens to be a friend of mine and who is building a list of sophistication and taste). Only Alfred A. Knopf was approached, and according to financial disclosure reports Sotomayor filed, the advance was $1.175 million. In past pieces, I have been critical of the concept of public figures securing large sums for books as a payday for their service, but I have to concede that I am losing that argument, since virtually no one else seems to object to the practice.
As a collaborator, Sotomayor chose Zara Houshmand, an Iranian-American poet who apparently worked with transcriptions of the justice's dictation to shape the prose. The book has been simultaneously released in Spanish. As with all books these days, the price range, depending on the format, is as low as $12.99 for an e-book and up to $27.95 for the printed version without a discount.
From the early weeks of sales, My Beloved World appears on track to outsell the most recent Supreme Court memoir, Clarence Thomas's 2007 book, My Grandfather's Son, which Publisher's Weekly said sold over 200,000 copies -- a strong result at a time when e-books still barely registered. In tone and content, Thomas's book reflected his dour persona, and I don't recall that he made friends galore in his limited appearances to promote the book. In contrast, Sotomayor has charmed audiences at signings across the country with a natural warmth and humor, plus shown the patience to sign every copy purchased by turnouts as high as a thousand people at a time.
The deeper value of My Beloved World is unfolding as the book reaches readers. While it wasn't clear from her confirmation hearings or her initial work on the court, Sotomayor has now emerged as a symbol of what a person -- in this case, a Latina woman raised largely by her devoted grandmother, her mother who sacrificed much on her behalf, and mentors who encouraged her determination -- can achieve despite the odds. In an interview with Time, Sotomayor characterized those odds as "extraordinary -- even worse than hitting the lottery. But the message of the book is really about dreaming and working towards dreams by taking it step by step. It's the journey that's the aim."
Sotomayor ends this story with her first appointment to the bench as a district judge in 1992, because by then, it would seem, her goals were more about meeting professional demands than the personal fortitude embedded in her character. This is a Supreme Court justice's book, but it is much more than that. It is a saga that Americans -- immersed again in a debate about immigration reform -- can find much to learn from.
"I've thought long and hard," she writes in the preface, "about what lessons my life might hold for others, young people especially. How is it that adversity has spurred me on instead of knocking me down? . . . Most essentially, my purpose in writing is to make my hopeful example accessible. People who live in difficult circumstances need to know that happy endings are possible."
Whatever contribution Sonia Sotomayor makes over time as a jurist, this theme on its own has already secured her a place at the pinnacle of bestseller lists.