Does Preschool Actually Help Kids Succeed?
After the State of the Union speech, Head Start is back in the news, along with the controversy over early childhood education.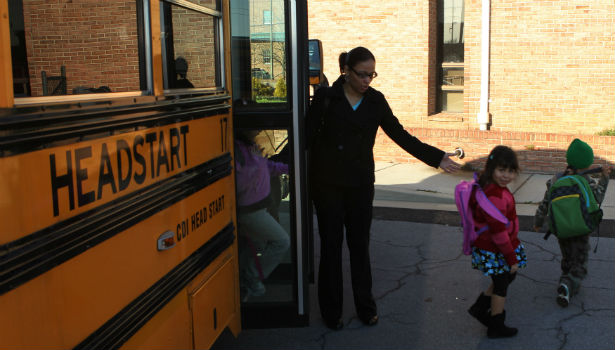 Gary Cameron/Reuters
As predicted, President Obama's State of the Union address contained a wealth of education initiatives, including a new grant program aimed at ensuring high schools turn out 21st century career-ready graduates, and a call for universal preschool for every child. (The Education Week blog has the full breakdown.)
The president's plan drew high marks from the W.K. Kellogg Foundation, which partners with community organizations nationwide to improve access to early learning.
"We are pleased that the Obama administration understands the importance of investing in our nation's youngest and most vulnerable children," Carla D. Thompson, vice president for program strategy at the foundation, said in a statement this morning. "By expanding funding to include the vital early years, we are better equipped to break the persistent cycle of poverty and help families reach their full potential."
However, Michael Petrilli, executive vice president of the Thomas B. Fordham Institute, offered a skeptical reaction to the preschool plan over at the National Review:
"The major federal effort in pre-K -- the 45 year-old Head Start program -- has been found again and again and again to have few long-term benefits for participants. Any gains fade out by the third grade. A reasonable question is whether that's the fault of Head Start or the fault of our dysfunctional public-education system. But there's little reason for confidence that new federal spending in pre-K, if it looks anything like Head Start, will lead to better results for poor and middle-class children."
This is not a new fight. Check out Time magazine's Kayla Webley's "The Preschool Wars" and "Rethinking Pre-K." Also, over at Slate, Melinda Wenner Moyer contends, "If you're reading this article, your kid probably doesn't need preschool."
As part of his early learning initiatives, the president also called for more states to add full-day kindergarten, which is currently mandated only in 10 states and the District of Columbia.
Back in 2007, when the Nevada Legislature was debating whether to require full-day kindergarten, I took a close look at the available research. The greatest benefits to full-day kindergarten seemed to be for minority children and those growing up in poverty, who were more likely to otherwise arrive unprepared for first grade. But the gains trickled off unless those full-day kindergarten students continued to receive the tailored instructional programs and services they needed as they advanced into the higher grades.
Here's how I summed the data at the time: "Full-day kindergarten may be a springboard to academic success, but it's apparently of little use if students are diving into an empty pool." (I'm interested to find out what more recent studies show.)
During the State of the Union, Politics K-12 wondered on Twitter whether the president's push for universal preschool was an "aspirational goal" or a "real fleshed out proposal." A response from an official U.S. Department of Education Twitter feed suggests it's the latter:
---
This post also appears at The Educated Reporter, an Atlantic partner site.