Dancing My Own Way: The Year I Went to 60 Bat Mitzvahs
A box of long-forgotten party invitations gives the author a new perspective on 1980s Long Island—and her own 12-year-old self.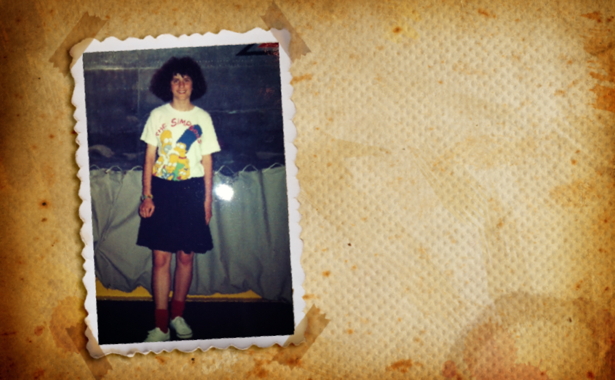 In 1988, the year I turned 12, I attended some 60 bat mitzvahs on Long Island, New York. They ranged from small, religious to-dos held in synagogue basements to phantasmagorical frenzies of lavish food, hired male dancers, six-piece orchestras, and mother-daughter couture dresses (see: Keeping Up with the Steins).
That year, I undertook the project of making a visual and written record of the bat mitzvah season. I kept every invitation I received and used their blank backs to write a detailed review of the food, clothing, and social dynamics of the party. At the end of that year, I put the invitations in a box in my parents' house in Rockaway, New York, where they remained untouched for 24 years.
That is, until last summer, when I hoisted the box down from the top shelf of their basement closet and took it back with me on the bus to Washington, D.C., where I now live. Hurricane Sandy hit around one month later, and most likely, those invitations would have been washed away, along with all of the old photos, toys, tea-sets, Golden Books, and other childhood memorabilia stored at my parents' house. Fortunately, the bat mitzvah invitations were safe, and one night not long ago, I sat down to read them.
---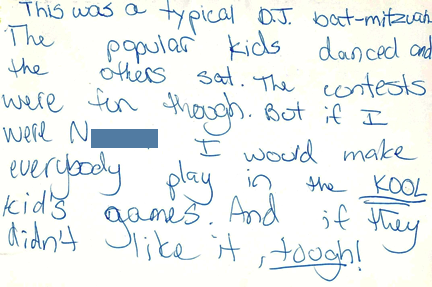 ---

---
---

---

---
Immediately, I realized I had in my hands a living record of a very special time and place in the history of American Judaism. I had the great stroke of luck to be going to bat mitzvahs in the 1980s in Nassau County, that storied stretch of land somewhere between West Egg and the Garden of Hair Gel. It meant that, without my even trying, I was at the eye of a perfect cultural storm, where the joyful inanity of a 12-year-old's inner life collided with bad fashion, new money, and conga lines led by dancers in Spuds MacKenzie costumes.
Of course, I hadn't intended to give a social critique of my childhood milieu, but how can one not wink and nod at these descriptions? "We went into the ballroom. It had spinning dreidls from the ceiling with pictures of Lauren" or "Greeting us in the ballroom were 2 people on stilts. There was also 2 great dancers." Read enough "reviews" like these and you can almost hear "Material Girl" playing in the background.
These reviews were apparently serious business to me, and as if following a checklist, I made sure that each one contained at least one of the following:
1. A panoramic description of the party site. Was it elegant, the kind of place where "they opened up this door, and behold, a beautiful ballroom"? Or was it modest yet sweet, so that "even though it was in the ugliest room ever, nobody noticed"?
2. An analysis of the food situation. Was it tasty? Was it extravagant, like the bat mitzvah where I surmised that "they probably had enough food to feed a poor country"? Or was the food whisked away from us so that "of course I didn't get a chance to eat my steak"?
3. A report on the social hierarchy and how it shook out at each particular party. Did I feel sad because "Aliza wouldn't let me be in her lip-sync group"? Or did peace and equality reign so that "everybody danced, I mean everyone. And it didn't matter how you were supposed to dance . . . you just danced your way!"
Oh, and if I had to miss the party, I still wrote diligently on the back of the invitation, "Was not able to attend." If the invitation was metallic, these words were inscribed in paint pen.
As anyone who has unearthed his or her old journals and diaries might know, the delightful part of reading through them is catching glimpses of your future self, the adult who will one day emerge. Was I ever really so superficial as to write, "She was wearing the most retarded dress!" and was I ever so self-centered as to not pause even one appropriate moment between, "I did miss a kid who cracked his head open" and, "Good food- hamburgers, franks, fries, a D.J"? Yes.
But then there's this: "The people at my table were very interesting" and "There was a [hired artist] who I loved watching him make pictures." Statements like these make me want to cheer for the budding adult who would learn, slowly, that it's okay to prefer quiet conversation with one interesting person over a loud, crowded party, no matter how good the limbo game. Years later, TED talks and Meyers-Briggs tests would give me the authority to turn to perfect strangers at dinner parties and announce, "I am a highly sensitive person!" But back then, in the full, summer light of a "big, big, big backyard" on Long Island, the only words I had were, "I went home early because it was so pretty I wanted to go to the beach!" I'd like to think that was my way of stating that amid the music, the food and, yes, the limbo games, all I really wanted was to look out at the ocean, collect sea glass and, best of all, be left alone to contemplate my existence.
And ultimately, it may have been this emerging sensitive person who moved me to write the reviews. Because, innocent as I was, I knew I didn't quite fit into the social world that was The Five Towns in the 1980s. I was never going to be a "kool" kid who could walk up to someone and ask, in just the right tone, "Why are you wearing Keds when everyone else is wearing Tretorns?"
But by writing these reviews, I was creating a new, improved version of how things were, an alternate reality where I spoke truth to the power of the popular kids, sauntered into halls wearing "my waitress dress" (who knows?) and made lordly comments such as "[the party] kept me occupied" -- as if the court-jesters were particularly pleasing to me that day. I wrote myself into fabulousness.
In the end, these invitations leave me with many questions. Are bat mitzvahs still like this? Are Internet-savvy kids still happy to play such games as Limbo and Seven-Up? Are today's affairs nut and wheat free? Must the face-paint be hypoallergenic? These are all big questions. But I imagine that the concerns of the youngest party-goers remain the same: Who's popular? What did you wear? Were the party favors amazing? And why do only the popular kids get to dance when you know you have the moves?
Perhaps there is already some bookish child who is grappling with these very questions and hurrying home to scribble notes on what she has seen. To that child I say: Don't fret. Years from now, your life will seem like a glittering smorgasbord of unimaginable delights: book clubs, art classes, nature hikes and - dare to dream!- square dancing parties. You might even attend the bat mitzvahs of your friends' children. And this time around? You'll dance your way.