The Editor Who Wanted to Change Jack London's Name to 'John'
The Atlantic ran the writer's first published story -- and then annoyed him by asking him to write under his "Christian name."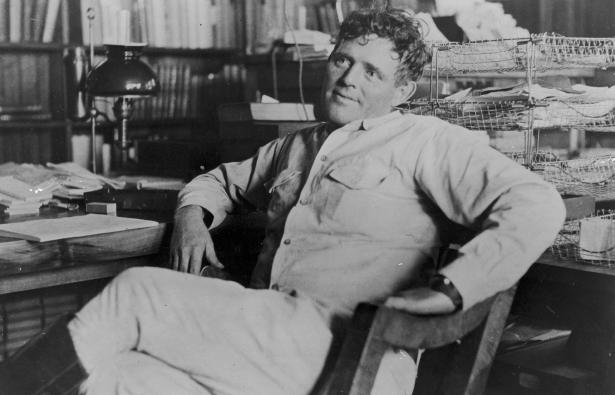 Answers
When Jack London sent his first submission to The Atlantic in 1899, editor Bliss Perry found his writing to be "vigorous" and "essentially healthy." The magazine agreed to publish the short story, "An Odyssey of the North," in the January 1900 issue, and London wrote to a friend that he was pleased with the arrangement: "[The editors] seem nice ... and I understand that they pay well."
But Parker soon took issue with London's byline. "We venture to suggest the use of the more frequent form of the Christian name," Parker wrote a few months later, "John seeming to us better suited than Jack to literary purposes."
Jack refused to become John, and during the year that followed, Perry and his young assistant, William B. Parker, rejected three of his stories. One of them, "The Law of Life," went on to become one of the author's best-known tales—the  story of an elderly man devoured by wolves. The Atlantic editors found it too depressing for publication, but the competing magazine McClure's was only too happy to accept it and offered London a generous advance on his next book. (Houghton Mifflin, then the publishers of The Atlantic, had already agreed to print The Son of the Wolf, London's first collection of short stories.)
London kept sending manuscripts to The Atlantic, but by now, his fiction was earning him better rates at other magazines. His Atlantic submissions were non-fiction articles defending labor unions and advocating an overthrow of the United States government. In a 1905 letter, Perry explained that London's radical writings were not suitable for The Atlantic's audience:
Forgive me for saying that many passages of the paper read precisely like editorials in one of the Hearst papers. These editorials are very ably and brilliantly adapted to the kind of people who read Hearst papers, but it is not the style of address which we can profitably adopt in The Atlantic. I know that you will forgive this unasked criticism, for I do not wish to take refuge behind the conventional editorial formula in your case.
London wrote a response, making it clear that he saw the rejection as class-based. But appreciated Perry's respectful tone. "Now this is not sarcastic at all," wrote London, "and I am thanking you for the best and most genuine rejection I ever received in all my life."
Read "An Odyssey of the North" and "The Scab" in The Atlantic's archives.