The Day the Colorado Theater Suspect Made Puppet Motions
Prosecutors have easily met their burden of establishing that James Holmes should be tried. What likely comes next, a mental illness defense, will be tougher for everyone to take.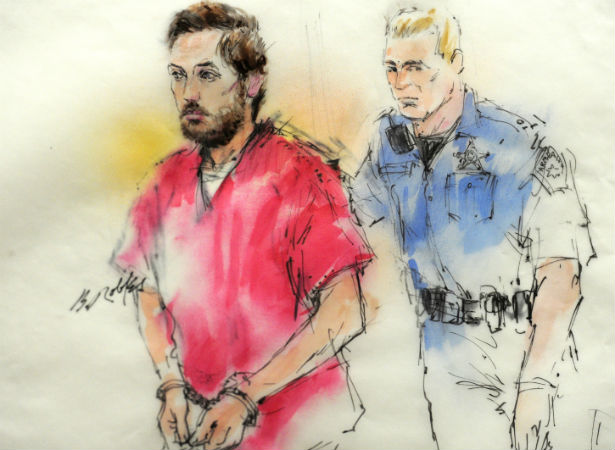 Reuters
I was able to spend only a brief period in court today at the preliminary hearing for Colorado theater shooting suspect James Holmes. But I was there long enough to make the following observations about what's happening in the case and what's likely to happen next. So far, the legal story of the week is the story of one hand clapping-- prosecutors laying out the basic foundation of their case while defense attorneys nibble around the edges of the narrative. Here are six quick takeaways from Tuesday's session:
1. Just hours after he allegedly murdered 12 people and wounded scores more, James Holmes made "talking puppet motions" with the paper bags police officers had put over his hands to protect them for later gun residue testing. Holmes also played with the foam cup police gave him-- "trying to flip the cup and tumble it on the table" was the testimony-- and tried to place a staple into an electrical socket. This information came came Tuesday afternoon from an Aurora Police Department official in charge of the Colorado theater investigation.
2. Prosecutors in some ways are treating this preliminary hearing as a trial. On Tuesday morning, state attorneys played 911 tapes which were gut-wrenching-- and only moderately relevant to establishing that Holmes was the shooter. You could argue that such dramatic evidence is necessary, even at this stage, in case People v. James Holmes ever proceeds to a death penalty phase. You could also argue that prosecutors are being extra aggressive here in case they later cut a deal with Holmes, at which point they can pivot to the victims/families and say: your voices were heard, in open court, back in January.
3. The weapons police say Holmes used in the attack-- a rifle, a shotgun, and a handgun-- are stunning to see, even if only in the photos that were shown Tuesday afternoon in court. The photos you may have seen of the type of rifle he used, for example, don't do justice to how sinister-- how offensive-minded-- were the weapons Holmes allegedly used in that theater. I understand a defendant's Sixth Amendment right to a fair trial. But it's a shame, for purposes of the national debate over guns if for no other reason, that the exhibits introduced in open court today aren't permitted by the trial judge to be made public.
4. The police officers who arrested Holmes testified that his eyes were wildly dilated. Aurora Police Department Officer Jason Oviatt told the trial judge Monday that Holmes wasn't offering "normal emotional responses to anything" and was unusually "relaxed" as they were dragging him away from his car. And yet upon his arrest James Holmes was not tested in any way for the presence of drugs or alcohol in his system. When asked by a defense attorney how this could be, Aurora Police Department Detective Craig Appel testified Tuesday that he did not believe that Holmes was under the influence. "I'd have to file for a search warrant" to test Holmes, Det. Appel testified, "and I didn't think I would get one."
5. It could have been much, much worse. Det. Appel testified that hundreds of live rounds of ammunition-- 204 live .223 caliber shells, for example-- were later found on the floor of  Theater 9 and that "several" of the rifle cartridges had markings on them that suggested that the weapon had malfunctioned. This might answer the question I asked Monday-- about why Holmes stopped shooting. Prosecutors elicited this testimony to portray the suspect as a relentless killer. The defense will likely use this testimony to suggest to jurors, as they did to the judge Tuesday, that Holmes was "severely mentally ill."
6. The preliminary hearing in People v. James Holmes, scheduled to last the entire week, is likely to wrap up sooner, perhaps as early as late Wednesday. By now, considering the low "probable cause" burden in play at this stage of the proceedings, prosecutors have successfully linked Holmes to the scene of the crime and to the weapons they say were used in the crime and it would not surprise me if Chief District Judge William B. Sylvester were to rule from the bench later this week that the case may proceed toward trial.