'Stop and Frisk' May Be Working—But Is It Racist?
New York's policy might indeed be reducing gun violence. But residents aren't sure it's worth the cost.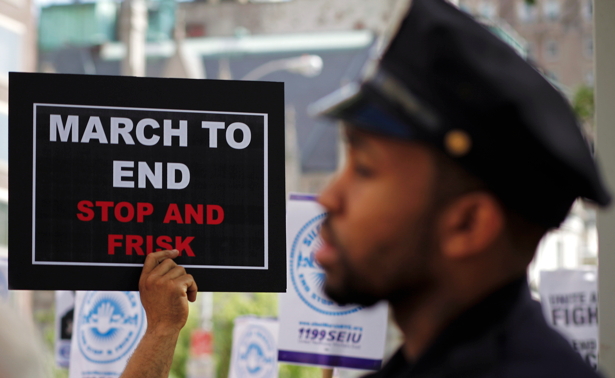 "I just got stopped like two blocks ago," said a frustrated Harlem teenager to the two police officers who approached him.
This is the first recorded audio of a New York City "stop and frisk" recorded surreptitiously by a 16-year-old brown-skinned high schooler identified only as "Alvin." Soon after, the encounter escalates into shouting.
"Why are you carrying an empty book bag?" the police ask Alvin.
"Because I had my hoodie in there. It was cold."
"You want me to smack you?"
"Why you gonna smack me?"
"Who the fuck do you think you're talking to? Shut your fucking mouth."
Quick clicks of tightening handcuffs are heard on the recording as Alvin frantically asks, "What am I getting arrested for?"
One of the policemen responds, "For being a fucking mutt."
"That's against the law, being a mutt?" Alvin asks.
"I will break your fucking arm off right now," the policeman answers.
The recording, which surfaced earlier this year on The Nation's website, enraged civil rights activists already demanding the overhaul of Stop and Frisk, a New York City Police Department program that has led to the stops and searches hundreds of thousands of New Yorkers, most of whom are black or Latino, every year.
More on Search and Seizure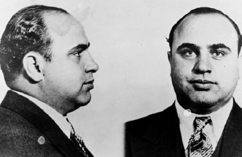 A contentious political issue, Stop and Frisk has been criticized for its targeting of minority communities. Seemingly every young black or Latino male resident of the city has his own story of being harassed by a police officer for reasons unknown or unjust. The wide net of Stop and Frisk has ensnared bankers and schoolteachers. On the other side, the program has also been praised for taking drug dealers and illegal guns off the street and dramatically lowering the city's murder rate.
While its supporters and detractors are quick to offer evidence that, respectively, validates the program's success or damns its racism, at the heart of the controversy is an interpretation of the 4th Amendment's guarantee against unreasonable searches. What constitutes an unreasonable search? Some constitutional experts say it's an overreliance on race to determine suspicion. With a federal judge set to rule on New York's Stop and Frisk policy on March 18, these questions of constitutionality will determine the program's future.
Introduced by former mayor Rudolph Giuliani, Stop and Frisk was a response to the city's crime rates in the 1980s and early 90s, when murder levels were among the highest in the country. The program's goal is to prevent crime before it occurs by stopping and sometimes searching persons suspected of being on the verge of committing a criminal act. Seizing illegal guns is a top program priority. By increasing the number of suspected criminals searched in high crime areas, Stop and Frisk aims to reduce violence by arresting those illegally carrying guns and deterring would-be criminals from carrying them in the first place.
Under current Mayor Michael Bloomberg, the program has expanded significantly, stopping six times as many New Yorkers in 2011 as in 2001. Overwhelmingly most of those stopped have been black or Latino. For detractors of the program, the Nation recording confirmed their primary complaint: As practiced by the NYPD, Stop and Frisk can veer into racism, targeting innocent Latino and black men for no reason other than their skin color.
***
The first time Riko Guzman was frisked by the NYPD was in front of his own home. He was sitting on his stoop in the Hunts Point neighborhood of the Bronx when a police car carrying three officers pulled up in front of him. As they exited the car, one of them shouted, "Freeze! Don't move!"
Circling him on the steps up to his front door, the police pulled Guzman up to a standing position and began patting him down. They dug into his pants pockets, lifted up his shirt, and made him take off his shoes. When Guzman protested that he was sitting in front of his own house, one of the officers responded that he didn't belong in the neighborhood. The police told him to put his shoes back on and then ordered him to leave the area. Guzman was 11 years old.
"It was very confusing to me," Guzman recently told me. "Before that incident I thought [the police] were heroes. When they violated me like that, it was like seeing Batman or Superman slap a baby."
It wasn't the last encounter Guzman would have with the police. Now 26 years old and working as a technician at Montefiore Medical Center in the Bronx, Guzman estimates he was stopped by police 20 times in 2012 alone. "Multiply that number by the last 15 years of my life and you'll have an idea of how many times I've been stopped," Guzman told me.
When I asked Guzman why he is stopped so often, he guessed it was due to his appearance. "I'm brown skinned, look young, and have tattoos," he said. "To the cops I look like someone who is up to no good."
Guzman's perception that NYPD officers identify suspicious persons based on race seems to be confirmed by the numbers. A New York Civil Liberties Union analysis of police data found that in 2011, young black and Latino men accounted for almost half of all of the 685,724 stops reported by police. Together, young black and Latino men account for just 4.6 percent of the city's total population. Ninety percent of young black and Latino men stopped were found to be innocent.
Supporters of Stop and Frisk have responded to criticisms of these racial disparities by stating that the program operates most intensely in neighborhoods with high crime rates. According to these supporters, the higher prevalence of crime in black and Latino neighborhoods necessitates more police activity. The disproportionate number of stops of black and Latino males, they say, has less to do with their skin color than their location.
This line of reasoning doesn't seem to line up with the NYPD's data. For instance, in Greenwich Village, which is overwhelmingly white, 70 percent of those stopped in 2011 were black or Latino. If Stop and Frisk were applied more evenly, one would expect white people to account for more than 30 percent of "suspicious" individuals in a predominately white neighborhood.
Others argue that Stop and Frisk exists primarily to prevent gun violence, which occurs most often in Harlem, Bed-Stuy, and other mostly black and Latino neighborhoods. "If the police get a description of a young brown man carrying a gun, should they be forced to stop a Norwegian grandmother just to prove they aren't biased?" City Councilman Peter Vallone Jr. asked me recently while explaining his support of Stop and Frisk. A Democrat representing Astoria and the chair of the Council's Public Safety Committee, Vallone has found himself surrounded by Council members ready to curtail the program. "If we end it, gun violence is going to go through the roof."
When debating racial disparities, Vallone's point about decreased gun violence is a potent defense of Stop and Frisk. In 2011, 770 guns were recovered across New York during frisks. That amounts to a 30 percent increase over 2003, when 594 guns were recovered. However, in order to find those additional 176 guns, half a million more people were stopped and frisked throughout the city.

For the program's detractors, these numbers indicate that the NYPD is needlessly harassing more than 1,500 innocent people a day and infringing on the civil liberties of many. Program supporters such as Vallone see these numbers as a sign that Stop and Frisk is deterring people in targeted communities from carrying guns. These views are not mutually exclusive.
***
The debate on the program doesn't easily break down along racial lines. For Harlem mother Jackie Rowe Adams, a black woman, Stop and Frisk is a matter of life and death. A lifelong New York resident, Adams lost two of her sons to gun violence. The first, Anthony, was killed in 1982 at the age of 17 while shopping at a Harlem bodega. "Maybe if they had stopped and frisked the two kids who shot my son, he'd still be alive," Adams told me recently.
The murder of a second son, Tyrone, in 1998 by a thief with a gun led Adams to found Harlem Mothers Stop Another Violent End (S.A.V.E.), a non-profit that holds vigils commemorating victims of gun violence and offers bereavement counseling to their families. As the director of Harlem Mothers, Adams is one of Stop and Frisk's highest-profile supporters in any black or Latino community. While Adams admits that the program isn't perfect, she credits Stop and Frisk for lowering crime in Harlem and keeping it low. When I asked her what would happen if the program was curtailed, she responded, "You better start wearing your bulletproof vest."
No one disputes that crime has fallen precipitously over the last 20 years. In 1990, when the city's violent crime rates peaked, there were 2,245 murders in New York. Since 2003, homicides haven't reached 600 per year.
"[Stop and Frisk] is the only way to get that gun off the street before a drive-by happens," Councilman Vallone told me. "We recently had a little girl shot and killed right near here in the Queensbridge Houses while doing her homework. Sure, we could find the killer, put him in jail. Or we can stop that little girl from being killed before it happens by getting the gun. Nobody has a better way than Stop and Frisk."
When I asked Councilman Vallone to respond to criticisms that the program has racist outcomes, he scoffed. "[Minorities] are over 90 percent of the victims of shootings. They're the ones being killed."
***
On the afternoon of October 31, 1963, Cleveland police detective Martin McFadden's suspicion was aroused by two men standing on the corner of Huron Road and Euclid Ave. While McFadden observed them, the two men, John Terry and Richard Clifton, repeatedly walked by and looked into the same store window before circling back around to their initial location.

Fifteen minutes after he noticed them, Terry and Clifton began to walk away down the street. McFadden followed them, and when they stopped in front of Zucker's General Store, he confronted them, identifying himself as a policeman. Their mumbled responses to his questions alarmed McFadden, so he quickly grabbed Terry, spun him around, and patted him down. He felt a pistol. He did the same to Clifton and found another pistol. He arrested them both. Both Terry and Chilton were charged with carrying concealed weapons.
Terry sued the state of Ohio, arguing that McFadden had violated his 4th Amendment rights by stopping him without probable cause to believe he posed a threat. In 1967 the Supreme Court ruled against Terry, stating that Terry and Clifton's actions were reasonably suspicious and that McFadden had a duty to protect himself and the public by stopping and frisking the pair.
The Terry ruling opened the door for Stop and Frisk programs in New York and across the country. Police stops are often referred to as "Terry Stops." When responding to criticisms that the program is unconstitutional, the Bloomberg Administration cites Terry as justification.
But many New Yorkers believe the actions of the NYPD are outside what the ruling permits. "You can't use a Terry Stop to stop everyone," Bronx defense lawyer Christian Lassiter recently told me. Lassiter works with The Bronx Defenders, a non-profit organization that provides free legal defense to residents of The Bronx. "What the police will do is say, 'Let's stop this guy because he's had weed on him in the past.'"
According to Lassiter, not only does this type of policing go beyond what Terry permits, it also artificially inflates the crime rates of areas targeted by Stop and Frisk -- crime rates that the NYPD then uses to justify which areas they target in the first place. "It's a circular argument," Lassiter told me. "What's your criteria for a 'high crime area'? Is somewhere a high crime neighborhood because more people are being stopped illegally there? When you're controlling the numbers, like the NYPD is, you can show [a neighborhood is high crime]."
Professor Dennis Smith of NYU's Wagner School disagrees. An associate professor of public policy, Smith's analyses of police stop data have found a correlation between the increased use of stops and falling crime rates. (Smith has worked as a paid consultant for the NYPD in defending the legality of Stop and Frisk.) In an email, he explained why the program's racial disparities are justified: "Even in lower crime and low minority population precincts, black and Hispanic males commit most of the reported crime."
Smith's assertion seems to be supported by NYPD citywide data that shows black and Latinos accounted for over 80 percent of those arrested for murder, rape, and robbery in 2011. But Smith also backed up the NYPD's official claim that these percentages play no role in determining whether the behavior of an individual is suspicious.
Nevertheless, in Lassiter's opinion, the program violates the constitutional rights of targeted communities in New York. "The cops take it beyond Terry," Lassiter said. "They take it beyond the law."
***
On the morning of October 10, the day after The Nation's recording was released, the Public Safety Committee of the City Council convened at New York's City Hall to debate a series of proposed laws that would drastically alter Stop and Frisk. The hearing room's ceiling bore the words of Thomas Jefferson: "Equal and exact justice to all men whatever state or persuasion." Councilman Vallone manned a gavel that often went unheeded as Council members took turns railing against Stop and Frisk. The audience was composed of partisan activists in shirts bearing slogans that condemned police harassment.
The legislation before the committee, known collectively as the Community Safety Act, would explicitly ban the NYPD from any enforcement that "relies, to any degree, on actual or perceived race, color, [or] ethnicity." The law was proposed by Councilman Jumaane Williams, a Democrat representing Flatbush, Brooklyn. Williams introduced the legislation by saying, "We do not need to choose between civil rights and safety. We need both."
The hearing's villain was Michael Best, the mayor's counsel, who elicited hushed boos from the audience with his steadfast defense of Stop and Frisk. "The 14th Amendment already covers this," Best responded when asked whether the proposed legislation could help protect civil liberties. Best repeatedly brushed off accusations that the program relies on racial profiling. When asked what he thought of The Nation's recording, Best said he hadn't heard it.
"The city does not believe that Stop and Frisk is representative of racial profiling," Best repeated throughout the hearing. As the morning wore on and it became apparent that Best would admit no wrongdoing on the part of the NYPD, Stop and Frisk's opponents on the Public Safety Committee grew more frustrated. After unrolling a litany of anecdotal and statistical arguments that Best refused to address, Councilman Robert Jackson shouted with exasperation, "It's not working and it needs to be overhauled now!"
Councilwoman Letitia James cited a long list of black men in her life regularly stopped by police. "My nephew, my neighbor, my minister, my doctor, my dentist. They've all been stopped and frisked," Councilwoman James said heatedly. "Don't you think there's something wrong with this program?"
Instead of responding directly to these complaints, Best criticized the Community Safety Act, saying it would give too many people the right to sue the city. Later in a private conversation, Councilman Vallone expanded upon Best's criticisms. "It's one of the most irresponsible bills to ever be introduced to the council," Vallone told me. "It would give any member of a disparately impacted group the right to sue. So men would have a right to sue because they're stopped more than women, even though women commit far fewer crimes than men. So women [would have] to be stopped 50 percent of the time or we're a sexist police department, too."
According to Vallone, forcing cops to justify each one of their stops would cost the city hundreds of millions of dollars in legal fees and prevent officers from doing their jobs. "Every cop would have to come in and defend each stop. Forget the payouts -- that alone would shut down the city and our courts."
***
On the evening of October 25, a long line of mostly black and Latino people waited patiently to enter Brooklyn College's Student Center, where a second hearing on the Community Safety Act was being held. Later during the hearing, many of them would identify themselves as residents of Brownsville and East New York, two Brooklyn neighborhoods heavily targeted by Stop and Frisk.
"We are painfully aware of how many gun crimes are black-on-black crimes," Councilman Jumanne Williams said during the hearing's opening remarks. "We know there is crime in our neighborhoods, but that does not give the police an excuse to violate anyone's civil rights or do bad police work, which is what Stop and Frisk is."
Councilman Williams continued by admitting that some profiling was acceptable if a certain person fit the description of a suspect. --"for instance, a white male in a suit on Wall Street being stopped and frisked for being suspected of stealing money from millions of American homeowners."
For two hours following the opening remarks, members of the audience sat down at a plastic folding table facing Councilman Williams to tell the stories of their encounters with New York's police. A 21-year-old young black man named Ramale Gi methodically recounted the worst of the 17 times he'd been stopped in the last year. Christian Lassiter, the Bronx lawyer, testified that he jogs with his ID card in his shoe for fear that a lack of identification would land him in jail should he be stopped. Antoine Williams, a well-dressed black man with the build of a professional athlete, wept as he explained the anxiety he felt walking the streets around his office job in Midtown Manhattan. "I feel like I live in a police state," he said.
Conspicuous by their absence were any representatives from the police department or the Bloomberg administration. After constantly trumpeting the positive impact of Stop and Frisk in the East Brooklyn communities represented at the hearing, it struck many as odd that they'd sent no one to make their case to the very people they claimed to protect.
Perhaps this amounted to a tacit acknowledgement by the officials behind Stop and Frisk that they weren't welcome in black and Latino communities. For residents of areas like Bed-Stuy, East New York, and Brownsville, the purported success of the Stop and Frisk problem may not be enough. Many of them feel that the causes of the sinking crime rate are debatable. The value of and threat to their 4th Amendment rights are not.
***
Opponents and proponents of Stop and Frisk each like to predict what would happen if the program ended. To paint a picture of a post-Stop and Frisk New York, Mayor Bloomberg references the increase in Philadelphia's murder rate since its own program was struck down as unconstitutional for engaging in racial profiling. "Why would any rational person want to trade what we have here for [their] situation - more murders, higher crime?" Bloomberg was quoted as saying in the New York Times earlier this year.
Bronx Defender Christian Lassiter sees things differently. "The police would do what they're supposed to do," he told me. "They'd fulfill their mission to protect and serve our communities." Regardless of what happens in the future, Lassiter told me, the status quo can't continue. "People can't take anymore. Something has to change. ... Nowadays you go up to 265 161st Street [the Bronx County Court] and you see a line around the block of black and brown people, like they were going to a concert. I fail to believe that only black and brown people commit crimes."