States Push Ahead With Plans to Arm Teachers
A frank comment from Rand Paul might frighten gun control advocates -- but in the meantime, some educators are headed for the shooting range.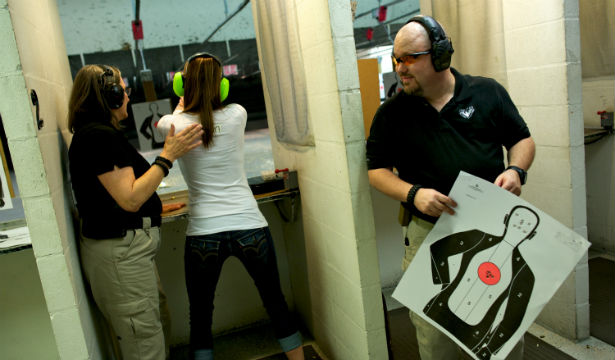 In the wake of the Sandy Hook tragedy, lawmakers are moving quickly to respond to the public outcry to do more to ensure schools are safe. But will arming teachers -- or putting an armed guard at every school in the nation, as the NRA has suggested -- make a meaningful difference? Or would it actually increase the risk of harm, as some gun control advocates contend?
Republican Senator Rand Paul of Kentucky recently addressed those concerns with a degree of candor that might not help advance his crusade to allow educators to pack heat. At an event with business leaders in Oldham County (as recorded by the Louisville Courier-Journal), Rand said the following: "Is it perfect? No. Would they always get the killer? No. Would an accident sometimes happen in a melee? Maybe."
Labor groups and associations representing the nation's school teachers and principals have already said that asking educators to be prepared to respond to an armed intruder with similar firepower is an unreasonable burden. At the same time, there's also been a reported spike in interest among some teachers who say they want to know what their options are when it comes to protecting themselves -- and possibly their students -- from an armed intruder on campus.

For more than decade, the Utah Shooting Sports Council has offered free weapons training to teachers. The first class of the new year brought ten times the normal enrollment, the Salt Lake Tribune reported. The class covers the fundamentals of applying for a concealed weapons permit, carrying a weapon, and using it to respond to an emergency. And the training doesn't just focus on how to respond with a gun. Teachers are also taught techniques such as "gouging an attacker's eyes, choking an attacker and how to hide," according to the Tribune.
Utah teachers are far from the only ones expressing increased interest in concealed weapons. There has also been a jump in inquiries at gun training clinics in Florida, according to the Palm Beach Post, even though the state bans nearly all weapons at public schools.
"It's frightening to be a member of a profession that's just been attacked," Palm Beach County School Board member Jenny Prior Brown told the newspaper. "It is a terrible feeling to feel helpless. Is it surprising they would go and get firearms even if they can't bring them on school property? No."
Districts in a number of states, including Florida and North Carolina, have opted in the short-term for adding more campus resource officers. (Their level of training and the weapons they're allowed to carry vary widely from state to state.)
At the federal level, President Obama has signed nearly two dozen executive orders related to gun control. His decisions were influenced by input from a committee created post-Sandy Hook and headed by Vice President Joe Biden. (U.S. Education Secretary Arne Duncan is one of the appointed members.) The president has also proposed $150 million in funding to address campus climate and safety issues, including adding more school counselors, and more extensive training to help staff recognize and address students' mental health issues. However, as Education Week's Politics K-12 blog sagely notes, some of those dollars would be restoring school climate and safety programs and positions previously cut by the administration.
Nationally, there's been a spate of new bills proposed at the state level -- including in Oklahoma, South Carolina, and Virginia -- to either allow educators to carry weapons or to add armed guards to public schools. (In New Jersey, those newly added guards are already on duty.) It's worth pointing out that about a third of states already allow school personnel to carry concealed weapons on campus. The Harrold Independent School District in Texas has been arming its school staff since 2007.
In Arizona, Gov. Jan Brewer, a Republican, said she wouldn't support allowing principals to carry weapons, as proposed by the state's superintendent of public instruction. A bill to arm teachers in the Evergreen State faces an uphill battle as Democrats have the supermajority, Colorado Public Radio reports. But in Tennessee, where the Republicans control both houses of the state legislature, talk of arming teachers is more likely to gain momentum.
It's understandable that the public -- particularly parents -- are seeking reassurance that schools are prepared to respond to what were once unimaginable threats. But is shifting even more responsibility to teachers' shoulders appropriate? Will a license to teach soon require a passing score in target practice along with the Praxis?
This isn't about whether teachers would be willing to risk their own lives for their students -- sadly, educators at Newtown have already had to answer that question, as several of them died trying to shield first graders from the gunman. In Utah, a teacher told the Salt Lake Tribune that a student had asked him what he would have done if a similar situation happened at their school. The teacher told the student "he would have given his life to help them."
But let's consider what occurred more recently at a high school in Taft, California. After a 16-year-old student with a shotgun seriously wounded a classmate, his science teacher reportedly distracted him with conversation so that others could escape. The teacher and a school counselor -- both unarmed -- eventually persuaded the shooter to surrender.
So what might be one of the lessons from Taft? Sometimes, words are more powerful than weapons.
---
This post also appears at The Educated Reporter, an Atlantic partner site.