America waited seven years for Justice Clarence Thomas to speak from the bench -- and when he finally did, he didn't say much.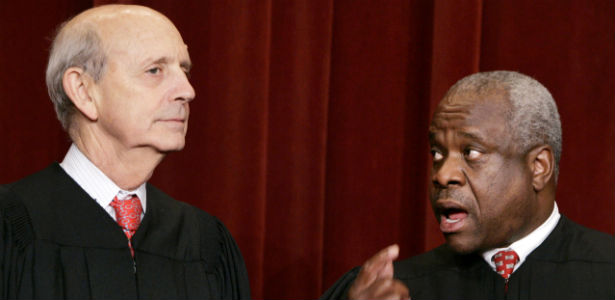 Larry Downing/Reuters
He did not ask a pointed question.
He did not offer a poignant declaration of law or fact.
He did not humbly seek clarity from his colleagues on the bench or from the attorneys arguing before him.
He did not earnestly bend the arc of justice one way or the other.
For posterity, the official transcript of the United States Supreme Court reflects only that he uttered four words, and yet for hours afterward there was a Talmudic-like discussion over precisely what Justice Clarence Thomas had said and what he had meant. This is what happens, evidently, when you stay mute from behind the bench as a justice, year in and year out, through some of the most momentous legal disputes of this or any other era in American history.
"Clarence Thomas breaks nearly 7-year silence," reported Reuters. "Thomas Makes Jokes in First High Court Argument Words Since 2006," reported Bloomberg. "Justice Clarence Thomas Speaks, but What Does He Say?" asked ABC News. "Seven-Year Itch," reported the Wall Street Journal. "Clarence Thomas breaks long silence during Supreme Court oral argument," reported the Washington Post. Here's how Adam Liptak, the Supreme Court reporter for the New York Times, described the momentous event:
WASHINGTON -- Around 11:45 on Monday morning, Justice Clarence Thomas broke almost seven years of silence during Supreme Court arguments. But it was not entirely clear what he said.

The justices were considering the qualifications of a death penalty defense lawyer in Louisiana, and Justice Antonin Scalia noted that she had graduated from Yale Law School, which is, by some measures, the best in the nation. It is also Justice Thomas's alma mater.

Justice Thomas leaned into his microphone, and in the midst of a great deal of cross talk among the justices, cracked a joke. Or so it seemed to people in the courtroom.

The official transcript confirms that Justice Thomas spoke, for the first time since Feb 22, 2006. It attributes these words to him, after a follow-up comment from Justice Scalia concerning a male graduate of Harvard Law School: "Well - he did not --." That is all the transcript recites.

Though the transcription is incomplete, people in the courtroom understood him to say that a law degree from Yale may actually be proof of incompetence. What follows in the transcript supports that view. First, there is a notation indicating laughter in the courtroom. The stray set of four words attributed to Justice Thomas are in no sense a joke or other occasion for laughter.
The episode reminds me of the scene from Forrest Gump, near the end, when after running all over the nation, and generating a devoted following of earnest followers who believe that he has achieved some profound wisdom, Forrest suddenly stops. The crowd which has run with him -- run behind him, actually -- crowds near to hear his epiphany. "They just couldn't believe that somebody would do all that running or no reason," Forrest's voice is heard to say. "Why are you doing this?" a reporter asks him. "I just felt like running," Forrest replies.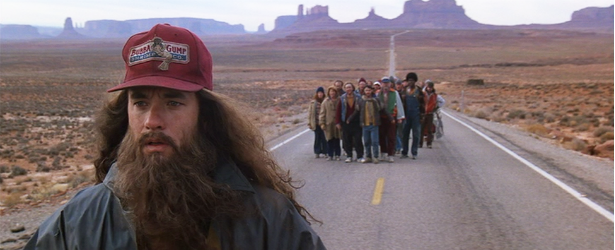 Paramount
I am glad that Justice Thomas was involved in some merriment at the court Monday -- whether it was a good joke or not. As far as I'm concerned, the more he speaks from the bench the better off the court will be. Jeffrey Toobin, the High Court's unofficial psychologist, offered up at the New Yorker an interesting perspective on why this particular exchange, from the thousands of previous exchanges between lawyers and justices which Justice Thomas has heard during his long silence on the court, prompted him finally to pipe up. Toobin wrote:
The transcript is ambiguous, but the gist of Thomas's joke -- which marked the first time he's spoken in open court since February 22, 2006 -- appears to be that graduation from Yale is a sign of incompetence. If that's what Thomas said -- and I bet it was -- the wisecrack comes with a long history. For many years, Thomas viewed Yale with undisguised hostility. The gist of his complaint was that he was admitted under an affirmative-action program -- and, as a result, suffered from a stigma that tainted his judicial career. ... Thomas and Yale repaired their relationship in recent years ... But, as this latest remark showed, Thomas's anger at Yale is not gone.
With all due respect to Jeff, I prefer the simpler explanation. On Monday, after 2519 days, maybe Clarence Thomas just felt like talking.