Michelle Rhee: Separating the Truth From the Hype
Experts discussed the controversial educator in a live chat.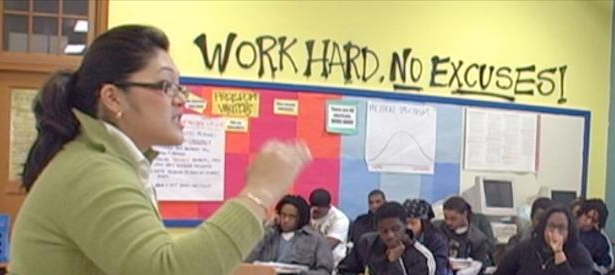 Frontline
When Michelle Rhee became chancellor of the Washington D.C. school district in 2007, she introduced a take-no-prisoners approach that stirred up controversy right from the start.
Rhee used test scores to measure teacher and administrator performance, and she won the right to fire staff who did not meet her expectations. "People were scared to death that if their test scores did not go up, they were going to be fired," says Francisco Millet, who served as an assistant superintendent at the time.
The strategy seemed to work. Test scores soared. But were the gains real -- or the result of a cheating scandal? How has Rhee responded to the allegations of test tampering during her tenure?
Aside from test scores -- what impact did Rhee's reforms really have on D.C. schools? Is there a national model to draw from her policies, or were they more showmanship than substance? And what's happened to D.C. schools in the years since she left office?
Frontline has invited some of the country's leading journalists and experts to answer these questions and take yours. The questioner will be Atlantic contributor Emily Richmond, who is also the National Education Writers Association's public editor and author of The Educated Reporter blog.
She'll be joined by veteran PBS NewsHour education reporter John Merrow, correspondent for the new Frontline film The Education of Michelle Rhee, and by Marisol Bello and Greg Toppo, two USA Today reporters who have reported extensively on standardized test scores in D.C. schools during Rhee's tenure. Read the full USA Today investigation here.
Andrew Rotherham, an education blogger and analyst who writes the blog Eduwonk and a column for TIME Magazine, will be also be joining the panel.
This chat is now closed. The transcript appears below.