Kant, Augustine, and the 'Skins
Over our front door today: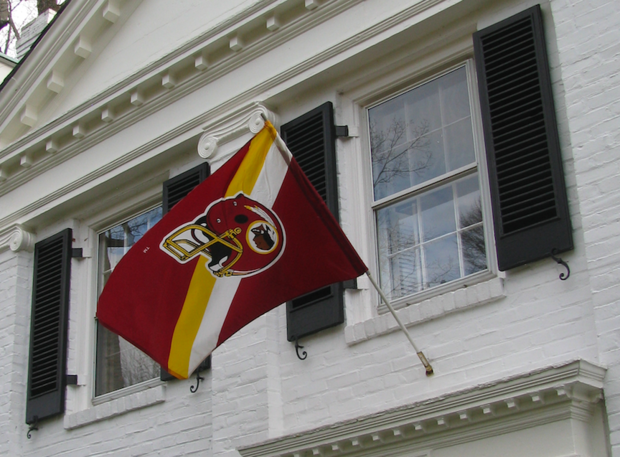 Yes, I know that the flag is upside down, traditional signal of distress. That's how it came, which could have been the manufacturers' sign of solidarity with Washingtonians for what we've thought of as the Long National Nightmare of the
Snyder Years
.  But we'll have it up and flying during today's
Washington-vs.-Washington
showdown in the NFC.
To link this to other discussions, I am betting that both
St. Augustine
and
Immanuel Kant
would have been Seahawks guys. St. Augustine would probably object to the current DC franchise team name; Kant would shrink from the "categorical imperative" implications of a world in which
everyone
 rooted for the Redskins and therefore directed even more profits to the team's current owner.
I actually agree with Ta-Nehisi Coates's
recent argument
that something basic may be changing in football's hold on the American (mainly male) id. I haven't thought about college football in a very long time -- roughly since the time Bowl Games happened on or around New Year's day and conference lineups were remotely plausible. (San Diego State and Boise State as part of the "Big East"??? The "TaxSlayer.com Gator Bowl" ?????) But that's probably just fogeyism. The injury question is the one that won't go away -- and seems, in early-inkling fashion, to have the potential to do to football what in-ring deaths did to boxing and doping has done to pro cycling.
But I'll be watching this afternoon, with extra beers on hand in case I. Kant or S. Augustine shows up. Go Washington.
__
Finale Good game by the Seahawks; good first half of the game by the Redskins; and great second half of the season. As for the last 2+ quarters of this game, Hey: I blame Synder! Because, why not.
I will never forget watching, in real time,
The Joe Theismann Hit
. I assume, and certainly-to-God hope, that we won't think have to about The RGIII Knee in similar terms. Everyone get well.