Held Without Retrial for 11,800 Days, Texas Inmate Still Waits for Justice
A convicted murderer was granted a new trial in 1980. He never got one. So what's he still doing in a state prison 32 years later?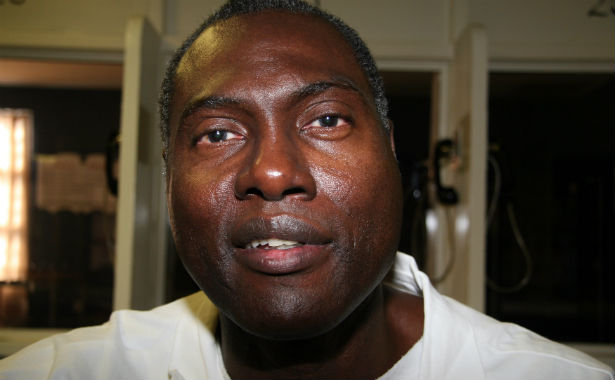 Michael Graczyk/AP
When American civilization finally crumbles, and future historians download the wreckage, it is conceivable that they will cite the case of Jerry Hartfield to explain to their curious audience how law and justice in our time could be so bluntly subverted by the very men and women whose job it was to administer it. Look how these public officials elevated form over substance, our descendants will say; look how hard they defended such manifest injustice. Look how long it took for the justice system to do justice, even after it became clear to the world that a man was imprisoned for decades without a viable judgment against him.
Hartfield is a black man from Kansas who was quickly convicted in 1977 of murdering a white woman in the Deep South. He is a man who once recorded an IQ of 51, which is far beneath the level at which courts recognize mental retardation in criminal defendants. He is the inmate who remains locked in a Texas prison 32 years -- 11,800 days -- after a state appeals court reversed his murder conviction and ordered that he be given a new trial, a new trial he has never received. He is the prisoner who has continued to sit in a cell while state and federal judges, and state attorneys, piddle over the technicalities of his case.
It has now been more than six years since Hartfield first began to try to unravel the series of errors and omissions which resulted in his wrongful imprisonment. And it could be years more before the courts finally grant him relief. It's hard to know which period is more infuriating: the 23 years during which Hartfield's rights were left unprotected by the justice system; the half-decade or so years since, when state officials, including judges, have refused to help him; or the years more of legal briefings and oral argument that the man will likely have to endure before he gets some relief.
Past
This story begins in June 1977, when Hartfield was convicted of murdering Eunice Lowe, a bus station ticket agent, whose body was found by her daughter in a storeroom at the station. Prosecutors briefly played the race card and told the capital jury that Hartfield had confessed to the crime and that his fingerprints were on a bus ticket found at the station. Hartfield's trial attorney, Robert Scardino, says that he used an insanity defense, and Hartfield himself insisted (then and now) that the confession was falsely obtained. Following the conviction, Hartfield was swiftly sentenced to death. Today, he still says he is innocent.
Three years later, on September 17, 1980, the Texas Court of Criminal Appeals unanimously reversed Hartfield's conviction, declaring that prosecutors had violated Hartfield's due process rights by "striking a juror for cause because of her reservations about the death penalty." Under Texas law, the remedy for such a violation, reasonably enough, was to grant the defendant a new trial. But that's not what prosecutors sought. Instead, they tried during that period to rescue the conviction by eliminating the death penalty component to the case. They tried, in other words, to find a way around the reversal.
They did not succeed, at least not on the books. From 1980 to 1983, the Texas courts refused to allow prosecutors to "reform Hartfield's sentence to life imprisonment." State law was clear, state judges told state prosecutors: A jury taint like the one in the Hartfield case entitled the defendant not just to a new sentencing hearing but to a completely new trial. These judges did not permit Texas officials to get around the 1980 reversal. But nor did they press prosecutors to give Hartfield the "speedy trial" he is entitled to under the Sixth Amendment. Hartfield, meanwhile, evidently also was in no big rush to be re-tried.
In 1983, the story turned. By March 4th, the Court of Criminal Appeals had had enough. It issued a mandate to Texas declaring that the conviction against Hartfield was "reversed and the cause remanded for further proceedings in accordance" with the 1980 ruling ordering a new trial. Ten days later, the Texas Board of Pardons and Paroles recommended that then-Governor Mark White commute Hartfield's sentence from death to life in prison. On March 15th, the Governor commuted the sentence and sent a copy of his proclamation to the Texas court. And then nothing happened in the case -- nothing at all -- until 2006.
Texas prosecutors thought that the governor's commutation resolved the issue, at least until someone challenged the commutation for failing to supersede the mandate of reversal. The state judges in 1983 reckoned that the mandate had been issued, and that if the case weren't properly resolved they would soon hear about it from prosecutors or defense counsel. And Hartfield's lawyer says that he stopped representing his client when the commutation came through. Everyone dropped the ball on Hartfield, who after 32 years in prison still has never received a parole hearing even though he's long been entitled to one.
Present
"For 23 years," a federal appeals court panel noted last October when it recognized that Hartfield's rights had again been violated, "the State treated the proclamation as effectively cancelling the judgement that reversed the conviction and remanded the cause for a new trial. Seemingly, so did Hartfield." But in 2006, Hartfield began to file his own petitions, asking judges of the state courts why he had never been granted the new trial they had promised him back in 1980. Three times, Jerry Hartfield asked the state courts to help him. Three times, prosecutors opposed his requests. Three times, the courts of Texas refused to right a wrong.
So Hartfield turned to the federal courts -- and quickly got a strong public defender. As soon as the case became a federal one, Texas lawyers argued that Hartfield's 2006 request for help was barred by the Antiterrorism and Effective Death Penalty Act, a Clinton-era law which imposes "a 1-year period of limitation... to an application for a writ of habeas corpus by a person in custody pursuant to the judgment of a state court." So the central legal question of the case became this: In light of the Criminal Court of Appeals' 1983 mandate reversing his conviction, was Hartfield still in custody "pursuant to the judgment of a state court"?
Texas says yes -- but it's the state's reasoning that will likely appeal to those future historians stammering over this case. In the current view of state prosecutors, whose predecessors refused in the first place to respect the 1980 reversal of Hartfield's conviction, "a person is properly classified as 'a person in custody pursuant to the judgment of a state court' if his request for federal habeas relief necessarily entails a collateral attack on a state court judgment." A state court judgment doesn't have to be "valid," Texas argues, so long as there is a legal dispute over its validity (a dispute, in this case, generated entirely by Texas).
A panel of the Fifth U.S. Circuit Court of Appeals did not buy this argument. In October, and again in November, the federal court ruled that Governor White's commutation of Hartfield's death penalty did not somehow overturn the mandate of reversal issued by the Texas Court of Criminal Appeals. This meant, the Fifth Circuit declared, that Hartfield was not being held pursuant to a "state court judgment"; and this in turn meant that his request for federal relief was not barred by the one-year limitations period under the Effective Death Penalty Act.
But Texas officials went even further in defending Hartfield's imprisonment. Knowing that state court judges rejected Hartfield's arguments three times in 2006, state lawyers told the Fifth Circuit, as conservative a court as exists in America today, to essentially butt out of what was a matter for the state courts to resolve. "A federal court does not sit as a 'super' supreme court," wrote state lawyers, the very officials who to this day still have not uttered a public word of regret, remorse, or apology for the fact that Hartfield's case slipped through the cracks all those years.
Future
It's possible that Jerry Hartfield's luck may finally be turning. The Fifth Circuit sent the case back to the Texas courts for a state law ruling on whether Hartfield is still in "custody" pursuant to a "state court judgment." And that means more months or years of delay. But there is also a sense that the leash on Texas officials is growing shorter -- that they won't be able to stall for much longer. "The disturbingly unprofessional tone of" the state's last petition, the Fifth Circuit noted in its most recent ruling, "reveals a lack of respect for the court..." Those are the words federal judges use when they run out of patience for frivolous arguments.
There is also the sense, too, that the spotlight on this case may at last force Texas officials to acknowledge their share of responsibility for the embarrassment this story represents. In the past few months, as the court rulings have mounted and the public conflict between Texas and the Fifth Circuit has intensified, Hartfield's story has made it into the mainstream of legal reporting. And, last week, the aching tale of injustice became an international story when the Associated Press picked it up. The whole wide world now is reminded again of how unjust, arbitrary, and capricious our justice system can sometimes be.
It would take the stroke of a pen to bring relief to Hartfield. It would take a single act by the current governor of Texas, Rick Perry, or the current Attorney General of the State, Greg Abbott, who could simply order state lawyers to stop contesting the federal court rulings that finally have recognized the magnitude of the error here. Or, it could take a collective act of humility on the part of the Texas Court of Criminal Appeals. None of its current judges were at their post in 1983. But all but one of them were on the court in 2006, when Hartfield asked them for relief. They didn't make the initial error. But they've clearly tarried in fixing it.
A long-ago state attorney general fails to respect the reversal of a conviction. A long-ago defense attorney figures he's off the case and never looks back. Long-ago state judges believe their orders are obeyed when they aren't. A man who wins a reversal of his murder conviction sits in prison for decades thinking that the legal system is working on his appeal. And then a new generation of public officials looks at this case -- the new Texas officials and the new judges -- and, after six years, still can't officially acknowledge the past mistake and grant the man some measure of relief.
Just think for a moment about what we teach our children about law and justice. Just think about the oath sworn by Texas prosecutors who have by law "the responsibility to see that justice is done, and not simply be an advocate." Just think about what we expect of our judges, who in Texas are admonished to "dispose of all judicial matters promptly, efficiently, and fairly." And then just think of how far the Hartfield case has been, and continues to be, from those ideals. What does Hartfield think about it all? "In order to be forgiven you have to forgive," he told the Associated Press.