A Brief History of Racist Soft Drinks
Lots of people know about how Coca-Cola used to contain cocaine or how Pepsi was the hip drink in the 1960s. Few realize that Coke marketed assiduously to whites, while Pepsi hired a "negro markets" department.
This article is from the archive of our partner
.
Lots of people know about how Coca-Cola used to contain cocaine or how Pepsi was the hip drink in the 1960s. Few realize that Coke marketed assiduously to whites, while Pepsi hired a "negro markets" department. Put more bluntly, Coke was made for white people. Pepsi was made for black people. Over the course of the decades and the seemingly limitless growth of the soft drink industry, the companies have expanded their marketing departments and launched myriad campaigns to discourage the idea that either appealed to a specific race. And now, in 2012 as Mayor Bloomberg plays tough against continued opposition to his ban on soft drinks, the complicated racial dynamics of the industry are exposed once again, as the NAACP works to reverse the ban, thanks, in part, to donations from Coca-Cola.
The fascinating century-and-a-half-long history of soft drinks and race relations in the United States is spelled out in a just published New York Times column from Grace Elizabeth Hale. The part about the interwar period in America is particularly interesting. Coke marketed mainly to the white middle class:
Coke's recipe wasn't the only thing influenced by white supremacy: through the 1920s and '30s, it studiously ignored the African-American market. Promotional material appeared in segregated locations that served both races, but rarely in those that catered to African-Americans alone.
Whereas Pepsi and its "negro markets" department went an entirely different direction:
By the late 1940s, black sales representatives worked the Southern Black Belt and Northern black urban areas, black fashion models appeared in Pepsi ads in black publications, and special point-of-purchase displays appeared in stores patronized by African-Americans. The company hired Duke Ellington as a spokesman. Some employees even circulated racist public statements by Robert W. Woodruff, Coke's president.
So basically Coke and Pepsi used to be totally racist? As Hale, a history professor at the University of Virginia, goes on to explain, the companies abandoned their respective strategies and worked hard to shed "the image of Coke and Pepsi as 'white' and 'black' drinks." The race problems don't stop there but rather become more complicated and not entirely relevant to the companies' marketing practices. For brevity's sake, we won't even get into later issues that surfaced, including exploitation of developing countries' resources and a massive racial discrimination case against Coke that led to a $156 million settlement in 2000, though you should fee free to click through if you're interested.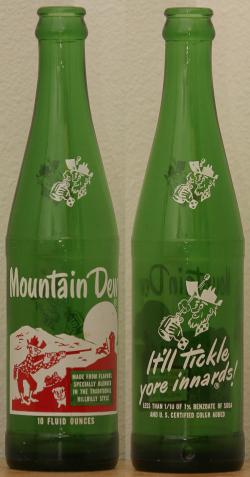 Elsewhere in the soft drink industry, though, the oversimplification of target consumers has had its questionable if not altogether offensive moments, too. Mountain Dew, for instance, originally based its entire brand around making fun of poor Appalachians, also known as hillbillies. In the late 40s and early 50s, its label
featured the official Mountain Dew mascot
"Willy the Hillbilly" and the slogan: "Ya-Hoo! Mountain Dew. It'll tickle yore innards." (The name of the soft drink, of course, refers to the Southern slang for moonshine.) Pepsi bought Mountain Dew in 1964 and changed its image over the years, most recently as "Game Fuel." The company went so far as releasing
World of Warcraft-, Call of Duty-
and
Halo-
branded flavors.
So maybe Mountain Dew's history isn't so much racist as it is classist. Either way, the next few decades of soft drink history center around targeting niche if not entirely minority populations. That includes Diet Coke and Tab, some of the first soft drinks marketed specifically to women. Sprite went after the inner city youth demographic (read: blacks and Hispanics) with a massive basketball-based campaign. Then there was OK Cola, Coke's somewhat artistic attempt to reach Generation X. And who could forget last year's Dr. Pepper 10, a diet soda for manly men?
We're getting away from our original point, though. The New York Chapter of the NAACP is now a part of the soft drink industry's lawsuit against the city over the new ban and filed a brief last week that explained why they have a dog in the fight. Recognizing the Bloomberg administration's argument that black and Hispanic neighborhoods stood to benefit most from the ban, since those communities have the highest rates of obesity, the NAACP argued, "At its worst, the ban arbitrarily discriminates against citizens and small-business owners in African-American and Hispanic communities."
They have a point there, too. As The Atlantic Wire's own Jen Doll pointed out last year when the ban was first announced, there is an inescapable classist side of Bloomberg's ban. "Bans widen the divide between the rich, who can find a way around them, and the poor, who perhaps cannot," Doll argues. "And while Bloomberg's tactics are obviously part of what people dub a 'nanny state' ideology, in which he's telling us what to do, he's telling some people what to do more than others." Thinking back at Pepsi's "negro markets" department and Coke's well groomed middle class white image, it's funny how people have been using soft drinks to tell us what to do, or rather, who we are for so long. Then again, it's just a beverage, and this is just capitalism.
This article is from the archive of our partner The Wire.