Health care and voting rights, same-sex marriage and Trayvon Martin -- a look at the cases and issues that dominated the law in 2012.
Voters in Florida wait in line on election day. (Reuters)
It was a big year in the law, a year that historians, and not just legal historians, will surely focus on when they describe the American scene at the start of the century's second decade.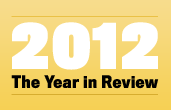 Atlantic writers survey the biggest stories and ideas on their beats.
See full coverage
The legal rights -- and pocketbooks -- of hundreds of millions of Americans were impacted by 2012's judicial declarations. The immediate and long term fate of hundreds of thousands of suspects and prisoners was decided. America yet again annoyed many of its allies in the world, even its closet ones, by prosecuting the war on terrorism on its own terms.
But the biggest legal events and developments of 2012 will probably be remembered more as pivot points than as end games, more as commas than as periods. Voting rights? The story of voter suppression revved up in 2012 but will be molded anew in 2013 when the Supreme Court tackles the Voting Rights Act. Gay marriage? The American people moved definitively in its direction in 2012 but, again, we won't know what's what unless and until the justices resolve at least one of the many pending marriage cases before them. Here's my 2012 Top 10 list.
We want to hear what you think about this article. Submit a letter to the editor or write to letters@theatlantic.com.