From memorable anniversaries to game-changing new rulings, some dates to mark this coming year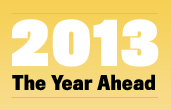 Atlantic writers preview the stories, trends, and ideas to watch.
See full coverage
I can't predict the legal events of 2013, any more than I can predict the particular path a raindrop will travel down a car window. To paraphrase Donald Rumsfeld, there are the "knowns" -- the new year will end with too few court nominees confirmed to the federal bench. There are the "known unknowns" -- the Supreme Court will tick off a hundred million Americans, no matter which way it rules on voting rights and same-sex marriage. And there are "unknown unknowns" -- legal events and issues that will come from nowhere to stop us cold in the coming year. The peril and joy of this beat -- of any beat, really -- is that you never know what you are going to get.
So I don't have any great detail to share with you about what's on tap. But I can give you a sense of the timing. Here's a list of 10 important legal dates in 2013, days when you'll likely be paying a little more attention than usual to the world of the law. Some of them represent the beginning of new realities we'll have to deal with next year and beyond. Some of them are timely commemorations of important dates in legal history, reminders that many of the same fighting faiths that animate our current national arguments were around in times past.
I'm already on the record as suggesting that 2013 will be as intense or even more intense for the law than the year we've just endured. Here are some reasons why.
We want to hear what you think about this article. Submit a letter to the editor or write to letters@theatlantic.com.