The Corny Appeal of the Christmas Letter From the 1950s Through Today
They're packed with boasts, exclamation points, and campy humor. And they've been that way for generations.
They're packed with boasts, exclamation points, and campy humor. And they've been that way for generations.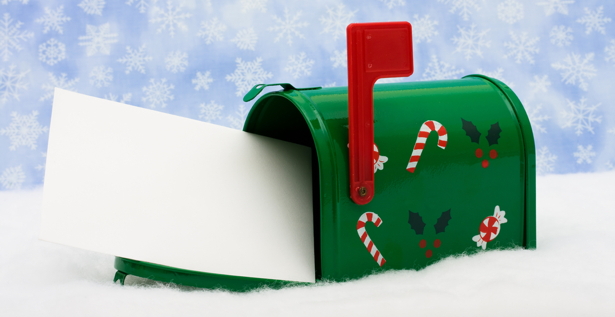 "Read another one, Dad!" says the title character in a 2001 episode of the show Everybody Loves Raymond. It's Christmas morning, and the Barones are sitting on the sofa together, drinking coffee from snowman mugs and ridiculing their friends' holiday greetings. "'Is it Christmas already?'" one letter begins. "'With our trip to colonial Williamsburg, remodeling the living room, and Denny's successful run for city council, the months have just flown by!"
Writing -- and mocking -- the annual Christmas letter has been an American tradition since at least the 1950s, when the Atlantic published a piece called "From Us to You." The author, William Copithorne, described a formula that hasn't changed much in the past 60 years: The authors begin with the observation that "It's Christmas again" or "Christmas has rolled around once more." They make liberal use of exclamation points. ("No Christmas letter averages fewer than eighteen '!'s,' '!!'s,' or '(!)'s' a page," Copithorne observed.)
Most of all, they pack each paragraph with mundane accomplishments like graduations, new jobs, and home improvements. Every effort is made to keep the tone light, and the authors soften their egotism with corny humor: "Bea has been made Den Mother of Joey's Scout troop. She says she doesn't plan to hibernate for the winter, however." In some cases, the authors hide their boasts behind shifting viewpoints: The plural "we" disappears for a moment as a wife praises her husband, or a husband shares his wife's accomplishments:
Should Jim, for example, want to tell about the big one he caught at Sunrise Lake, he first says that his son, Joey, is the real fisherman in the family-- that Joey, in fact, caught bigger trout than he did last summer. He then writes the following footnote signing it "Bea": "Jim insists on being a devoted parent. Actually it was he who caught the larger trout: a ten pounder, the biggest, according to the people at the grocery store, that anyone had caught at Sunrise Lake in six years!"
As The Atlantic's Alexis Madrigal recently noted, social media is starting to replace these traditional holiday greetings. It's no longer necessary to send annual letters to family and friends -- if they're on Facebook or Twitter, they've already heard about the new grandson or seen photos from Sarah's semester abroad in South Africa. But for some families, there will never be any substitute for sharing a year's worth of everyday achievements in a Christmas letter -- or, for those like the Barones, sitting on the couch together and laughing at them.
Read "From Us to You" in the December 1954 Atlantic.