The Adventure Traveler Who Lives in the 'American Gothic' House
Beth Howard spent decades scuba diving with sharks and baking pies for movie stars before she fell in love with a historic Iowa farmhouse. For $250 a month, she now calls it home.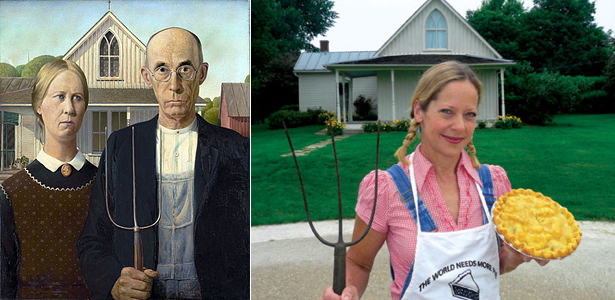 Were he alive today, artist Grant Wood might be surprised to discover who's living inside the Eldon, Iowa, house that inspired American Gothic, his relentlessly parodied painting of a dour farm duo. In 1930 an ornate window on a stark farmhouse prompted Wood to sketch it and fantasize about who might live there.
Today, that 700-square-foot home is occupied by Beth M. Howard, a former participant on the MTV adventure show Eco-Challenge 10-Day Adventure Race. Howard has spent the past three decades roaming the world as a journalist specializing in adventure travel: Her assignments have taken her sky diving, dog sledding, and scuba diving with sharks. She's an Iowa native, but she's spent much of her life in such far-flung places as Kenya, Japan, Indonesia, Australia, Thailand, Mexico, and the United Kingdom. It never occurred to her that she'd return to the state she left at age 17. "I was never going to come back," she recently confided.
She did come back in August 2010, but it was meant to be for a temporary visit. That was when she first discovered the American Gothic house, a landmark she hadn't even realized stood 15 miles from her childhood home. She spotted a sign while driving along a state highway.

"I thought, 'Of course, I'm going to stop,'" Howard recalled. "Who hasn't seen the painting -- the couple with the pitchfork?" (She was less familiar with the painting's origins: "It's embarrassing to admit, but I thought the painting was by Norman Rockwell.") Howard took the six-mile detour to Eldon.
At that time, Howard was at a crossroads in her own life. Her appearance on the MTV show had led to a job at San Francisco-based Quokka Sports, an interactive website featuring videos and articles about outdoor adventure. "They needed content editors and producers. It was very cutting edge, very innovative, forcing me to stretch and learn and grow," Howard said, "and they were paying big bucks. Really, I was so grateful for that job."
But in 2001, Howard decided to leave the company. As an active person who counteracted her own 18-hour days by running up Mt. Tamalpais or biking across the Golden Gate Bridge, she was tired of simulating outdoor adventure to keep people sitting in front of computers. At her exit interview, she surprised herself by blurting out, "I need to do something with my hands. I want to go make pie."
People ask Howard if the house is haunted. "It isn't," she said. Still, her first nights alone there were a little bit gothic.
After leaving Quokka, Howard moved to Malibu, where she visited a new café to sample its pie. When she learned the owner, Mary Spellman, had been too busy to make any that day, Howard offered to bake some. When Spellman asked for her qualifications, Howard retorted, "I'm from Iowa. I come from the land of pie."
In fact, Howard's mother and grandmothers had never taught her to bake. She'd made her first pie at age 17 under the direction of a pasty chef, a retired merchant marine, after he caught Howard and a friend stealing his apples during a bicycle road trip in Washington State. At Evergreen College, Howard continued baking pies -- mostly to impress guys. "It doesn't take much more than an apple pie to get someone's attention," she reported.
Under Spellman's tutelage, Howard perfected her pie baking. During the year she worked at the café, she made over 2,000 pies. Robert Downey Jr., Dick Van Dyke, Steven Spielberg, and other celebrities consumed them. But the superstars didn't faze Howard any more than the $7.50-per-hour paychecks did. It was "the lively chatter" and "the warm happy buzz in that kitchen" that kept her there, Howard said. "Mary nursed me back to life from that dotcom job."
Her reputation as a baker drew her back to her home state in 2010: she was invited to judge a pie-baking contest at the Iowa State Fair. She accepted the invitation, in part, because a painful anniversary was approaching: On August 19, one year earlier, a congenital heart condition had killed her seemingly healthy husband, Marcus Iken, at age 43.

Guilt complicated Howard's grief: on the day he died, Iken was slated to sign divorce papers in Portland, Oregon, to end the couple's six-year marriage. Howard had instigated the divorce. After her husband's work relocated him to Stuttgart, Germany, she decided to stay in the States. Howard hoped the trip to Iowa would help her get through the memory of that difficult time.
After taking the turnoff to Eldon -- a tiny cluster of buildings with a population of 927 -- Howard spotted the small white house in the distance, between the public works office and the visitors' center. "I just started laughing when I saw it," Howard said. "I thought, 'That is it, of course, but it's so cute. It's just so cute.'"
Peering through crooks and crannies past closed window blinds, Howard determined that the tiny house was unoccupied. She saw the Gothic windows that had inspired Wood to immortalize the house, but she also loved its screened-in porch, clapboard exterior, and steep pitched roof. This was her dream home.
From a plaque in the visitors' center, she learned the house was owned by the State Historical Society, which had rented it out as recently as 2008. Howard peppered a center staffer with questions and was permitted to enter the house during its monthly inspection, serendipitously scheduled for that very day.
Inside, Howard ignored cobwebs, dead flies, mouse droppings, and mildew to admire wide wood floors, wainscoting, and angled walls. "In Venice Beach, California, you'd pay $5,000 bucks a month for something that cute," Howard said.
Through the Gothic window in back of the house, she saw a bike trail, maple and pine trees, prairie grasses, and a soybean field. "This little cottage had all this land around it, breathing space, almost a park-like setting," she said. "The city had made it attractive to tourism."
She called the Historical Society on the spot and learned the house could be rented for just $250 a month. Soon afterward, she signed a lease requiring her to "treat the public in a friendly manner." A recommendation from a high school friend living in Des Moines sped along the acceptance process.
Unlike Howard, the stern-faced couple in the American Gothic painting never lived in the house. In fact, they never even posed outside it. The 63-year-old male model, Wood's dentist, Dr. Byron H. McKeeby, posed in his dental office. The female model, Wood's 30-year-old sister, Nan Wood Graham, posed in the artist's Cedar Rapids studio. (Wood assured both his reluctant models that they wouldn't be recognized, but many people recognized the dentist, and his friendship with Wood diminished.)
When she learned of the school shooting in Newtown, Connecticut, Howard quickly raised $2,000 and loaded up her RV with Granny Smith apples.
Howard concedes that her early experiences in the house were a bit gothic. When she first moved in, she spent many hours with a hired helper scouring the place with a leftover flood kit -- mop, bucket, bleach, and plastic gloves -- that the city provided. People ask her if the house is haunted. "It isn't," she said.
Still, her first nights alone in the house were a little scary. Her furniture hadn't arrived yet. She had only a sleeping bag from her car, a borrowed Aerobed, and two folding chairs a neighbor had lent her. "The house made a lot of noises at night," Howard said.
When it rained, a sump pump in the basement caused the whole first floor to bang around. She was on the phone with her aunt when she first heard this commotion and asked, "Could you please stay on the line with me while I go check this out?"
In June of 2011, a six-foot-long snake invaded her bathroom. Wielding shovels, rakes, and even a pitchfork, elderly neighbors came to her aid. Ever since, she's made sure to look around carefully when she steps into her bathroom.
But Howard came to enjoy the adventure of living in an old historic house. She painted cupboards cherry red, hung red-checked curtains, and chose colorful towels to brighten the kitchen. She started holding dinner parties in the house and in its backyard, where she planted her first-ever garden.
Today, decked out in braids and bib overalls, Howard personally bakes 100 pies -- apple, strawberry, custard, lemon, and peach -- each weekend from Memorial Day through Labor Day to sell at her Pitchfork Pie Stand. She launched the business two years ago in the house's side yard, but bees chased away customers. Now Howard flings red gingham over tables in the farmhouse dining room, where weekdays she writes. (She runs a blog about her experiences in Eldon and recently published a memoir called Making Piece.) Then she shoves the pie-laden tables into an L-shape just inside the main entryway.
Along with her own baking, Howard teaches classes. Students tour the 130-year-old landmark and make pies in its kitchen and dining room. Afterwards they pose outside clutching pitchforks and pastries in American Gothic costumes.
For Howard, the act of baking a pie has come to mean more to her than a need to "do something with my hands." It's a way to bring people together, and even to heal them. This past Friday, when she learned of the school shooting in Newtown, Connecticut, she quickly raised $2,000 for gas and supplies and loaded up her RV with Granny Smith apples. (She has so far raised more than $6,000.) Using donations from a Connecticut Costco, she plans to stay in Newtown for a week, baking for local residents and teaching pie-making classes to children.
"Pie is accessible, affordable, all-encompassing," Howard writes on her website. "Pie is meant for sharing. Pie connects people. Pie knows no cultural or political boundaries. Pie makes people happy. And happy people make the world a better place. That's why the world needs more pie."