'It Happened Right In Front of Me': A Photographer Captures Grief at Newtown and Columbine
Essdras Suarez, who won a Pulitzer for his coverage of the Colorado school shooting, recently took pictures of the mourning at Sandy Hook. Here, he describes what it's like to document this kind of tragedy.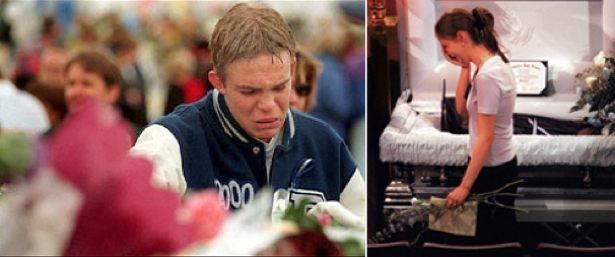 In October 2003, while on a reporting assignment with photographer Essdras Suarez in the southern Venezuelan village of Kanavayen, I watched as Essdras spent an hour taking photos of children playing on a slide.
The next year, in Lorino, an ice-cloaked town on the Russian side of the Bering Strait, Essdras wandered off to photograph two kids jumping along a row of tires.
In el-Arish, Sudan, where date trees nestle near the fourth cataract of the Nile, he stopped to capture images of students as they raised hands high in response to a teacher's questions.
I recently asked Essdras, a good friend with whom I have spent more than 200 days reporting in more than a dozen countries, why he is so often drawn to document the daily lives of children. "Because they are the first to forget that there is a stranger watching them," Essdras told me. "They are the first to behave as they behave when you are not there."
I was having this conversation with Essdras, who is a staff photographer at my former employer The Boston Globe, a few days after reading a Facebook post in which he said that he'd arrived on assignment in Newtown just hours after the murder of 20 children and six adults at Sandy Hook Elementary School.
"Driving here," Essdras posted on Facebook, "I became Columbine sad."
On the morning of April 20, 1999, Essdras, a native of Panama who is a black belt in Ninpo Taijutsu and a former U.S. Air Force medic, had been working out at his local gym in Denver, Colorado. He was a young staff photographer at the Rocky Mountain News at the time, and when the first reports of a shooting were broadcast on televisions in the gym, Essdras raced home to grab his gear and head to Columbine High School.
Last week, I asked Essdras to tell me about his experience covering an attack so rare and horrific -- guns turned on students.
"I was the first media car they turned away from the school," Essdras responded in an email. "The police established a perimeter of about a mile around the school, and I spent the next couple of hours trying to get into the area. Finally ... I was able to get closer, and I shot all the way up until 11 p.m. that night."
As details emerged that two students had killed 12 students and one teacher, Essdras photographed the sorrow. I asked Essdras why it is important for photojournalists to capture such scenes. He gave a personal answer.
"I am trying to document real suffering, real grief, because it is part of life," Essdras said. "In order to stay true, that's what you do."
Essdras said he was less shaken by the killings at Columbine than were his colleagues who had children of their own. He stayed on, following the urging of editors, who wanted photographers on the scene to get intimate images of the grieving community. Essdras and other Rocky Mountain News photographers were later honored with the Pulitzer Prize for their work.
After eight or nine consecutive days covering Columbine, Essdras was in a high school parking lot that still held vehicles of students who had been killed. The vehicles had become informal memorials.
"I was watching a group of kids approach a pick-up truck, and a kid wearing a letter jacket caught my attention," Essdras wrote to me. "I don't know why he is the one I decided to follow with my camera, but as he kept getting closer and closer to the truck his face became more and more somber, and then his visage turned to pain, and then uncontrollable crying and sobbing by the time he finally touched the vehicle. I made a couple of images, and all of a sudden I found myself not shooting, with my cameras hanging by my side and with tears rolling down my cheeks. I called my office and asked them to please get me out of there, that apparently it had finally gotten to me."
On the first week of January 2002, Essdras and I began work at the Boston Globe, and he was assigned to shoot photographs for the first story I wrote for the newspaper. We soon became a team exploring life around the world, often in remote stretches. In southern Venezuela, we reported about squatters in a gold mine and the spiritual life of a native community near a historic Catholic mission. In the Russian far north, it was the collapse of communism and the return of subsistence hunting to the frozen stretches of Chukotka. In Sudan and Egypt, it was the strength of Islam in the eastern Sahara.
Essdras is broad shouldered and muscular, and he keeps his head closely shaved. When striding along with multiple cameras and lenses, he can appear to be on some kind of mission, braced for encounter. But he is quick with a joke, and I have often watched him kneel to banter with kids or sit to chat with elderly people on the edge of a crowd. On our assignments, Essdras was a kind of ambassador, connecting with the people he photographed on a personal level.
But during this past decade, Essdras had to document more horror: the invasion of Iraq, for example, and the aftermaths of the earthquake in Haiti and of the tsunami in Indonesia. He recently recalled the time he encountered a two- or three-year-old boy in a clinic on Sumatra in 2004 days after waves surged ashore. Much of the boy's face had been shorn of skin. Essdras had to weigh the child's pain and privacy against the value of showing the wider world the extent of the suffering.
He withdrew, without a photo, and another photographer moved in and starting shooting tight shots of the boy with a wide-angle lens. Essdras photographed the boy's face from a distance through a long lens.
"If I would have been there alone, I wouldn't have taken that photo," Essdras told me.
What if he had to photograph Columbine all over again?
"I might not have taken a lot of those shots that I took," Essdras said.
On the morning of December 14, 2012, Essdras got a phone call from a Globe editor who told him to pack an overnight bag and head to Newtown.
"I wanted to cover this story because of its magnitude and relevance," Essdras wrote to me. "But I was also dreading having to witness and document the kind of grief and pain I knew I would be seeing through my lens."
Sandy Hook was a far different scene than Columbine. Perhaps it was the ages of the victims, or the cumulative effect of other shootings at Fort Hood, Tucson, Aurora and elsewhere in the 13 years since Columbine. Perhaps it was the proximity to the massive New York media market. In Newtown, journalists swarmed - near the fire hall, as close to the school as they could get, and outside a church.
"By the time I started experiencing in Columbine that the media was crossing boundaries, it was a good six days" after the shootings, Essdras told me. In Newtown, he said, "I saw that crossing of boundaries begin that very same day. People were trying to walk into a church, and they had to walk a gauntlet, with lights thrown in their faces." There were photographers and television crews from major media outlets and independent journalists working with handheld digital cameras and smart phones.
I asked Essdras if he felt more pressure to produce, given the explosion of digital photography and social media in recent years.
"The final product, regardless of how good it might be, becomes somewhat diluted by the amount of images out there," Essdras said. A single image, he said, "hasn't diminished in value, but it has diminished in impact."
But he knows that professional photographers need to keep documenting.
"I'd like to think I can do a better job because I have the experience that I've had, that I can notice the nuances that tell a better story," Essdras said.
In Newtown, the scramble to get close to the scene was intense. Essdras stayed to the side of what he described as a "media amoeba."
"I'm pretty sure images better than mine were made that [first] night," Essdras wrote. "But I know now that being respectful and empathetic to those in front of my camera has much more value than whatever photo I could create by taking advantage of people's vulnerable state. ... I know I can wait and get something better, if I wait and look somewhere else."
During three long days, Essdras photographed emergency responders and mourners at makeshift memorials and at an interfaith vigil. He saw early the challenge of capturing authentic moments of mourning adults. "I pretty much knew after the first day it was going to take a lot to close the distance between people grieving and me," Essdras said.
On that first evening, Essdras noticed a small prayer circle outside a church. He knelt and began taking photos of clasped hands, but it was too dark. He stood and waited. One woman turned from the circle and wrapped her arms around an approaching friend. A third woman leaned in to join the hug.
Essdras lifted a camera with a wide-angle lens and took a photo of the embrace of shared sorrow.
"I took it because it happened right in front of me. I was not their concern," Essdras said. "I just happened to be there."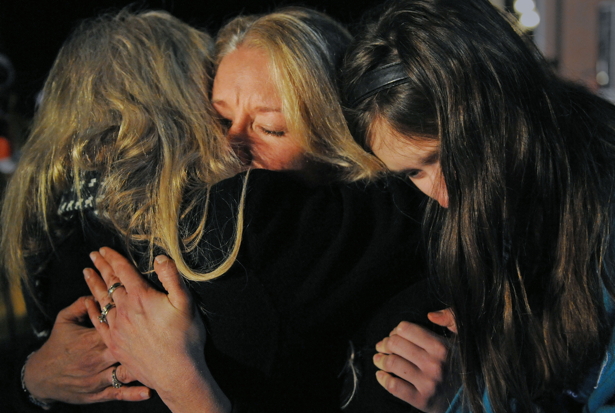 Essdras M Suarez/Boston Globe