What lies ahead for U.S. grade schools and colleges? More demands on an already-strained system -- and innovative solutions to meet them.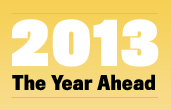 Atlantic writers preview the stories, trends, and ideas to watch.
See full coverage
When it comes to public education, 2013 is likely to be a year of new thinking, from innovative approaches to classroom technology to a potentially game-changing decision by the Supreme Court on affirmative action. States and school districts will continue to struggle with the recession's fiscal fallout, even as demands for more programs and services -- including science, technology, engineering, and mathematics (STEM) initiatives, extended learning time, and early childhood education -- increase.

There will also be increased pressure on states to address lingering concerns, including dismal graduation rates and the achievement gap for minorities and students from low-income families. Here's a sampling of some of the big stories that lie ahead on both the K-12 and higher education fronts.
We want to hear what you think about this article. Submit a letter to the editor or write to letters@theatlantic.com.