Do Americans Want More or Less Gun Control? Both, Actually
We don't yet know if today's tragedy in Connecticut will spark a national debate over gun control, or whether, like many massacres before it, it will fade quietly without leaving its mark on a single law. If the past is any indication, the public response to these shootings isn't what you might think.
Three graphs tell the story. The first, from Quartz, shows that public support for gun control doesn't go up after mass shootings in the US. In fact, it has repeatedly gone down. Those down-ticks are part of a growing public aversion to gun control that dates back to the early 1990s.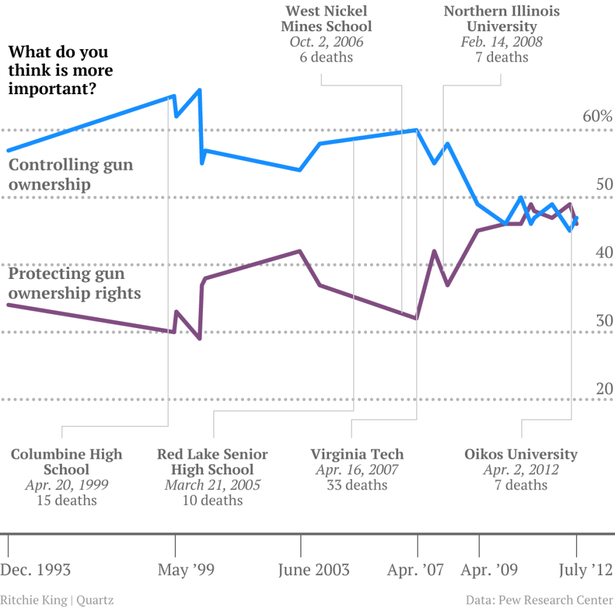 So most Americans are against gun control right? Not so fast. The second graph, from a truly spectacular post by Ezra Klein, shows that there is broad public support for specific gun control policies, in particular: background checks; gun registration; banning high-capacity clips; and banning semi-automatics.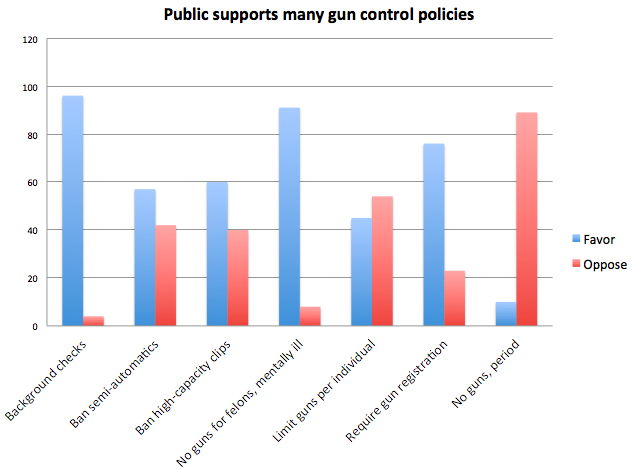 As a principle, "gun control" isn't popular. But specific gun control laws have national support. Yet, it gets more complicated. Even the term "national support" belies demographic gaps.
While nearly every demo -- men, women, white, blacks, Democrats, Republicans, north, south -- is more likely to support gun rights today than in the early 1990s, it remains true that fewer than half of the following demographics are clearly anti-gun-ownership-rights, in general: women, blacks, Democrats, and northeast residents. More than 55% of men and Republicans recently told Pew it was more important to protect rights of Americans to own guns.
>