The Writer and the General: What the Petraeus Affair Exposed About D.C.
Both Petraeus and Broadwell were good, maybe too good, at doing what it takes to succeed in this city.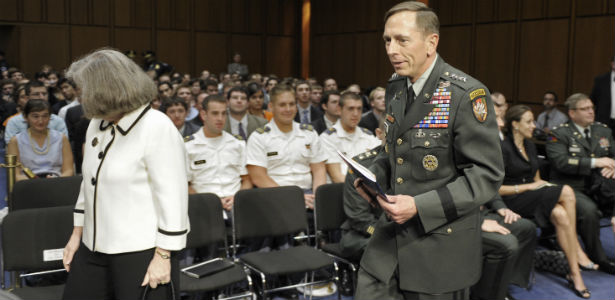 Paula Broadwell and I were standing in the kitchen of my house in northwest Washington one evening last summer, and I mentioned I had met David Petraeus at a party. He had invited me out to Langley, but the public-affairs director told me afterwards that he had given it "further thought" and decided against it. "I'll talk to him about it," Broadwell said. I wondered about the way she spoke about him. She sounded awfully close to him -- closer than I am with my sources.
That evening, she seemed to have a nice time at the party, talking with an Army officer in the backyard and with other guests. Still, she seemed preoccupied. She had a lot on her mind, as it turned out. Weeks before the party, she was sending harassing emails to Jill Kelley, who was a volunteer events planner at MacDill Air Force Base and a friend of Petraeus, and also to Kelley's husband (they shared an email account). Broadwell said in her anonymous emails that Kelley was too close to Petraeus, adding that she had touched his knee under a table. Broadwell sounded jealous, or maybe she was just heart-broken.
Her affair with Petraeus, which unfolded over the past year and apparently ended in the springtime, was a mistake, and her emails showed poor judgment, to say the least. Equally troubling, she was cashing in on her relationship, gaining a national profile and speaking gigs because of her book, All In: The Education of General David Petraeus.
But the affair was more than just a slip-up: Instead, it revealed the complex dynamic between the military and the media and moreover exposed the human factor in a world that can seem anodyne. Military officials and journalists both try to de-personalize policy: Officers describe "kinetics," an antiseptic way to discuss killing. Journalists, too, have a way of talking about government programs that make impersonal: "The White House said," they write, and, "according to the CIA," as if these buildings, not the people who were inside of them, were doing things.
Yet people, not institutions, formulate policies, as well as carry them out and write about them; they are sometimes good at their jobs, sometimes not, and that element gets lost in the coverage. These people, both in the military and in the media, are prey to ordinary frailties -- among government officials, for example, the desire to show off is palpable (Washington is the only town I have ever lived in where classified information is used as a pickup line); for journalists, the compulsion to seduce is equally strong.
Journalists need to have access to top government officials in order to write their stories. If they don't get an interview, the story may not run. This means that journalists are under extraordinary pressure to develop sources and to get them to talk, particularly now that publications are shrinking, with fewer inches allocated for articles about the military and intelligence agencies. Competition for this space is intense, and journalists will go to great lengths to get access.
People often assume that it is easier to get access and to gather information about government programs when you are a woman. Indeed, the seduction story is as old as time itself, a biblical tale, but it is a fantasy. In reality, being a woman only gets you so far. Female journalists attract the attention of top officials -- as a woman, you stand out in this crowd, regardless of what you look like, but when officials open up, it is almost always with other men. If they do confide to a woman, the boundaries become blurred.
Like many successful people in Washington, Petraeus was a flirt, with both men and women. Ebullient, energetic, even bubbly, he had cultivated relationships with male journalists for years, selling them on controversial programs such as counterinsurgency, as well as on his own "super-human, perfect-warrior image," as one military officer puts it. Petraeus' efforts led to flattering profiles in the New Yorker and the New York Times, as well as to books that celebrated his accomplishments such as Thomas E. Ricks' The Generals -- and, at least for a while, to widespread support for the doctrine of counterinsurgency. In short, Petraeus was good at his job, as a military man, as head of the CIA, and as director of a media charm campaign in Washington.
Broadwell was good at her job, too. "She played to his ego," as one military officer, an intelligence expert who knows them both, told me. In turn, Petraeus gave her access: She went to Afghanistan so she could write about him. "I got shot at," she told me, then crouched to show how she had managed to avoid incoming fire, making it seem as exciting and fun as a weekend in Vegas. When Petraeus became director of the CIA, he was muzzled and no longer gave interviews. Yet he allowed Broadwell into the inner sanctum: She went to his office, for example, on the day he met with Angelina Jolie, a journalistic coup that Broadwell touted with a Facebook photo.
After the party at my house in June, Broadwell emailed me: "GREAT to see you, pretty lady, and hope to reconnect during a less hectic time! :)" Months later, her husband invited me to her 40th birthday party in Washington: It was supposed to be on Saturday night. He sent out an email late Friday, the day the scandal broke, saying, "The party is cancelled. Thanks!" Broadwell had once talked to me about her own plans to run for office, but now that is over, along with her career. (Note: I emailed Broadwell and asked for a response to this story, but she declined to comment.)
Petraeus' career at the CIA has also come to an end. Like a hero in a Shakespearean tragedy, his greatest strength, his ability to seduce, was also his greatest weakness. "The one thing I've learned about Petraeus is that he's a human being, just like everyone else," Broadwell said at my party in June. Military men, and especially retired officers who head up the CIA, are supposed to be icy and methodical, even more so now that killing is done remotely through aerial drones. Journalists are supposed to cover these issues in a dispassionate way. Neither side is being honest, and the fact that he fell for her, and she for him, is a reminder of our common humanity.
UPDATE: Last night, I got an email from someone at the CIA telling me Broadwell had not been in Petraeus' office with Angelina Jolie. "Ms. Broadwell did not attend this meeting," a senior intelligence official explained. The Associated Press had originally reported that Broadwell was invited to his office, but an updated version of the AP article made it clear that, while invited to the meeting, she did not go, missing the chance to spend time with Jolie (another mysterious twist).