Sordid Casino Battle Ends, Inevitably, in Victory of Casinos
Maryland's highest-spending political campaign ever? This election's battle between casino operators in that state and in West Virginia.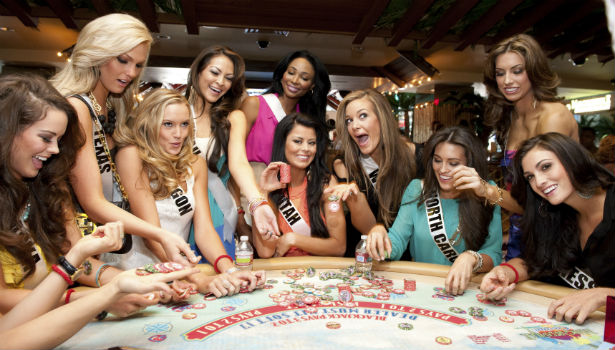 Reuters
What was Maryland's most expensive race this election cycle -- and also the most expensive political campaign in Maryland history? It was the fight over Question 7, the referendum to uphold a law expanding gambling there.

If you carve up the statistics, as Matt Yglesias reported it, 90 percent of the initiative spending in the state this year went to the casino question alone, outpacing spending in the state's last four gubernatorial races combined. The state voted yesterday, 51.6 percent to 48.4 percent, to pass the referendum, but both sides spent about the same amount (i.e. a lot) in the process. The total? $85 million.
Where did all this money come from? Well, casinos have a lot of money. You'd expect existing Maryland casinos to spend a lot to expand gambling in the state, which they did. But who was spending money against gambling in Maryland?
Maryland already allows slot machines. The referendum asked, essentially, whether casinos in the state ought to allow table games. Theoretically, an expansion would benefit the state through an increased tax flow from gambling (given a likely increase in gambling revenues); the tax money is supposed to fund education. Proponents also say adding table games would create jobs.

Opponents used most of their advertising to hammer repeatedly on the idea that tax money wouldn't actually be spent on education. They also claimed that casinos would receive preferential tax cuts "while Maryland workers bear an increasing tax burden." (A lot of the $85 million was spend on TV ads -- and that is a lot of ads for one market. Marylanders were really, really sick of them by Election Day.)
Every single one of these claims may be fair. The weird thing here is, as a number of Maryland news outlets have reported, most or all of the spending against the measure was also coming from casinos. In fact, the Maryland Daily Record reported that a single casino operator -- Penn National Gaming -- was "the only group opposing Maryland's law" with its spending.
Penn Gaming runs a casino in Charles Town, West Virginia, which (per Yglesias) is only 90 minutes away from the Baltimore-Washington metro region. You can guess why Penn didn't want table gaming allowed in Maryland. Naturally, Penn was smart enough to stick to the potential non-benefits of gaming in their ads, rather than mentioning (say) the social and economic ills apparently caused by gambling.
Nothing about this ballot measure's passage is appetizing. Ex-Redskin LaVar Arrington endorsed the measure -- which is strange, given that athletes generally seem reluctant to get involved in politics and especially in an issue like table gaming -- but a spokesman for a pro-gaming group says he wasn't paid to appear in ads. Maryland Governor Martin O'Malley also reportedly has ties to Maryland gambling interests, according to the Washington Examiner, which says gambling companies have hired former aides of his.
In other words, Maryland voters: If you said yes on 7, you kind of voted for Maryland gaming interests. If you said no on 7, you kind of voted for West Virginia gaming interests. The house always wins! (And so, I guess, does spending in politics.)