Out of the Shelter: How One Homeless Teenage Mother Built a Life of Her Own
For a young single parent with no place to live, it can be nearly impossible to get off the streets, let alone go to college. Here's how one woman did both.
For a young single parent with no place to live, it can be nearly impossible to get off the streets, let alone go to college. Here's how one woman did both.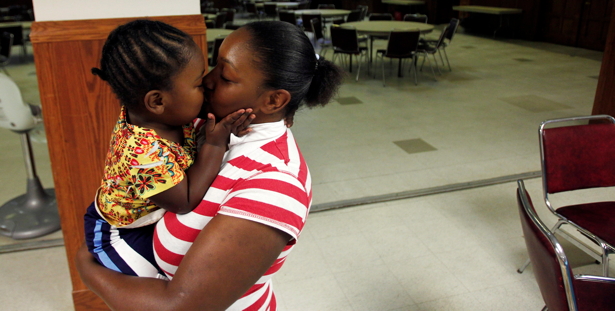 Say you're a teenage girl who gets pregnant and decides to have the baby. Nearly 750,000 American teenage girls do every year, a third of them under 18 and almost 90 percent of them unmarried.
Now say you're a homeless teenage mother. You need a place to live, but to afford a two-bedroom apartment on a minimum-wage salary, the math says you'd need to work more than 20 hours each weekday -- an impossibility for anyone who needs to sleep. And to keep that job, you have to find childcare, but in 36 states, a year of child care costs more than a year in a state college.
Young parents are also less likely to have a high school diploma or its equivalent, making a job search even more difficult. And once you're struggling for two, you find yourself running out of options. Families are rejected from adult homeless shelters almost a third of the time, and the average wait for a federal housing voucher is 35 months. It's no wonder up to 80 percent of homeless teen mothers cannot find a stable place to live long term.
Now say you beat all the odds, finish high school, get a job, find an affordable apartment that rents to people with no rental history, and scrounge together the first- and last-month's rent. On top of that, wanting the best for your child and yourself, you enroll in college. Your life would look something like that of Creionna, a young mother who grew up in poverty along the Gulf Coast of Louisiana. Your day would start at 5:45 in the morning, would require seven bus or street car rides, and would end between 7:00 and 8:00 at night, just in time to make dinner and start doing homework.
For Creionna, the struggle for independence was complicated further by geography -- in post-Katrina New Orleans, most affordable apartments had been destroyed, forcing rents up by 50 percent on average. Her family, such as it was, had scattered. Her mother had died at 21, when Creionna was just two. Her father raised her for the next five years, until he went to prison for selling drugs. Then her grandmother became her legal guardian. At any time, up to 10 people lived in the cramped three-bedroom house, mostly aunts and cousins.
When Creionna was in high school, her grandmother moved to a nursing home and Creionna returned to live with her father. She had just started 10th grade in a program that would have let her graduate with college credits when Hurricane Katrina flooded New Orleans, killing more than 1,900 people and washing away the hopes of many survivors. One of Creionna's friends died in the floodwaters, trying to rescue his sister. Countless others lost everything they owned. Suddenly, virtually everyone in her life was either homeless or out of work. Dirty water drowned her world.
After a brief stay with her father in a tiny rural town, Creionna ended up back in New Orleans living with a maternal aunt. That worked, until the house became a base camp for various relatives with drug problems. There was one bright spot -- a young man named Rashad lived next door. Rashad listened to her talk about her life as they sat up on the fire escape, and after dating him for six months, she became "with child," as she puts it. Deep in denial, Creionna hid her pregnancy for five months. Her neighbors believed that drinking a capful of bleach would cause a miscarriage, and she considered it. When friends asked her whether she was pregnant, she asked what made them think she was. "That big stomach," they replied.
When Creionna was about 20 weeks along, her aunt figured it out and called her father, who was furious. He told Creionna she had to have an abortion, but she said it was too late. They fought and he hit her hard, in the chest. She fell back, unsure whether he was trying to make her miscarry. She started to cry and watched him leave in a fury.
Rashad, meanwhile, also voted for an abortion and denied that the baby was his. Their relationship quickly went south. Sixteen and pregnant, she became ever more isolated, angry at herself for ending up in this position. Her anthem was the Ludacris song "Runaway Love," about a pregnant girl everyone abandons. This isn't happening to me, she thought.
Meanwhile, life at her aunt's became unbearable. She was earning about $150 a week at McDonald's, paying for her own school uniforms and waking herself up for school. Meanwhile, she saw her cousins selling drugs and earning $1,000 a week. These people are dangerous, she thought. They're not taking me and my child down. The moment her water broke, she left for the hospital and never set foot in the house again.
In the spring of 2007, Creionna, who had just turned 17, labored alone while her dad, stepmother, and aunt stayed in the waiting room. After an emergency C-section, she looked down at her son. She named him Dominic.
Six weeks later, Creionna stood in the parking lot of a Walmart waiting for a bus with her infant son, a well-stocked diaper back, and the clothes she wore. She was rattled by a pounding chest and had been losing clumps of hair. She couldn't stay at her aunt's, because that house was overrun by a steady stream of drug customers. Her grandmother was incapacitated, her baby's father was no help, and she and her father had just had one last fight. It was clear to her he wanted to raise her son as his own, and she wouldn't let that happen.
An elderly couple approached and asked her what was wrong. Right then, she made what now she calls the hardest decision of her life. She asked them to take her to Covenant House New Orleans, a shelter she had heard about in school months earlier. She had walked over to North Rampart Street, on the edge of the French Quarter, to check out the three-story brick building the outreach workers had described during their visit to the school cafeteria. As she walked past, the young people hanging out along the sidewalk made her think twice. "Oh my God, that can't be me," she thought.
But tonight was different. Her baby was restless, and she couldn't take him home. She didn't have one.
The ride to the city lasted about half an hour. The couple gave her $45 to help. She wished she had written down their names so she could pay them back or at least thank them. But they were kindly ghosts, and in a moment they were gone.
After arriving at Covenant House, Creionna sat in a small counselor's office lined with lockers, answering questions about her life. Like many homeless young people, Creionna had no high school diploma, no monthly income, no food stamps, no official identification, no relatives she could live with, and no work history aside from her few months at McDonald's. Despite all this, she did have an edge over many of her peers. She had finished 11th grade. She had not resorted to prostitution, and she did not have a criminal record. She was not mentally ill and had not abused drugs.
The baby was tired and hungry, and so was she. Creionna followed the counselor into the dining room, and the shelter's cook, Gail Singleton, warmed up some leftovers from the evening's supper for her. It was just past the end of Ms. Gail's shift, but she decided to take a seat across from Creionna in the cafeteria. "Don't be embarrassed. You've come a long way," she said, giving Creionna a napkin for her eyes.
Over the coming days, Ms. Gail couldn't help but be impressed by the teen's determination. Two days after she entered the shelter, she had a job interview, though she found it hard to find work as a minor without a state-issued identification card. In Louisiana, minors are required to bring their guardians with them when they apply for official documents, but Creionna's legal guardian, her grandmother, was bedridden. Cutting through the bureaucracy took six months, but Creionna prevailed, three months before she turned 18.
She started attending money management and parenting classes at the shelter, while Dominic played in Covenant House's free daycare center. Gradually, she refined her plans. She went back to high school to finish the two classes she needed to graduate. Her score on the ACT college entrance exam ranked her in the 26th percentile nationally, but she devoted herself to studying while Dominic slept, and she earned an A in her fine arts survey class and a B in English.
Just as she began to settle into her new life, Rashad resurfaced. In January 2008, when Dominic was on the verge of starting to walk, Rashad followed Creionna home one night and shoved her up against a wall. When she tried to call for help, he threw down her phone, breaking it apart. He reached down into the stroller, grabbed the baby, and started running away with him. Creionna took after him, screaming. When the police arrived, they asked her what she had done to start the fight. Once Dominic was back in her arms, she resolved that nothing similar would ever happen again. She immediately went to court and obtained an order of protection to keep Rashad away from her.
In February, Creionna received an acceptance letter from Southern University, Shreveport, which included financial aid. She was heading from homelessness to higher education in eight months. Slowly, and for the first time, she started to feel hopeful about the future.
Two years after she first walked into the New Orleans crisis shelter with her infant son, Creionna has a job at a health clinic affiliated with Tulane. After she was promoted to case manager, her salary leapt from $15,500 to $22,000 a year. Her job allows her to take courses at the university for free, and she refuses to stop going to school again--she put her education on hold once at Southern University, after her hectic schedule tired Dominic out so much that he started acting out at daycare.
Dominic is now a bright three-year-old who knows how to spell his first and middle names. In their two-story brick apartment building, the living room light is broken, but they don't have to worry about tripping over furniture. There isn't any -- just laundry and a carbon monoxide monitor, which chirps periodically because the battery is low. The rest of their furniture amounts to two beds, a small flat-screen TV on the gray carpet, and a laptop. On one wall, Creionna has taped a picture of a flower in a pot, drawn by Dominic. It may be small and simple, but it's home. And it's all theirs.
---
This post is adapted from Almost Home: Helping Kids Move From Homelessness to Hope.