Eleanor Roosevelt's Anything-but-Private Funeral
Before she died 50 years ago, the former first lady asked for a quiet, unassuming memorial. Instead, her death launched the modern era of A-list tributes and public mourning.
Before she died 50 years ago, the former first lady asked for a quiet, unassuming memorial. Instead, her death launched the modern era of A-list tributes and public mourning.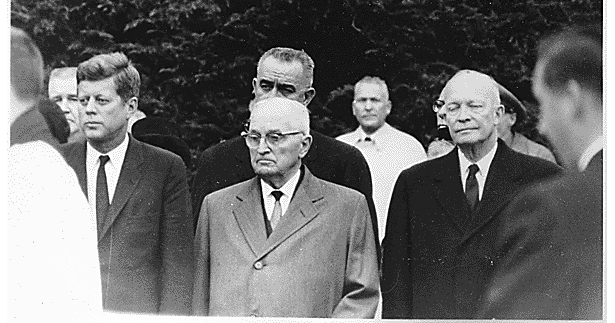 No one was going to tell Eleanor Roosevelt what to do, even after she was dead. In fact, she started orchestrating her funeral years before she passed away, on November 7, 1962. She wanted the service to be small, simple ("just a plain pine coffin covered with a blanket of pine boughs"), and private -- so private that she didn't want her death publicly announced until the funeral was over and it was too late for the world to mourn. "I had to tell her," said her friend William Turner Levy, "that she was being unrealistic."
But Eleanor Roosevelt was as defiant as she was unassuming, and on November 10, she got the funeral she wanted -- to a point. Keeping her death secret was out of the question, but the list of invitees was limited to about 250. The service was held in FDR's St. James' Church in Hyde Park. Even the weather -- cold, grey, and rainy -- was understated.
A few hours before the service, John Roosevelt, Franklin and Eleanor's sixth and youngest child, hosted a lunch at his home next door to his mother's Val-Kill Cottage. It was a typical family wake, and modest enough to have pleased his mother: sandwiches, coffee, chit-chat.
Typical, that is, if you didn't count the lady in the dark mink hat smoking a cigarette on the couch (Jackie Kennedy). Or the small group of men (Truman, Kennedy, Eisenhower, Johnson) who stopped talking shop in a corner only when they were interrupted by an urgent request, delivered by Jimmy Roosevelt's wife, Irene: "Mr. President, your wife would like to see you now." The men naturally had to ask: Which Mr. President? (It was Bess Truman, beckoning Harry.)
Fifty years later, it seems obvious that, despite her orders, 78-year-old Eleanor Roosevelt was fated to receive an A-list funeral. No president's wife accomplished what she did as a labor activist, civil rights foot soldier, syndicated columnist, and best-selling author. And that was just while she lived at the White House. Roosevelt ultimately became, in Truman's words, "First Lady of the World," following her time in the White House with a long career as a human-rights activist and United Nations delegate. Of course her funeral was bound to attract quite a turnout. Her life, as Whitman might have said, contained multitudes.
Except in those days, big lives didn't always receive big send-offs. Before Roosevelt's death, Americans rarely dissolved into communal tears as we do now with the passing of presidents (or of nearly any celebrity who dies before the age of 60). In 1962, only five presidents had been given state funerals (President Teddy Roosevelt, a Mt. Rushmore fixture and Eleanor's uncle, was not one them), and just over two dozen men had lain in state under the Capitol dome.
The vast majority of first ladies were dispatched with little more than prayers and flowers in small towns across the country. When Martha Washington died, the Washington Federalist wrote, "The silence of respectful grief is our best eulogy." Mary Todd Lincoln was the rare first lady whose passing was marked by flags flying officially at half-mast.
Roosevelt's was the first what we might call "power funeral" of an American woman. It was the first time that three presidents attended such an event. Also among the mourners were the chief justice of the Supreme Court, the secretary of state, the governor of New York, and the U.S. Ambassador to the United Nations. The new Air Force One was also there, making its maiden voyage. A little more than a year later, the same plane would fly JFK's body back from Dallas.
The security detail alone was impressive. Roosevelt's funeral took place while the Cuban Missile Crisis was still on the boil, and there was genuine fear that Castro might breach the American naval blockade at any minute. The Secret Service actually wanted to install a phone in the church pew where the president would be sitting, to receive emergency calls from Washington. The Reverend Gordon Kidd, the pastor at St. James' refused, insisting, "If he [Kennedy] had to talk on the phone during the service it would be terribly frustrating and confusing." The phone was placed on a stone wall between the parish house and the church instead.
Would anyone have heard it if it rang? The streets of Hyde Park were mobbed by well-wishers on that rainy November afternoon, many of them in tears. (And a few with dry eyes. Roosevelt's liberal politics had earned her plenty of enemies; one man standing alongside the funeral procession route held up a sign that read "We're glad you're gone, Eleanor." Police arrested him.)
Five days after the burial in Hyde Park, Roosevelt was celebrated with a service at Washington's National Cathedral. Two days after that, there was a memorial at New York's Cathedral of St. John the Divine.
Roosevelt may have been one of the century's most important figures, but she would have loathed the attention. Yet along with the heartbreaking burial of President Kennedy a year later in Arlington National Cemetery, her funeral helped transform Americans' concept of grief from an emotion that should be chewed and swallowed quietly to a kind of group therapy in which the only shame comes from not joining the jeremiad.
Today, we live in the culture of the group hug, where death is simultaneously more public and yet somehow more personal. And yet looking back from the standpoint of our Facebooked, Tweeted, 24/7 media culture, Eleanor's Roosevelt's request to be buried in private doesn't seem so unreasonable after all. Unfortunately, the elegant, peaceful tribute she yearned for has become a dying breed of funeral.