Charter Schools, the Cliffhanger Issue of the 2012 Election
The presidential election, gay marriage, and marijuana legalization all had clear outcomes. So why is the Washington state charter school vote still too close to call?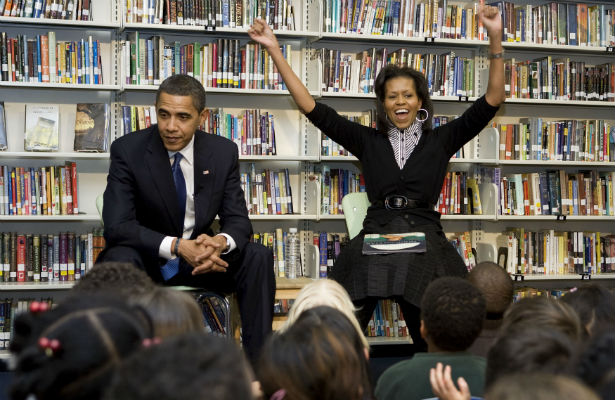 Update, 11/13: The measure has passed.
Update, 11/11: The Seattle Times reported on Saturday evening that backers of the Washington charter school measure, Initiative 1240, had claimed victory. Opponents of the measure had not conceded, and vote-counting will continue. As of Saturday, there were around 400,000 ballots left to count statewide -- including 130,000 in King County, which has been trending against the measure -- and the "yes" side led by 43,860 votes.
There's one in Arizona that offers horsemanship and equine science classes. There's a bilingual one in California, seven miles from the border with Tijuana, that flies flags from the alma maters of teachers and alumni to encourage current students. There's a whole network of them in Detroit designed especially to help homeless and at-risk kids.
Some of these schools use progressive teaching methods, like Waldorf or Montessori, that emphasize imagination or autonomy. Others have very strict rules about obedience, attendance, and parent involvement. Some struggle because they're poorly managed, or because they serve difficult-to-help communities. Others stand among the best and most innovative schools in the country, or send kids from troubled neighborhoods to top colleges. They couldn't be more different -- except that all are public schools, privately managed but funded by taxpayers.
Here's an unexpected result of Tuesday's election: Charter schools may have ended up being the most controversial issue of the 2012 vote.
Americans spent a lot of time preparing themselves for weeks or months of conflict over the results of the presidential election or over ballot initiatives on marijuana, gay marriage, and the death penalty. It turns out that preparation was unnecessary: All of those results were definitive. One of the only election day outcomes that's still disputed is the result of a Washington state referendum on whether to allow charter schools. Right now, it looks like the "for" side has an edge, but it's close enough that every ballot will be counted before the vote is called. (Georgia passed a similar measure with a decisive 59 percent "yes" vote that some attributed to President Obama's support for the measure.)
Charter schools get what in many respects looks like a sweet deal: They take state money (to varying degrees, depending on the state and the school), but don't face the same restrictions on calendars, curricula, and pedagogical approach that regular public schools do. They're privately run and managed; state governments generally hold them accountable for student performance with a combination of achievement tests and curricular outlines. The outlines tend to be inclusive rather than exclusive. A school may be obligated to teach basic subjects like chemistry, English literature, and math, but it generally won't be prohibited or discouraged from adding extra subjects, some of which can be pretty esoteric by the standards of a grade-school curriculum (like the equine science thing). Schools that do well keep their public funding and sometimes receive more. Schools that do badly are placed on some form of probation and, occasionally, lose their public backing.
Maybe the vote in Washington is close because -- from a partisan perspective -- charter schools are difficult to pin down. You could argue that they're a conservative's dream. They turn over to private companies a field with traditionally heavy government involvement. Then they allow companies to innovate by eliminating the restrictions that their "competitors" (i.e. normal public schools) face.
But the schools have found plenty of ways to disappoint conservatives, precisely because of this same lack of restrictions. So, for instance, conservatives in Texas -- a state that embraced the free-market ethos of the charter school in the 1990s -- became irate when they learned that one of the state's most successful charter school operators is run by a group with ties to a Turkish Islamic movement. On top of that, the New York Times reported last year that the operator, Harmony Schools, is reputed to hire Turkish contractors preferentially when expanding the campuses of its 33 schools. In total, the Times reported, Harmony's schools receive over $100 million of funding from Texas every year.
Meanwhile, some progressives oppose the schools because they're exclusive; because they take funds away from traditional public schools; because they cede a government role in providing a critical public good to corporations; and because liberals fear they could "resegregate" schools (an issue that was raised in the Georgia charter school referendum debate). While states mandate that charter schools -- like all public schools -- must accept any student who wants to enroll there, from anywhere in the state, they do have a limited number of spots. This may mean some students who want to attend can't.
In July of this year, a massive fight erupted in Nashville over a national charter school chain called Great Hearts that sought to expand by opening five schools in the city. The city's school board voted down the application partly because the charter school wanted to use unlicensed teachers. (Members also raised concerns about the school's diversity plan). The state Board of Education responded by slapping Nashville area schools with a $3.4 million fine. But on the other hand, the schools' pedagogical freedom appeals to many progressives. So do the records of many charter schools when it comes to sending poor and minority students onto higher education.
If Washington approves its ballot measure, only eight states will be left that don't allow charter schools. (Unsurprisingly, given the nature of the opposition to charter schools, these states include both the right-leaning -- Alabama, Kentucky -- and the left-ish, like Vermont.) It remains to be seen whether the holdouts will someday cave, but it looks like the trend is towards approval of the measures. Advocates for the schools, many of whom acknowledge the imperfection of the charter system, seem to agree on one thing: Public education in this country isn't adequate to its task, and it will take some trial and error to fix it. If nothing else, charter schools may be valuable experiments in how to teach.