After Sandy, New York Restaurants Toss Rotten Food and Get Back to Work
It took much more than the flip of a switch to get Manhattan's eateries up and running again.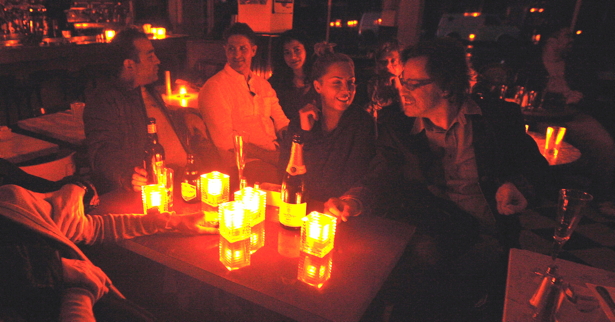 I'm essentially the Chicken Little of B&B, the restaurant group overseen by Mario Batali and Joe Bastianich. If I'm not sending out mass emails about the latest food-borne illness outbreak, I'm busy implementing some new sustainability policy so we don't destroy our planet. But what happens when the sky does fall?
When Hurricane Sandy left the tri-state area crippled, our restaurants were without power for four days, and as a group we faced unchartered territory. The "How to Prepare for a Hurricane" email I sent in the days leading up to the big event detailed a number of steps chefs could take to mitigate their loss and keep their food, their restaurants, and ultimately their guests safe.

But as we faced days of darkness, it became clear that no amount of preparation would have sufficed. My notes about placing extra thermometers in walk-ins, grouping cold foods together, adding extra cold packs, and turning fridges and freezers all the way down seemed like frivolous advice once we were feeling around in the dark to find the keyhole to our own apartment doors.
Though I spend much of my professional life ensuring food safety, a different kind of safety emerged as paramount: personal safety. Numerous emails went out between managers, owners, and staff, locating employees, identifying whereabouts and establishing lines of communication. But those lines of communication were tenuous at best. For the first time in perhaps the history of email, "reply all" was used properly as people came back on line, letting their restaurant team know they were all right and where they had landed.
As restaurant folk, we don't know how not to work. Our restaurant group closes only two days a year. So we waited by the phone for word that power was back on, or for some creative idea of how to manufacture hot water onsite -- anything to get us back in the door, even if it meant cooking by candlelight. However, without refrigeration, hoods, hot water, or ice, we knew we couldn't serve the public. So we waited. And then we waited some more.
As more and more people came back to the world of charged phones and Internet service, we learned of some incredible stories and some very sad ones. Staff began bunking up in numbers as the doors of those who were not as affected opened up to co-workers who were without power and heat. Many of us were fortunate, but Frank Langello, executive chef at our restaurant Babbo, lost everything. Our group organized a fundraiser at Otto Enoteco Pizzeria for next Monday so we could help Frank and his family start to rebuild
Then, thanks to the good folks at ConEdison, the lights came back on. For some restaurants it was Friday night, some Saturday morning. The IT department worked double time to get our point-of-sales systems back up and running. Operations people hit the road in search for ice. (It's more than worth mentioning here that our payroll staff worked straight through the week to insure timely delivery of paychecks no matter where anyone lived -- we do have restaurants in LA and Vegas as well.)
I quickly resumed my role as food-safety nerd and went to each NYC restaurant to discuss our rules for opening post-disaster. All potentially hazardous foods that had reached temperatures of above 41ºF had to go. Seeing as we couldn't be certain what the temperature gauges of the walk-ins had read when we came by in pitch dark midweek, we trashed everything. I pried a few wheels of cheese from a couple of chefs' white-knuckled hands, and we watched as the thousands of dollars we had spent on dry ice went down the drain. Tons of food were lost.
The tremendous food waste was painful. But by the time we recognized midweek that we would not be opening anytime soon, it was too late to donate the product to those in who could use it. Public health was the new, predominant concern, and we did what we had to. We felt the loss profoundly when we knew how many people in our very own city needed food right then.
Because we waited until power, heat, and hot water had been fully restored, our re-openings were relatively smooth. Teams of dishwashers and porters cleaned overnight in the days leading up to power restoration. All surfaces were cleaned, freezers thawed, floors mopped, walls scrubbed, equipment sanitized -- it was a deep cleaning to behold.

Deliveries began arriving immediately and cooks prepped furiously from scratch. We all knew how important it was for us to get back to work. Many of us were thankful to be there -- to account for our friends and co-workers, to have a distraction, to be somewhere warm, to start earning money again. Five days was a long time to be away from our restaurants, and from the people many of us consider family. And the next day, as he served a dining room full of grateful regulars and neighborhood folk, the chef who was so reluctant to throw away his imported cheese called me to say, "I am glad I pitched it. I feel so relieved."