A Veterans Day Like None Other Before
Even as we mark their sacrifice, there is evidence everywhere that America has "broken faith" with its veterans, the living and the dead.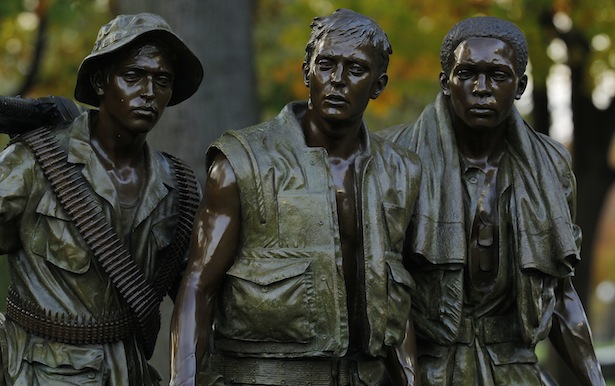 Reuters/Gary Cameron
For nearly a century, hundreds of millions of people all over the world have stopped their busy lives to pause for a moment on
November 11th
to honor the sacrifice of military service. But something will happen this year, tomorrow, which has never happened before. For the first time, the solemn date will be observed without the presence of a living World War I veteran. The last surviving veteran,
who served with the Woman's Royal Air Force
, died this past February at the age of 110. The last American World War I veteran--
the last "Doughboy
"-- died in 2011. The last World War I veteran to see action in battle,
another Briton
, died in 2009.
Armistice Day, Veterans Day, Remembrance Day, whatever we want to call it. As we mark the literal end of an era, as the torch is passed to a world without direct knowledge of the first war to end all wars, it is worth suggesting today that we must still do far more than we have done to honor the dead, to comfort the wounded, and to lend a hand to those fortunate enough to have returned to us unharmed, than merely attend parades or wear poppies or visit graves or bow our heads in silence. If we are serious about honoring those who gave their last full measure of devotion to their country, and also with those who were willing to do so, we must do so much more.
In America today, The Washington Post just reported, about 70,000 veterans sleep in the streets. The rate of military suicides has spiked again in 2012. We are still woefully behind in recognizing and treating traumatic brain injuries, the signature wound of our wars in Iraq and Afghanistan, even as we fail to provide adequate health care for our military personnel suffering from post-traumatic stress disorder, the signature wound of our last ground war in Asia. And it's not just neglect. In some cases, our laws and our judges are aggressively hostile to the legitimate medical concerns of our service members and their families.
The lack of adequate care given to our veterans mocks their sacrifice. Which is why it is also fitting to note today that the most haunting poem of World War I, and one of the most famous poems in human history, was written by a young Canadian doctor, a Montreal boy, a McGill graduate, named John McCrae. He wrote "In Flanders Fields" in May 1915, in the middle of the Battle of Ypres, in the middle of that awful Spring, shortly after witnessing the death of another young soldier. Helping care for his comrades in the field, working to spare the lives of countless other young soldiers, McCrae himself never made it home. He died of pneumonia in France in 1918, having never lived long enough to see even the first Armistice Day.