3-Week Sandy Fatigue: How You Can Help Fight It
The people who work for tips in New York City's service industry were devastated by Hurricane Sandy. Here's what you can do to help them.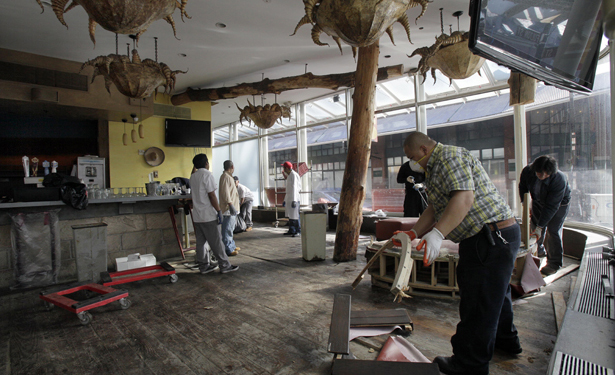 As Thanksgiving was beginning, I called up Danny Meyer, most of whose six New York City restaurants lost power during Hurricane Sandy but seemed to be thriving when I visited the city last weekend, to ask how they had fared during the storm and whether any of them were changing their Thanksgiving weekend plans because of it. His answers provided suggestions for everyone concerned with helping restaurants get back on their feet -- and good guidance for how anyone, in or out of the city, can use holiday shopping and holiday-season giving to benefit the many businesses that have just reopened or are still waiting to.
The point that most struck me was one that Billy Shore, co-founder of Share Our Strength, the national hunger-relief organization that took a leading role in helping New Orleans after Hurricane Katrina, made: what might be called Three-Week Fatigue. That is, after initial wall-to-wall media coverage and public concern and donations, pretty much any global crisis -- Katrina, the earthquake near Fukushima, the 2004 Indian Ocean tsunami -- fades from public consciousness. That's usually just when the long-lasting, intractable problems those crises caused start to become clear, and groups like Share Our Strength and Red Cross need stepped-up donations -- and just when donations start to level off and then plummet. (It's somewhat analogous to my own three-month rule, of when to check in with people who have lost a loved one or suffered a personal crisis.)
His own restaurants fared much better than others, Meyer was at pains to emphasize, and lost little more than the contents of their walk-ins. The New York locations of his ever-expanding Shake Shack chain were with one exception above the power-loss line, so could open the day after the storm. Because of the size and reserves of his Union Square Hospitality Group, he and his partners were able to keep paying managers during the restaurant closings, and were immediately able to make a one-time payment to the 800 of their 1000 employees on hourly wages who lost more than three shifts of work--many of whom walked long distances in order to clean up and help reopen.
Meyer himself went last weekend on a tour of three affected neighborhoods. He described scenes in Red Hook of oak casks that had floated out of the Red Hook Winery, and seeing beached, seawater-logged burlap bags of green coffee beans from the Brooklyn maritime area's longtime coffee roasters that survived the consolidation of the coffee business, and from and the new artisan roasters that have recently opened plants in Red Hook, including Stumptown.
Because USHG employees and managers recognized their relative good fortune, Meyer told me, they took on projects of their own: the staff of one restaurant raised $12,000 for the Red Cross; the staff of the North End Grill, the new Tribeca restaurant with Floyd Cardoz as chef, went to Staten Island to help cook for people displaced by the storm; the staffs of Gramercy Tavern and Union Square Café raised money for City Harvest, which among service organizations has taken the lead in helping food-service workers. Others organized brigades to help tear out sheetrock in the Rockaways.
And workers at several of the restaurants wanted to open, Meyer told me, when Union Square restaurants have never opened before: Thanksgiving Day and Christmas Eve. Like thousands of people in areas affected by Sandy, restaurant workers need as many hours as they can get, particularly as the holiday season begins, and have lost not just base pay but the real pay wait staff gets: tips.
If you're visiting New York City, then, try to take any meals out in downtown restaurants. Pete Wells, the estimable restaurant critic of the New York Times, was quick off the mark to assemble a list of restaurants that had reopened and needed business; many more have reopened since then. The best coverage I've seen of restaurants and the hurricane has been on Eater.com; just before Thanksgiving, it began this ongoing series of updates on restaurants that are closed and reopening, as well as keeping an updated list of benefits to help restaurants and food-service workers. Use the lost-tips excuse to eat out when you'd ordinarily be doing more holiday cooking than you intended or had time for, including on Christmas Eve and Christmas Day.
If you live outside New York, you can donate to City Harvest, whose director, Jilly Stephens, posted a Thanksgiving letter on the site describing the week's continuing devastation, and her group's donation of 10,000 turkeys to affected families. You can do your online and telephone holiday shopping at the small companies that produce their wares, including a lot of food companies, at MadeInNYC.org, which has assembled a holiday shopping guide to local manufacturers, designers, and food makers here.
And you can make an advance New Year's resolution now: volunteer for any group you've been meaning to help out after the holidays, when the annual holiday-season influx of volunteers sees its own version of Three-Week Fatigue. As David Waters, CEO of Community Servings, told me when I picked up five pies at its annual Thanksgiving pie fundraiser (I wrote about it here), "January is a lonely month around here." Don't let it be around your own local hunger-relief organization.