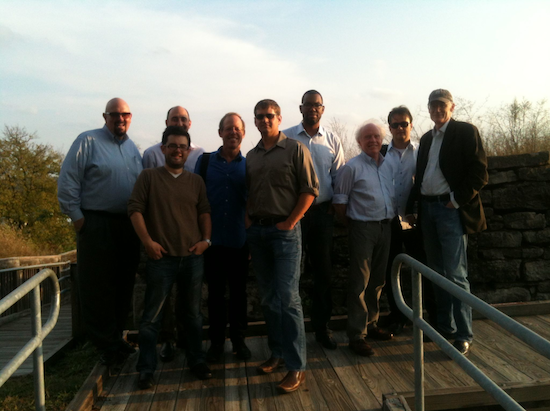 It's been a couple of good months of travel for me -- in September I got to see Richmond, and then this month I got to see Nashville. I saw more of Richmond than Nashville, which was unfortunate. But I did it make to Fort Negley, which was built by African Americans, and then garrisoned during the War, in part, by black soldiers. Many of those soldiers participated in the Battle of Nashville, wherein George Thomas's Union forces effectively destroyed John Bell Hood's Army of Tennessee.
The battle is particularly significant because of the participation of black soldiers. I can't recall the specific USCT regiment -- but it suffered somewhere in the neighborhood of 50 percent casualties, and six color-bearers were killed. To give you some idea of what this means, imagine a guy waving a large "Please Kill Me" flag. His mission accomplished, five other people, in order, do the same thing. Thomas, touring the battlefield the next day and observing the piles of black bodies, is said to have remarked, "Gentlemen, the question is settled. Negroes will fight." That's how democracy happens. Lives are handed over.
I didn't visit Fort Negley alone. Indeed, I was lucky to be in the company of some truly great historians. I didn't know the entire group. But of those I got to spend a good amount of time with, you see in this photograph (and in no particular order) David Blight, Fergus Bordewich (whose history of the Underground Railroad I've been blogging), Adam Goodheart, Tony Horwitz, and Laurent Dubois. Later that evening, I also got to spend some good time with Rebecca Scott, whose work on the ties between 19th century slavery and modern day slavery is fascinating. (More on that soon.)
It's true I was surrounded by Yankees this time, but I still need to (as always) express my deep love for the South. I don't know how to explain being directly in tune with a region's culture, even as I am out of tune with its politics. And it's hard to explain, in such a politicized space as this, why culture is often just as important to me as politics (sometimes more important). I was flying in from Cambridge, a place from which I feel considerable cultural (if not political) distance. I was happy to be in Nashville. And very sad to leave. Southern hospitality has actual meaning.