The Best Weekend of the Year in San Francisco
Six years ago this week, on a trip back from China, I visited one of my sons in San Francisco and then mentioned how surprising and encouraging it was to see the city rapt and excited by a Blue Angels air show, given the still-prevailing American nervousness about anything airborne over a big city.
Back in SF again just now, seeing my son and his wife, on what has to be the best weekend of the year for the city. Natural conditions: sunny, warm, not very windy, a rare enough trifecta for San Francisco. Planned events: Fleet Week, with its parade of naval vessels; Blue Angels air show, with associated flyover festivities; and then America's Cup series races in the bay as soon as the flyover stops; plus Cal Berkeley home football game tonight and 49ers game tomorrow. Plus Hardly Strictly Bluegrass Festival in Golden Gate Park. Unplannable events: playoff games for both the Giants and the A's, the Giants at home.
Since I can't imagine a big East Coast city* [see update] allowing this kind of aerial activity over its downtown, here is how it looked. First, four of the six F-18s from the Blue Angels show unit, headed straight at the rooftop from which we were watching.
Six hours later, my ears are still ringing from the noise as they zoomed directly overhead.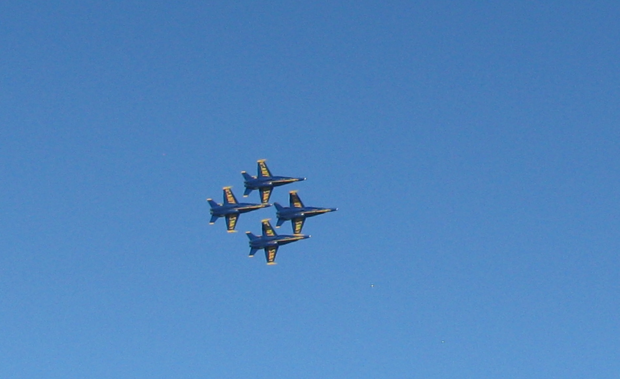 A United 747 doing a series of low passes and "aerobatic" (relatively speaking) maneuvers right over the bay. I will post a video of this flyby soon.
A fighters-of-many-eras "Heritage Flight" consisting of, I believe, a WW II-vintage propeller-driven P-51 "Mustang," a (wonderfully maneuverable) F-16 "Falcon," and a current F-22 "Raptor" all keeping in pace despite their different speeds and propulsion systems, and all right in front of the sun.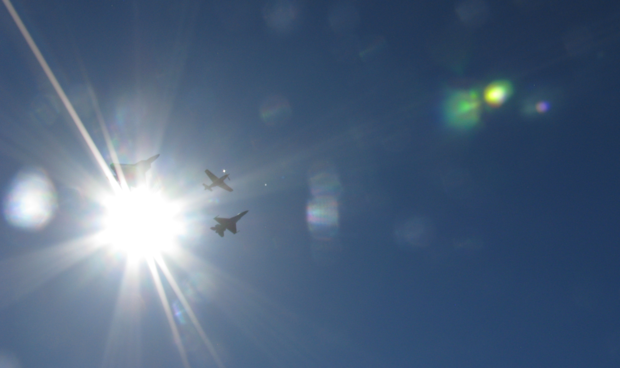 Every flat surface in the city was filled with people enjoying the sun and the show. (Click for more detailed view.) That is what I wished I could imagine in quite the same way in a big city of the East Coast.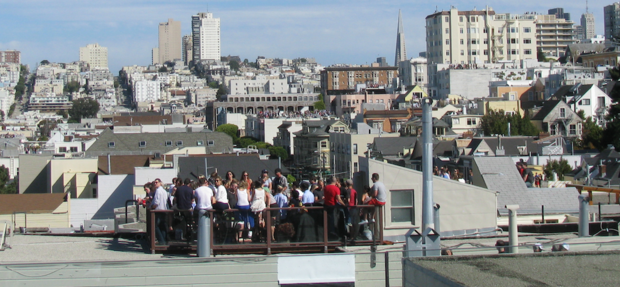 No larger point, just a strikingly festive day. I am leaving the city very soon, for our "
The Atlantic Meets the Pacific
" event in La Jolla -- and if you're in the San Diego area, by all means come to that. But if you're in the San Francisco area, the Fleet Week and air show fun starts again tomorrow.
__
*
UPDATE
As a long-time fan of Charm City, I am chagrined to receive numerous messages to the same effect as this, about the airshows:
We had them over Baltimore over the summer, I think for one of the many festivities commemorating the war of 1812. And they had to practice for several days first. My entire neighborhood was outside watching them, since some of their turns took them right over us. It was amazing.

Maybe we're not big, though. Sniff.

Similarly:
Perhaps you've forgotten (or you may have been out of the country at the time, and missed it) the Blue Angels airshow over Baltimore as part of the War of 1812 bicentennial activities earlier this year. I believe there were over 100,000 people downtown for it.

While it's certainly not what it once was, I believe Baltimore still qualifies as a "big East Coast city."  :)

Hey, no offense intended! I was out of the country then and didn't know. By the way, Go Orioles, right up until they have a Beltway Series showdown with the Nationals.
And for an amazing personal-drone low level aerial view of San Francisco, see
this G+ account
by Tim O'Reilly.