The Author of 'The Writing Revolution' Responds to the Debate
Fiction and poetry certainly have a place in America's schools. But when students don't learn how to articulate ideas, their options erode -- and our whole society is worse off for it.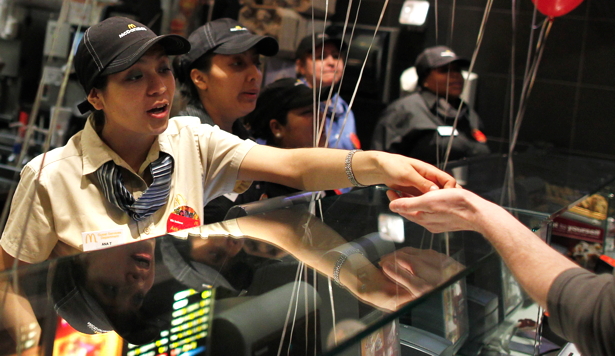 It has been satisfying to see my recent Atlantic magazine story prompt so much passionate and thoughtful commentary. It seems clear that as schools begin to incorporate the Common Core standards into their curriculum, asking students to "respond" to what they read will no longer be enough. Most elementary, middle, and high schools will need to improve the kind of writing instruction they provide our students.
Since the publication of the article, I've heard from many parents, teachers, college professors, and employers who would welcome that development. Writing instruction, however, will not be a quick fix for troubled schools. For New Dorp teachers to understand in a granular way what they didn't know and were not teaching, they had to engage in sustained rigorous inquiry under the forceful leadership of their principal and the insightful guidance of Baruch instructor Nell Scharff.
Judith Hochman's program--methodical, structured and rich--developed in those teachers the capacity to instruct all students, even struggling ones, on how best to express ideas in writing. Make no mistake, though. The Hochman program is no Band-Aid for a poorly run school, an uninterested instructor or a half-baked curriculum. As I tried to reflect in my story, it takes sustained effort and unwavering focus to do what New Dorp did. It also takes time.
If elementary, middle, and high school teachers begin instructing their students on how to manipulate the mechanics of language, the benefits may be far-reaching. What I saw at New Dorp is reflected in the research around literacy, which suggests that intensive and explicit writing instruction improves writing ability in high-performing students but has a dramatic effect on the writing ability, oral expression, and reading comprehension of low-performing students. What is most exciting to me is the possibility that our public schools could better equip our citizens to engage in public discourse by providing the foundational skills they need to hold complex ideas in their minds and formulate nuanced responses.
Utopian? Maybe. But what I saw at New Dorp is that this kind of writing instruction allows all kinds of students to extend their learning, to think about what they are being taught and use what they've learned to come up with their own ideas. Students, even those from low-income neighborhoods who did not grow up in a language-rich environment, began to think and express themselves in a more logical, detailed and complex way.
While no one wants to return to the days of diagramming sentences and asking students to memorize lists of prepositions (common practices from yesteryear that many people recall with dread and that do not seem, when studied, to be particularly useful), I would very much welcome a kind of education that helps the voters of tomorrow sort through the spin and think rationally and compassionately about the pressing issues of the day.
One final point: In my view, schools that have no place for the study of fiction and poetry aren't really schools at all. I wholeheartedly agree that creative writing has a role in a high school and college curriculum and beyond. I walked into New Dorp as a journalist, but I also have two published novels to my credit. I am married to a successful novelist and television writer who has taught creative writing classes on Riker's Island and to ex-offenders. Far be it from me to dismiss creative writing in any way.
But what is happening in many elementary and middle schools is that creative writing is writing instruction -- and here, I believe, our schools are going badly wrong. Many elementary and middle school teachers labor under the delusion that, as one debate participant suggested, "all children can write, if we let them." The assumption, it seems, is that coherent sentences spill from children as easily as tears or laughter, as long as teachers are nurturing and provide a safe space. In keeping with that romantic notion, the skills that form the foundation of good writing -- handwriting, spelling, word study, sentence construction, and writing a coherent paragraph -- may be taught haphazardly or not at all.
The research suggests that this approach seems to work for some children --affluent ones who grow up in a language-rich environment -- but even there, I am doubtful. Around nearly every school in nearly every well-to-do neighborhood is a cottage industry of well-paid tutors who teach students to write clearly and, in their senior year, help them "polish" their college essays.
What I have seen in my many years writing about education is that teaching creative writing in place of the mechanics of writing is a disaster for children at the other end of the economic spectrum. Many enter high school unable to write a coherent paragraph. At the tender age of 16 or so, at a time when affluent children are thinking about SAT prep classes and service projects in warm countries, it becomes obvious to some underserved students that they have not acquired the ability to reflect, analyze, and dissect ideas in writing - a set of skills that will enable them to persist through high school English and history and into college.
Others, unable to keep up, simply become bored, disengaged, and academically disconnected. They drop out and, if they are lucky, begin working a job or series of part-time jobs for hourly wages behind fast food counters, in retail, in a garage, or for a cleaner or landscaper. At the end of the workday, the conditions of their employment often causes parts of their bodies to ache.
I suggest to you that these young people needed more from their teachers than inspiration and a safe space. All students should have a chance to write poetry in school. But all students need the opportunity to gain the basic skills that will allow them to move forward in school and make a decent life for themselves and their children. Shame on us if we fail to provide that.