Jacques Barzun, Atlantic Contributor and Renaissance Man, Dies at 104
Whether he was writing about American slang or Lord Byron, the vibrant thinker defied boundaries until the end of his long life.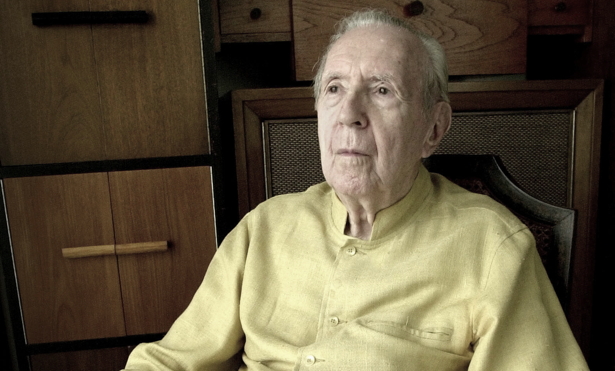 Associated Press
Five years ago, when Jacques Barzun was about to turn 100, his longtime friend Arthur Krystal described his daily routine in The New Yorker: coffee and exercise in the morning, cocktails in the evening. In between, Barzun read -- books and newspapers, manuscripts and letters from friends. His mind was still vast and awake, able to pull up little-known details about everything from Cubist painting to British military history.
Barzun died yesterday at the age of 104, leaving behind a body of work that defies categorization. He began his life in France, in a household where Ezra Pound and Jean Cocteau were regular visitors. After his family immigrated to New York, Barzun found another intellectual home at Columbia University. He started out there as an undergraduate, went on to earn his Ph.D., and remained as a professor for nearly 50 years. During that time, he wrote books about art and music, science and medicine, naval strategy and the philosophy of education.
He also contributed to The Atlantic. In 1946, he wrote about another larger-than-life writer, H.L. Mencken, who shared Barzun's fascination with American English. Barzun admired Mencken's "satirical love of country" - a spirit of simultaneous mockery and affection. "Mr. Mencken, as we know," wrote Barzun, "defends the American vernacular and at the same time is ever ready to laugh at the follies of its makers." But Barzun was more cautious than Mencken about the spread of slang and new jargon. "Not every 'addition' adds itself," Barzun insisted. "It may displace a clearer, handsomer term or clutter up speechways until we find ourselves in a jungle barring communication."
Seven years later, in 1953, Barzun wrote about Lord Byron. He considered the "Byronic" archetype and argued that it shouldn't be confused with Byron himself. George Gordon, Barzun wrote, was not necessarily the stormy, romantic figure of legend. He had his dramatic moments, but by the end of his life, Byron had kept "his head and his good temper." He was able to see himself and others clearly, and was downright magnanimous toward humankind.
Seen in this light, the spectacle of Byron's life is the reverse of a tragedy. Tragedy shows original flaws bringing an acknowledged hero to his downfall. In Byron the original flaws combine to build up a character whom we acknowledge as great in the last act. The flaws are not in the end obliterated, they are transcended; precisely as the purely Byronic, which was brooding self-pity, is not obliterated but transcended in the satiric poetry and the moral poise of Byron's later life.
Barzun, who was in his mid-40s when he wrote those words, would likely have been pleased to glimpse his own later life. Until the very end, he embraced curiosity and resisted boundaries, slowing down outwardly but maintaining a vibrant inner world. His life, life Byron's, was great in the last act.