Dear Justice Kennedy: Your Daughter Was My College Roommate
An open letter to a Supreme Court justice who may change the future of affirmative action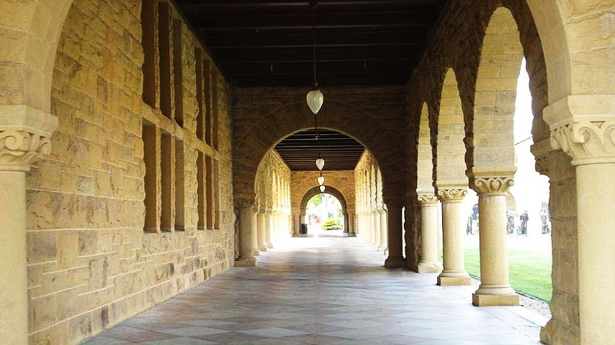 Di Lujan/Flickr
Dear Justice Kennedy,
You might remember that I was one of your daughter's roommates freshman year at Stanford University. We met in the fall of 1986 at that impossibly idyllic campus in Palo Alto. It seemed like the sun was always shining and I felt lucky to have gotten away from gray Michigan winters. I think most of us felt fortunate to be there.
You may also recall that our third roommate was African-American. Her parents took me to buy a bicycle after we all moved in; fiercely independent, I had told my parents that I didn't need them to accompany me on the trip to California. My luggage got delayed so your daughter loaned me some of her bedding, an act of generosity that continued throughout the year. I'd borrow her skirts and sweaters every time a dressy occasion called for something fancier than my sweatshirt-and-jeans wardrobe. I even borrowed your car for a spring break trip - although you may have been given a different reason for its absence from the parking lot. This was before Facebook and Twitter and your Supreme Court nomination, so we all benefited from a much less scrutinized life.
I think we also benefited from some type of preference in Stanford's decision-making process - all of us, not just our darker-skinned classmates. Most applicants had great grades and test scores, heartfelt essays and impressive activities. Somewhere along the way the admissions staff had to decide which over-achievers got thick acceptance envelopes and which ones got a thin rejection letter instead. Your daughter most likely benefited from the fact that you and her two older brothers went to Stanford. I suspect I benefited from geography - as far as I know, no one else from my high school had attended Stanford (perhaps because the guidance counselor I asked for an application had never heard of that school). Our roommate may well have benefited from her race.
I'd also argue that we all benefited from living together freshman year - that brief interlude when college students are thrown in with people they might never have gotten to know. All too soon we self-select, going our separate ways in sophomore year to live in fraternities or vegetarian co-ops or off-campus apartments with the people we've chosen as friends. But that first year, Stanford emphasized "residential education," and in my case that effort was a success: most of my close friends from college are people I met in our freshman dorm.
Still, that residential education in some sense fell short of what is no doubt a more diverse environment. Less than 10 of about 170 students in our dorm were African-American, and one of them recently reminded me that she was assigned a room with two other black students. I can't imagine what it must have felt like to arrive at Stanford in 1986 and wonder if the geniuses making room assignments thought you'd feel more comfortable in a racially segregated room. Then again, it may have been just as awkward for our roommate. Looking back at photos of our dorm, the faces are mostly white. I can't remember if anyone who lived there was born outside the United States.
I gained a new appreciation for the daunting task colleges confront when I volunteered to interview Stanford applicants last fall, as part of an alumni interview program the university is testing. All of the students I was assigned to meet seemed smarter, more focused and more worldly than I remember being at age 17. Yet none of them got in.
As you and your colleagues weigh the merits of Fisher v. the University of Texas, and decide what factors colleges and universities can consider in their admissions decisions, I wish you'd all had the chance to interview high school students eager to get into the elite schools you attended. Admissions staff face a challenge that grows tougher every year, with more students vying for fewer opportunities. Exposing students to diverse life experiences and opinions, in dorm rooms as much as classrooms, is more critical than ever in a world where global connectivity and conflict are rising in tandem. Colleges and universities need some leeway to make that happen.
Sincerely,
Susan Stellin