Conservative Justices Prepare to 'Gut' Affirmative Action
With Sandra Day O'Connor off the court, a system upheld just nine years ago will survive, if at all, as a shell of its former self.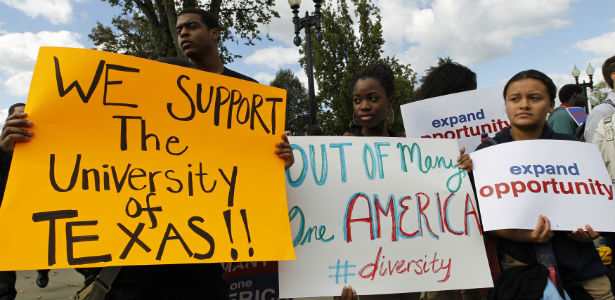 "There are facts and there are facts, aren't there?" Justice Antonin Scalia asked in Wednesday's oral argument over affirmative action.
The question specifically referred to parts of lower-court opinions in Fisher v. University of Texas in which judges described the University's affirmative action program. But they could serve as an epigraph for the entire argument, which took place at three levels.
There are the facts about Texas's affirmative action program, a limited use of "race as a plus" that has modestly increased its enrollment of African Americans and Latinos since it was instituted in 2005. Those facts show an effort by the university to conform its program to Grutter v. Bollinger, the 2003 case that approved some use of race in higher education admissions.
Then there are "facts" -- unshakable beliefs about the evils of affirmative action held by at least three of the Justices. Justice Clarence Thomas (who as usual did not speak at argument) has written that universities court minority admits simply as a matter of "racial aesthetics."

Justice Samuel Alito, from his questions Wednesday, seems to believe affirmative action represents a liberal determination that "African Americans and Hispanics who come from privileged backgrounds" deserve "a leg-up against, let's say, an Asian or a white applicant whose parents are absolutely average in terms of education and income." Justice Antonin Scalia, again judging by Wednesday, regards any affirmative action program as a system of "racial quotas" administered by officious bureaucrats.
And then there is the fact: UT's program, like all affirmative action programs, relies on racial classifications. Applicants are allowed (though not required) to check a box indicating their race. That fact enrages Chief Justice Roberts, who noted acidly that race is "the only one of [the University's] holistic [admissions] factors that appears on the cover of every application."
By the argument's end, one outcome was clearly off the table: a ringing reaffirmation of Grutter's holding that the benefits of racially diverse admissions programs are "not theoretical but real," resulting in better education, a stronger military, and a more successful economy.  Even though Grutter is nine years old, these programs are not long for the world.  At the time that case was decided, the Grutter Court prophesied that affirmative action would be unnecessary in 25 years. Nine have passed; but in the interim, Justice Sandra Day O'Connor, author of Grutter, retired from the Court.  The prophesy, it now seems, was actually couched in dog years.
The current case is a particularly terrible vehicle for overturning Grutter: It was brought by a plaintiff who probably wouldn't have gotten into the University of Texas regardless of whether race was used, and who seems to have no real standing to bring a suit; it concerns a state university with a particular statutory admissions policy few other universities have; and it is being heard by a Court that is down one justice. (Justice Elena Kagan, who almost certainly worked on this case as Solicitor General, recused herself.) The Court could split 4-4. If that happens, the Fifth Circuit's decision below -- upholding the program -- will be affirmed.
So affirmative action may stagger on after this June, like a zombie in The Walking Dead. But the conservatives want it gone, and they seem to have the votes.
The factual peculiarity of this case involves state law. In 1996, the Fifth Circuit, in a case called Hopwood v. Texas, ordered the university to stop using race at all in admissions. The Supreme Court denied review. As a result, African American and Latino numbers at UT declined. The Texas Legislature responded in 1997 with the "10 percent plan," in which any student who graduates in the top 10 percent of a Texas public high school is guaranteed admission to UT.

The plan is "non-racial," even though it is founded on the fact that Texas has a high degree of racial separation by school district. "Ten percent" admits were guaranteed to be diverse; minority numbers rebounded. In 2004, UT's entering class was 4.5 percent black and roughly 17 percent Latino and 17 percent Asian American.
There was a problem, however. Black and Latino admits from the "10 percent" tended to cluster in a few programs, such as social work and education. Other programs, like business, were whiter. A survey suggested that many classrooms had no minorities, and that many minority students felt isolated at UT. In 2004, after Grutter overturned Hopwood, UT announced a modest program to affect the 20 percent of the class admitted selectively, rather than under the "10 percent" plan.  Part of the aim was to create a "critical mass" of minorities across programs -- an interest explicitly approved in Grutter.
The program was carefully designed to steer clear of quota-like features. Every competitive applicant to UT receives a "personal achievement index" score, based on essays, extra-curricular activities, socio-economic status, languages spoken at home, and many other factors, among which race is one. No automatic credit is given for any of them.

The resulting number is recorded and passed up the line by file number with no notation of the applicant's race. Admissions officers do not monitor how many minority students are being passed on at each score level. Final admissions are made purely on the basis of numbers, by decision makers who know neither the race of any individual nor the overall racial percentages admitted so far.
The outcome has been the admission of a small number of non-"10 percent" minority students who would probably not have made it into the class through race-blind applications. (Because of the care not to make racial considerations quantifiable, it's impossible to tell exactly how many minority students are admitted who would have otherwise been rejected. But the program affects only a few hundred students a year.)
Of course, if it were a program that produced dramatic increases in minority enrollment, it would be attacked as a quota. But because it produces only a small increase, the opponents have attacked it as not necessary. The "10 percent" plan had already produced nearly 20 percent minorities in the student body, argued Bert Rein, representing challenger Abigail Fisher. UT can't explain why it needs more.
So here is the key issue, explained by Justice Sonia Sotomayor: "I think I hear ... you saying in your brief is the number's fixed now, they got enough, no more is necessary."
"What is the critical mass of African Americans and Hispanics at the university that you are working toward?" Chief Justice Roberts asked Gregory Garre, representing the university. Garre did not give a number -- since, under the logic of Grutter, such a "goal" would represent a quota and doom the program at once. But the refusal to give a number dooms the program as well, Roberts suggested. "So how are we supposed to tell whether this plan is narrowly tailored to that goal?"
The talk of numbers is deceptive. Judging by the passion they have shown before and showed again Wednesday, Roberts, Scalia, Thomas, and Alito believe that any use of race in admissions is profoundly immoral. The benefits of diversity cited in Grutter don't matter to them; what matters is the morality of race-neutrality. Justice Kennedy is uncomfortable voting to bar all affirmative action, but over the years he has never found a program he likes. (Like the White Queen in Through the Looking Glass, he favors "jam tomorrow and jam yesterday, but never jam today.")
The most likely outcome is either a hung Court or a decision that would not overturn Grutter but would make any real-world affirmative action plan unworkable.
"So you don't want to overrule Grutter," Justice Sotomayor asked Rein as the argument wore down. "You just want to gut it."