A High-Tech Solution to the Writing Crisis
Technology alone can't fix America's schools. But it can help teachers make better use of their time.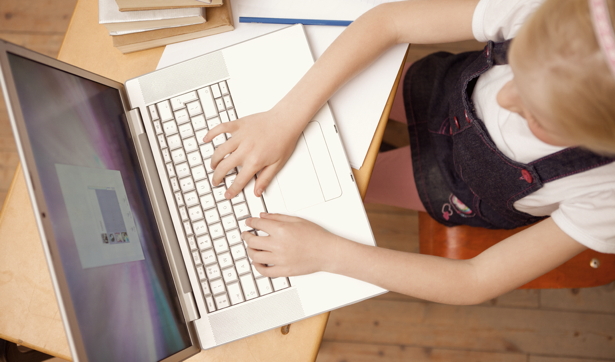 Imagine in front of you an abysmal high school junior English paper: eight long typed pages about the distinction between revealed and hidden sin in Nathaniel Hawthorne's Scarlett Letter. At least, a teacher assumes that's meant to be the topic of the paper, since the final sentence of the introduction states this point with such surety.
From there, the writer ranges around the whole book, losing the trail of his argument through misplaced modifiers, summarizing here and analyzing there. This student did not simply wrestle with the text; he had an all out brawl with both The Scarlett Letter and the English language: "The flower is the symbol of Hesters spirit and the prison of the Puritan society. The man-made stronghold is a lot bigger than the blossoming that Hester felt alone." Eight pages!
By now, any high school English teacher would be shuddering. In the best of all worlds, when faced with a complex writing assignment, a teacher has the time to roll up her sleeves, sit down with her student, and help him sort out his analysis and determine the best structure for communicating that idea. Even better, the teacher will have already found many small ways to engage with this student about his observations before he submits the entire paper.
Instead, for most teachers, a paper like this is just one of 100 or more she must contend with -- on top of planning her lessons, making copies of materials, worrying about students who didn't submit their papers, and considering which grammar lessons might best help the class. The teacher wants to be like a skilled surgeon faced with a complication, focused only on the true heart and lungs of the paper in front of her. But she is also expected to be the surgical nurse, anesthesiologist, and administrator.
In a world of Judith Hochman and smart teachers like those at New Dorp High School, we need to make it possible, even likely, that a teacher will be able to focus on doing what she is best trained to do: help students develop and express their ideas in writing. It is becoming evident that technology can be designed with this goal in mind, leveraging the power of this smart teacher's attention.
The next generation of technology won't attempt to replace teacher-student interactions. Instead, it will make them more productive than ever.
Very few would dispute that some form of feedback between teacher and student is crucial to a writer's development. We know that technology can get in the way of this crucial relationship. Existing programs, for instance, have tried to automate grammar instruction, and they haven't worked. That's because they ignore the power of a teacher's personal attention. Writing ideas for a machine to parse is far less motivating for a student than expressing them to a fascinated reader (the teacher).
The next generation of technology won't attempt to replace this human connection. Instead, it will actually help build and protect these interactions, making them more productive than ever.
Consider, for example, the teacher who had to respond to this Scarlet Letter paper. (Yes, it lives in paper-and-ink reality, not just in your nightmares.) On every page, she bracketed multiple awkward sentences, circled misspellings or colloquialisms, and corrected misplaced quotation marks. She tried to help the writer pinpoint those places where he is really developing an idea drawn from the text: How does this relate to D's misery? Need to make this cleaner. You need to use words in the quote to analyze his character & show how they show misery.
Meanwhile, staring down her stack of 100+ papers, the teacher is facing tough choices. Should she focus on what is in front of her, trying to decipher the students' analysis and offer custom guidance to each one? Or should she be looking for broader problems across the whole class so she can plan new lessons and determine longer term interventions? Most teachers feel overwhelmed by this choice. They try several different courses of action and ultimately lose the battle against time.
Furthermore, most teachers report that when they do return papers with carefully considered written comments, students ignore the feedback. Some feel miserably overwhelmed by the volume of comments and struggle to determine what to pay attention to the next time around. Others have already forgotten what it was they were originally trying to say. The most thoughtful ones are working with a new idea about a new text.Instead of a productive and satisfying interaction, the teacher is faced with frustration and wasted potential.
Let's save the teacher all those hours of wasted effort. We know that we can use technology to measure whether particular approaches are working -- and then continuously improve those approaches. With the help of software, a teacher can queue up smaller chunks of an assignment and feed them to students at just the right time. This is crucial, because feedback needs to be timely in order for students to act on it. It should be provided in manageable chunks and meet the student where he is. Technology can, for instance, guide a teacher to avoid discussing a misplaced modifier if the student can't yet distinguish the subject of a sentence.
Technology can also help teachers provide the type of feedback that has been shown to work best. It can give students a manageable amount of guidance and deliver it at just the right time -- not at the very end of a term, but early in the process, when there's still a chance to act on it. Instead of spitting out computerized exercises the way previous software did, the new technology will step in at key moments during the writing process, feeding the student a relevant grammar skill right when he or she needs it. This moment might be during class when a teacher is working with a different student -- or at night when the student is alone and trying to express his thoughts.

When the student makes a grammatical error, the teacher will simply cue the technology to assign him a quick tutorial and burst of exercises to review. This technology will soon even be able to review the student's "corrected" paper and assess how well he was able to integrate the grammar lesson -- and then report this information back to the teacher.
By doing all of this early in the process -- when the student is invested in making the paper better -- the technology can actually help tune the teacher's time and attention to best meet the student's needs. Instead of scrawling grammar notes in the margin, the teacher can easily flag those issues, leaving much more time to focus directly on how the writer's thoughts are expressed. "If the flower is the symbol of Hesters spirit and the prison the symbol of the Puritan society, then the man-made stronghold is a lot bigger than the blossoming that Hester felt alone."
Sigh; this student may still need to re-draft. But let's embrace the smart technology that can provide the teacher with the tools and the flexibility to craft the best approach for this student to take.