Why Is the Chicago Teachers' Union Striking, and Will It Work?
As the work stoppage and protests enter Day 3, it seems more and more likely that the bold move could backfire.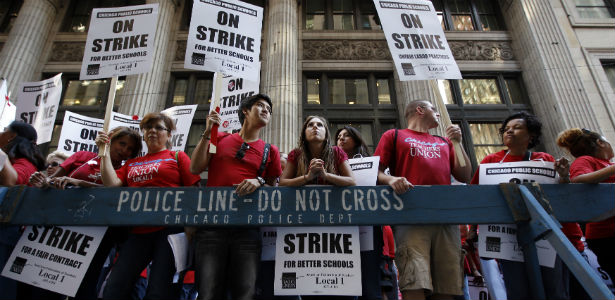 Reuters
As numerous news organizations have noted, including the Washington Post, the Christian Science Monitor, and the Wall Street Journal, the Chicago teachers' strike is being framed by some as a referendum on President Obama's education initiatives.
Indeed, the U.S. Department of Education has dangled some sizeable carrots to motivate states and districts to adopt significant reforms. Among them is Race To The Top, a competitive program in which states and districts apply for a share of more than $4 billion in federal grants to turn around underperforming schools. To qualify for RTTT, states had to agree to implement a number of administration-approved reform measures, including the controversial requirement that student test scores be used as a factor in teacher evaluations.
Additionally, the Education Department has granted 33 states and the District of Columbia waivers exempting them from some of the more onerous requirements of No Child Left Behind. But in order to qualify, states had to agree to alternate means of accountability, and to develop a blueprint for extending learning time for students. Some researchers (as well as educators) say there's been too little information as to how those extra minutes will be used.
That many Chicago teachers -- as well as their counterparts in other states -- are frustrated by some of these imposed changes isn't new information. To some observers, the Chicago strike represents long-simmering tensions reaching a boiling point.
As the Washington Post's Bill Turque and Lyndsey Layton succinctly sum up in their reporting:
The labor dispute lays bare a Democratic Party with significant tensions over the direction of school reform. Major figures such as former D.C. schools chancellor Michelle Rhee and former New York City schools chancellor Joel Klein have pressed for tougher teacher evaluations and an end to "last in, first out" hiring practices that are part of many union contracts. On the other side are labor leaders and other interests convinced that the reforms are union-busting by another name.
University of Michigan Prof. Jeffrey Mirel, who focuses on the history of politics of urban schools and education reform, said the pushback from some critics who argue that teachers' unions are standing in the way of improving the nation's public schools doesn't have a lot of factual support. Mirel said he wasn't aware of any evidence that getting rid of unions or collective bargaining rights improved the quality of education.
He noted that Finland -- widely considered one of the world's model school systems, thanks in part to its superior performance on international exams -- has a highly unionized teacher workforce. That's also true in Singapore and Japan, which also scores well in international comparisons, Mirel said.
As for whether or not the strike represents as showdown between the "old" and the "new" when it comes to expectations for public school teachers, Mirel said he's not convinced that's really at the heart of the matter. But, either way, the strike is bad news for students, who lose much-needed seat time. Amy Wilkins, vice president fo the Education Trust, a nonprofit advocacy organization dedicated to closing opportunity and achievement gaps, called the strike "deeply upsetting" and "especially tragic for the low-income students who don't have a moment of academic time to waste."
Such labor actions can possibly end up hurting the teachers, as well, even if the contract talks are resolved in their favor.
Generally, teachers and parents have been allies, working toward a common goal of making sure students learn. But strikes, particularly prolonged ones, can do long-term damage to those relationships, Mirel said.
"There can be a loss of that sense of shared allegiance and obligation," Mirel told me. "Teachers can win the battle (of the strike), but they sacrifice the support of a lot of parents and students along the way."
And that, Mirel says, can mean losing the war.
---
This post also appears at The Educated Reporter, an Atlantic partner site.