Richard Bach, of 'Jonathan Livingston Seagull,' Badly Hurt in Plane Crash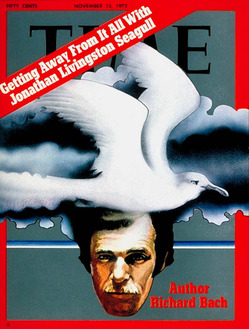 The aviator-author
Richard Bach
is not as widely known now as he was a generation ago. But his book
Jonathan Livingston Seagull
was in the early 1970s far and away the best-selling novel in the United States. Here he is on the
cover of Time
in 1972, when was in his mid-30s. He is 76 years old now.
He has remained a very active pilot (and writer), as he discusses on his site. It appears that yesterday he was badly injured in the crash of his small airplane in the San Juan Islands northwest of Seattle. He was headed for a grass landing strip on San Juan Island itself and apparently caught power lines with his landing gear as he neared the runway. Here is an early news item that does not contain his name, a followup that says the plane is registered to one Richard D. Bach, and another, with crash-scene photos, saying that the injured pilot was indeed "the" Richard Bach.
Thanks to my friend aviator-author Bruce Williams for the alert on this unfortunate news. Later I will say more about Bach's work, which (like that of another very different aviator-author, Ernest K. Gann, who as it happens spent his later years on San Juan Island), deserves more attention and esteem than it usually receives these days. For the moment sympathies to his friends and family, and best wishes to him.