On the Sophistication of Sports-Talk Radio, Featuring Noam Chomsky and Armando Benitez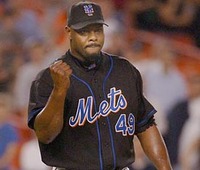 Following previous items here and here, a reader in New York writes:

I remember a caller on WFAN (sports radio station in New York City) not long after the 9/11 attacks.  The awful closer for the New York Mets had blown his second save eliminating the Mets from any possibility of the post-season.  The caller said to Mike and the Mad Dog:  "First let me express my sincere condolences to those who have lost loved ones at the World Trade Center, but that Armando Benitez, he has got to go."

Anyone who remembers the ... suspense ... of watching Armando try to hold a lead and finish a game, as my sons and I do all too clearly from his time as an Oriole, knows just what the caller was talking about.
Another reader provides this apposite quote from Noam Chomsky's
Understanding Power
, ten years ago. Emphasis added:
You sometimes find in non-literate cultures [the] development of the most extraordinary linguistic systems: often there's tremendous sophistication about language, and people play all sorts of games with language.

What all these things look like is that people just want to use their intelligence somehow, and if you don't have a lot of technology and so on, you do other things.

Well, in our society, we have things that you might use your intelligence on, like politics, but people really can't get involved in them in a very serious way -- so what they do is they put their minds into other things, such as sports.

You're trained to be obedient; you don't have an interesting job; there's no work around for you that's creative; in the cultural environment you're a passive observer of usually pretty tawdry stuff; political and social life are out of your range, they're in the hands of the rich folks. So what's left? Well, one thing that's left is sports -- so you put a lot of the intelligence and the thought and the self-confidence into that. And I suppose that's also one of the basic functions it serves in the society in general: it occupies the population, and keeps them from trying to get involved with things that really matter.

A prize to the first sports-talk host who devotes a segment to Noam Chomsky. LaVar Arrington, I'm looking at you!