Labor Day Special Part Deux: 'Ooops!' in Four Acts
1)
Things I wish I didn't know
from the weekend papers.
     - Andy Murray,
answering readers' questions
online, as relayed by the NY Times:

Andy! Say it isn't so! I speak for all your fellow Scots* in saying, Well done at the Olympics, but this is not a plus for ethnic pride. Scots are supposed to be thrifty, freckled, somewhat ornery, and literary. Or at least literate.
2)
Another thing I wish I didn't know, or that wasn't true
, from the weekend papers.
   - From front-page
NYT profile
of Valerie Jarrett, President Obama's closest confidante. Emphasis added:
Ms. Jarrett cuts an elegant figure in the West Wing, with her pixie haircut and designer clothes. Aides say she can be thoughtful in little ways that matter, enlisting the president to rally staff members after political or personal setbacks. But she can also be imperious -- at one event ordering a drink from a four-star general she mistook for a waiter -- and attached to the trappings of power in a way some in the White House consider unseemly for a member of the staff.

A case in point is her full-time Secret Service detail. The White House refuses to disclose the number of agents or their cost, citing security concerns. But the appearance so worried some aides that two were dispatched to urge her to give the detail up.

She listened politely, one said, but the agents stayed.

Oooof. I'd spell out why this is a bad sign (hint: imperial presidency -> imperial staff), except apparently some of her colleagues in the White House figured that out already but were unable to do anything about it. [
Update
: I have changed my mind about this, as explained in the last item
here
.]
3)
Things that seemed like a good idea at the time
.
    - Having robots play a lead role in this weekend's Hugo Awards event. Thanks to many people who sent in leads to
the coverage
in
io9: We Come from the Future
. I'll let you follow the rest of the droll saga for yourself.
4)
Our wacky neighbors to the north
.
  - A policy expert in Alberta has
put out a new book
: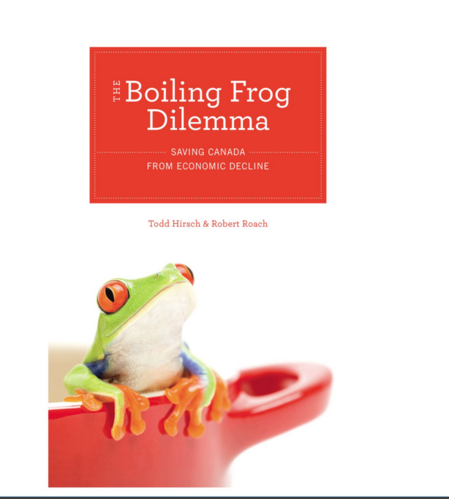 For those joining us late: real-world frogs will indeed behave the way we expect from the "boiling frogs" of myth,
but only
if you have first
surgically removed
their brains.
Happy Labor Day. (*And within our family, happy-birthday wishes on what would have been
my mother's
85th birthday, and also the September 3 birthday of her brother Roland and their aunt Jean. All had the family name Mackenzie and all would have joined me in urging Andy Murray to hit the books.)