In Defense of the 'Freedom Writers'
The teacher who inspired the 2007 Hilary Swank film still believes memoir writing is the best way to reach struggling students.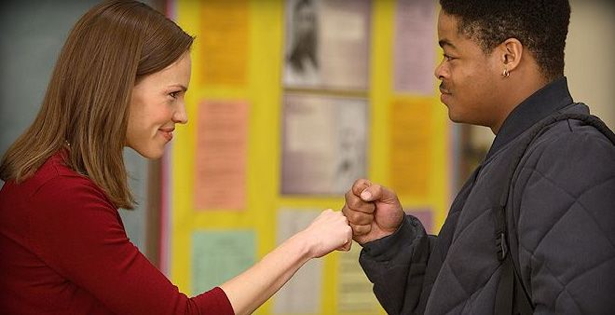 In the early 1990s, a young schoolteacher named Erin Gruwell made a radical change in her curriculum. Frustrated by her efforts to inspire her low-achieving students, she handed out journals and asked the kids to write about their own lives. Their poignant personal essays were later published in The Freedom Writers Diary, a book that inspired the 2007 film Freedom Writers.

Today, Gruwell runs the Freedom Writers Foundation, which aims to help teachers "engage, enlighten, and empower at-risk students to reach their full potential." She spoke with Atlantic senior editor Jennie Rothenberg Gritz about the October magazine story "The Writing Revolution" and her conviction that personal writing still belongs in the classroom.

---
There's a scene in the movie Freedom Writers where Hillary Swank is standing helplessly in front of a blackboard, trying to teach essay writing while the students revolt. What happened in real life when you tried to teach those kinds of lessons?
When I first walked into that classroom, there were 150 kids who hated writing, hated me, hated everything. I had to learn how to make things relevant to them. Part of the challenge, for me, was to model great writing. In the beginning, when my syllabus kept coming back to me in the form of a paper airplane, the students kept asking, "Why do we have to read books by dead white guys in tights?"
What inspired you to focus on memoirs?
The question was, how do you engage a kid from who, from the get-go, doesn't want to read or write? So I thought, "I'm going to go out and find stories that matter to them -- stories by Alice Walker and Gary Soto and Amy Tan, people writing about things that are so relevant to these kids who can't see a future outside their own community." I love "a rose is a rose is a rose," but when you have your students sit down and deconstruct Tupac's "The Rose That Grew From Concrete," they think, "Wow, this teacher cares enough about us to find subject matters in our world."
Peg Tyre's Atlantic story is about New Dorp High School, a low-performing school that traded in journaling and creative writing for more a rigorous academic curriculum. How do you feel about that decision?
Students have to be able to think critically. But where I saw huge cause for alarm in that piece was the idea that we don't want to focus on memoirs. When I read that quote from David Coleman saying, "As you grow up in this world, you realize people really don't give a shit about what you feel or what you think" -- that's a very cavalier comment. It negates all of those kids who are marginalized.
At Freedom Writers, we do give a shit what those kids think and feel. We're training teachers who work with at-risk kids in some poorest schools in the country, kids who have been written off. So while I'm excited that New Dorp is trying a new direction, to throw the baby out with the bathwater is really unfortunate.
Were you able to teach your students the fundamentals of writing in the process of having them read and write memoirs?
Absolutely. When you're too robotic and scripted, the students tune you out. So I always tried to use different learning modalities -- kinesthetic, auditory, visual, whatever might bring learning to life. At one point, I brought in two sandwiches. One of them was a really simple sandwich: a piece of white bread, a piece of baloney, and another piece of white bread. The other one was a really fancy sandwich that had French bread, lettuce, tomatoes, cheese, and heaps of turkey.
I used that as a metaphor to help my students deconstruct sentences. You can write a really simple sentence. Or you can use language to communicate all of these other things. I pulled sentences out of whatever we were reading and broke them down. And if one of my students wrote an incredible line, that also got thrown into the mix. The absolute best lines in the movie Freedom Writers directly came straight from my students' journal entries.
Do you see journaling as a means to an end -- a way to get students excited about writing so they'll go on to write academic papers? Or do you think memoir writing has its own value?
Definitely both. I want to give credit to a Holocaust survivor named Renee Firestone. She was at Auschwitz when she was a teenager, so she missed out on high school, graduation, and college. When my students met her and asked, "Why do you continue to tell your story?" she told them, "Evil prevails when good people do nothing." It was a rallying cry to all of my students to do something.
And so we put together this little book -- a book that not only got published but went on to help so many kids around the world think, "Now is the time to write my own story." Our book is one of the most stolen books in every school library. It's the go-to book in juvenile halls. By telling their own stories, my students helped give a voice to the voiceless.
Writing is powerful. Whether it's a little girl hiding from the Nazis in an attic, or Amnesty International writing letters on behalf of political prisoners, the power of telling stories is usually what causes change.
Is that part of your goal, to encourage students to become activists by telling their own stories?
One of the teachers we trained this summer was from Rwanda. He lost his family in the 1994 genocide. Now he's an educator in a school made up entirely of refugees. Every single one of those kids is an orphan from that situation. How can this teacher inspire every single one of those kids to know that they have a story? For instance, there was one young girl writing about sex trafficking and the proliferation of AIDS in Rwanda today. Part of her conclusion is that she has a choice. No one has to continue living this lifestyle.
Phillips Academy Andover recently had us do a presentation there. Most of the kids were headed to Harvard, Yale, all the Ivy Leagues. But they loved The Freedom Writers Diary. It was really important for them to realize that not every kid has a parent who can pay for SAT prep. Some kids have to work 3 or 4 jobs just to pay the rent. Writing really evokes empathy in a way very few things can do.
What would you say to a school like New Dorp that's planning to shift away from memoir writing and take on a more academic approach?
To take an element of the writing process away from these kids does them a disservice. When it comes to teaching writing, I just don't think it can be black and white. The political timing of your article is fantastic. I was glued to the TV during the Chicago strike. I am a teacher born and bred, and I believe in the advocacy of teachers. It's a calling. We want our students to feel impassioned and empowered. For me, was about having that incredible mix of diverse and dynamic literature. But we all want our kids to be literate, to graduate and go to college -- by any means necessary.
---
Watch a scene from the movie Freedom Writers