Feds in Supermax Lawsuit: Suicidal Prisoner? What Suicidal Prisoner?
Ignoring the merits, the government seeks a quick dismissal of a civil-rights lawsuit alleging neglect and mistreatment at America's most famous prison.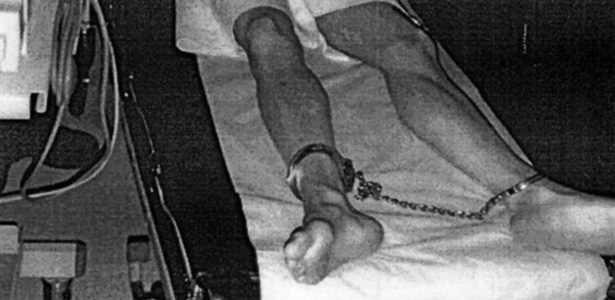 Jose Martin Vega's body remains shackled post-mortem. (Fremont County Coroner's Office)
The prison guards who found Jose Martin Vega hanging unconscious in his cell in May 2010 made sure of at least one thing before they removed his body: that he was shackled at both the hands and the feet. That's how Fremont County Deputy Coroner Carlette Brocious found Vega when his corpse was delivered to her from ADX-Florence, the federal prison in Colorado which includes the world-famous "Supermax" unit. We know this because there are photographs of it, direct evidence you might say, which you can see above.
What else happened inside the cell that day—and what led up to Vega's suicide— is not so easy to discern. On the one hand there are startling allegations that prison officials neglected and mistreated the prisoner in the years leading up to this death. And on the other hand, from those officials, there is studied defiance. By the time Brocious returned to Vega's cell to finish her investigation, the traces of the suicide had been wiped away. The area was, she later put it, "cleaned up"—and she put the words "cleaned up" in quotation marks in her report.
MORE ON SUPERMAX

On Friday, a "clean up" of another sort in the Vega case began to unfold in federal court in Denver. There, lawyers from the local U.S. Attorney's Office filed a motion to dismiss a civil-rights lawsuit filed by Vega's family seeking money damages for his wrongful death. The lawsuit, initially brought in May, alleges that former ADX-Florence warden Blake R. Davis and other Bureau of Prison officials were "deliberately indifferent" to Vega's medical needs, including his mental health needs, which the family says were extensive and obvious.
The government's response last week was blunt. There can be no damages awarded against Davis here because he has no liability. He has no liability because he has broad legal immunity from such lawsuits and because, where that immunity is thinnest, there is nothing that Vega's lawyers have alleged (much less proven) that connects the former warden to Vega's death. "The Amended Complaint does not allege any specific interactions between Mr. Davis and inmate Vega," the federal lawyers write, "nor does it allege that inmate Vega ever expressed any concerns to Mr. Davis."
The 22 pages which make up the heart of the dismissal motion are remarkable for what they say about the nature of these cases. They are always difficult for prisoners to win. And lately a series of Supreme Court rulings have made it harder for plaintiffs—whether they are civil libertarians or family members—to even force officials to turn over relevant documents or submit to under-oath questioning about relevant events. In order to establish a case a plaintiff has to have access to official testimony and prison records. And in order to gain access to prison records and official testimony a plaintiff has to establish a case.
This is how this legal game is played these days in prisoner lawsuits; even in the ones that aren't patently frivolous and even in the ones, like the Vega case, that raise serious questions about the treatment of prisoners who live entirely at the whim of their captors. The forces of secrecy—the forces opposed to public accountability—almost always win out over the seekers of fact and the forces of transparency. Just look how federal lawyers, representing the Bureau of Prisons and the Justice Department, responded to the Vega complaint:
The plaintiffs allege that Vega was diagnosed with paranoid schizophrenia at Supermax in 2004? The feds respond: "The Amended Complaint does not allege that Mr. Davis was the warden of the ADX in 2004 or at any time prior to then."
The plaintiffs allege that Bureau officials violated their own policy when in 2006 they returned Vega to Supermax from the federal mental health prison facility in Springfield, Missouri to which he had been transferred after a suicide attempt? The feds respond: "Plaintiff does not claim that Mr. Davis was involved in the decision to transfer inmate Vega back to the ADX, nor does he claim that Mr. Davis was ADX Warden at that time."
The plaintiffs allege that Supermax officials then placed Vega in the prison's Control Unit, its most secure unit, where under existing policy he could not receive the psychotropic medication he was diagnosed as needing to treat his mental illness? The feds respond: "Plaintiff does not allege that Mr. Davis was the Warden of the ADX in 2006.
The plaintiff alleges that by 2010 "Vega had lost as much as 50 pounds, wore ill-fitting clothes and shoes, was no longer maintaining physical hygiene, and was largely incoherent"? The feds respond: "There is no allegation that he was suffering from a specific mental illness at this time or that these conditions were the result of such an illness."
The plaintiffs allege that in early April 2010, just before his suicide, Vega was placed in restraints and was yelling and throwing feces? The feds respond: "No facts about what constituted Vega's 'profound and obvious psychological distress' are alleged. Here again, with respect to these incidents that allegedly occurred in April 2010, there are no allegations about Mr. Davis' involvement in or knowledge of these issues."
The plaintiffs allege that the Bureau of Prisons failed to follow its own policies about the treatment of mentally ill prisoners? The feds respond: "... [B]ecause the failure to follow agency regulations does not give rise to a constitutional claim these allegations will not be discussed here."
The complaint alleges, in graphic detail, how Vega lost his mind at Supermax. How he began to mutilate his own body. How he came to believe that the guards were poisoning his food and "violating his bodily integrity." When he complained, as he often did, in writing, prison staff typically told him that the results of his complaints were "not disclosable to" him. Now that he is dead, now that he can no longer testify about what was done to him, here is what the feds say to try to rid themselves of the responsibility of an accounting:
Plaintiff makes no allegation that inmate Vega was in fact suffering from a serious mental illness requiring treatment at the time of his death (or at any time when Mr. Davis was the Warden at the ADX)... There are similarly no facts showing that any treatment was prescribed (or even indicated) for inmate Vega's mental condition. Further, there are no facts alleged showing that, objectively, inmate Vega was at an increased risk of suicide

His prior (unidentified) suicide attempt in 2005 and self-mutilation in 2010 are insufficient to show, objectively, that inmate Vega was diagnosed by a physician with a serious mental illness mandating treatment or was suffering from a condition that was so obvious that even a lay person would easily recommend the necessity for a doctor's attention.
You follow that twisted logic? The prison staff's repeated failure or refusal to treat Vega for his obvious mental illness now is being used as evidence by the government that Vega didn't need to be treated for his obvious mental illness. And since a "lay person"—like a juror, for example— wouldn't have viewed Vega's conduct before his suicide as "mandating treatment" lay people—like jurors—should not be allowed to review the evidence in this case to decide for themselves whether Supermax officials failed to meet their legal obligations to this prisoner.
Davis now is gone from Supermax. The warden whose lawyers now say he was completely detached from what was happening inside his own prison, whose advocates now claim in court that he had no knowledge of the repeated complaints of a self-mutilating prisoner, was promoted earlier this year, in January, just before the Vega complaint was filed. Davis now serves the Bureau of Prisons as an Assistant Director. Recognition, perhaps, for the "National Warden's Award for Prison Management" Davis won in 2011, the year after one of his prisoners committed suicide.
In addition to the Vega lawsuit, Davis leaves other unfinished business behind. Earlier this year, another civil rights lawsuit was filed, an even larger one, one that alleges systematic abuse and neglect of mentally ill prisoners at ADX-Florence. Soon, federal lawyers will file their motion to dismiss that case, too, no doubt arguing that the plaintiffs, who are prisoners at the facility, can't prove their case and shouldn't be allowed to try. The aim of these motions are more than just depriving the nation of the truth of the matter. The aim is to protect public servants from ever having to answer publicly for their work.
Congress has no interest in reviewing cases like this—they aren't good politics. This summer, I tried to get someone at the Bureau of Prisons to respond to some of the allegations made against it, to explain how prisoners with mental illness are treated inside our federal prisons. Not only did the Bureau refuse to respond to my requests—not so much as a "no comment"—but the elected officials on Capitol Hill who are supposed to provide "oversight" of the Bureau, politicians of both parties, refused even to pass along my request. The truth is no one in power in Washington cares about these prisoners or what is being done to them in our name.
And that leaves the courts. Both Supermax lawsuits now are before U.S. District Judge Richard Matsch, the nails-tough senior-status judge most famous for presiding over the Oklahoma City bombing trials. He has shown repeatedly over the past few decades that he is brave enough to take on the Bureau of Prisons. The question now is, will he? And if he does, will the appellate courts back him up long enough to ensure that someone, somewhere, has to answer for what happened to Jose Martin Vega—and what is happening, today, to other Supermax inmates?