Beyond Farmers Markets: Why Local Food Belongs on Grocery Shelves
When South Carolinians buy South Carolina peaches, there are unique regional benefits. Here's how the USDA is helping make that happen.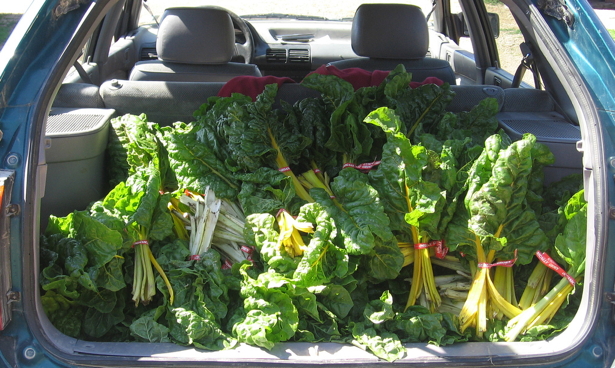 Several years ago, South Carolina dairyman Tom Trantham presented me with a conundrum. "We grow great peaches here," he said, "some of the best in the country. But once they're picked, they disappear - at least for a little while." After harvest, the South Carolina peaches were shipped to California, where they were repacked and sold wholesale to companies that supply the nation's major grocers. "And then those peaches get put on another truck and shipped right back to South Carolina, where they end up on our store shelves," Tom said. "Can you explain how that makes any sense?"
The national and international distribution chains that Tom described have evolved over time to the point where they are highly organized and streamlined. For American agriculture, this network has helped farmers increase their bottom line and enabled a remarkable trade surplus in agriculture - which set records last year at nearly $43 billion and supported more than a million American jobs.
But we also know that there are tremendous untapped opportunities for producers to sell their products locally, further fueling the U.S. economy and expanding agriculture's impact. When South Carolina peaches are sold directly to South Carolinians, there are uniquely local economic benefits. When the farmer, the packer, the wholesaler, and the retailer all prosper in the same region, it creates opportunity for home-grown jobs, draws more people into agriculture, and fosters relationships between the people who buy food and the people who grow it.
This is happening in places like Charlottesville, Virginia, where Local Food Hub aggregates products from more than 70 farms in the state, markets them to institutions, restaurants and grocers, and distributes them to more than 150 locations in the region, including the cafeteria at the U.S. Department of Agriculture. The "food hub" model is gaining traction nationwide as a vehicle to help small and midsized farms supply buyers they cannot reach on their own, and for these buyers to access large volumes of local product.
It is happening in Viroqua, Wisconsin, a town of 4,400 that was rocked by a factory closing and the loss of 81 jobs in January 2009. The Vernon Economic Development Association leveraged public and private funds and bought the shuttered factory, turning it into an incubator for food businesses. One new business using the space is Keewaydin Farms, a food hub selling organic Wisconsin-grown products to grocers in the Midwest; another is the Fifth Season Cooperative, which connects producer-members with new institutional markets.
In both Charlotte and Viroqua, the USDA helped these businesses grow. That's because local and regional food systems are an important part of our broader mission to expand economic opportunities in rural America.
Here's why.
First, we know that there is a segment of farmers and ranchers who are too small to compete on the global market, but large enough that the proceeds from a farm stand or weekly farmers market are not going to cut it. Expanding into regional sales is an opportunity for them. With access to these larger markets, they have a chance to prosper. Without these connections, "agriculture of the middle" will continue to disappear.
Business models like food hubs and cooperatives, and infrastructure like regional storage facilities, processing plants, and distribution networks, can help these producers reach new markets that are demanding locally grown products. That's why the USDA supports business development planning as well as the brick and mortar needed to get food from the farm to the consumer.
A second reason why regional food systems are on the USDA's agenda is because they can offer important opportunities for young and beginning farmers. The average age of an American farmer today is 57; for every farm operator under the age of 35, we have six over 65. Unless a young person inherits land and equipment, it is unlikely that he or she will have any chance at getting into - let alone surviving in - the global marketplace. On the other hand, with a relatively small plot of land, new farmers can build a profitable business selling high-value crops like produce directly to consumers. I see tremendous energy among young and beginning farmers for entering farming through local and regional sales.
Several USDA grant programs support groups that are training and advising young and beginning producers. Since 2009, more than 40 percent of our farm loans have gone to beginning producers to help them acquire land or equipment or to finance operating costs.
A third reason the USDA values regional food systems is because they have demonstrated the ability to create jobs and strengthen local economies. Take, for example, South Carolina, the state where Tom Trantham first posed the peach conundrum. Late last year, Clemson University analyzed the impact of the state's "locally grown" campaign, which labels South Carolina-grown products and publicizes them with consumers. They found that the campaign has had an overall economic impact of $88 million per year and added nearly 200 jobs to the economy.
A study by Iowa's Department of Agriculture found that in 2010, an estimated $59.4 million in sales and nearly 600 jobs were generated directly or indirectly from farmers market activities. Similar studies have been replicated across the country, with equally compelling results.
With these findings in hand, communities and local policy makers are incorporating regional food systems into their economic development plans. Some are coming to the USDA for support. The Wyoming Rural Development Council and Wyoming Business Council secured a USDA grant to figure out how to turn county fair buildings - used only once a year - into commercial kitchens for farms and small food businesses. Another USDA grant helped them start year-round farmers markets for the producers to sell their products.
Efforts like these are not limited to certain regions, and the producers and businesses expanding regional food systems defy many outdated stereotypes. Gone are the days where "buying local" meant only fancy vegetables in America's big cities. In Eastern Oregon and Washington, I met wheat farmers who saw opportunity at home and held back some of their high-quality wheat for regional bakeries. Some of the biggest demand for USDA programs targeting local food producers comes from the Midwest, including from large-scale operators. In fact, in a report last year, USDA's Economic Research Service found evidence that large, midsized, and small farms are all engaged in local sales.
For all these reasons, regional food systems are one part of USDA's broader agenda to support a strong rural economy and ensure a thriving U.S. agricultural sector.
Yet many people still do not realize that USDA plays a role in helping to develop regional food systems. That's why, over the last few years, we've created tools to publicize our resources and how they're being used.
In 2009, Secretary Vilsack and I launched the Know Your Farmer, Know Your Food initiative. The initiative helps us coordinate and strengthen the USDA's work on regional food issues and publicize our programs. One example of this outreach is a tool called the Know Your Farmer, Know Your Food Compass, an online guide to USDA regional food resources and an interactive map showing where and how they are being used. It's a way to identify which of USDA's many programs are the right fit for a specific type of project or recipient. It's a way to see who else is utilizing these programs and what they're using the resources to do. By finding projects on the map and identifying the recipients, those in the early stages of project development can connect with those already up and running and share strategies.
At this point in the evolution of the USDA's work on this issue, I am reminded of the 1989 film Field of Dreams in which Kevin Costner carves out a portion of his cornfield to build a baseball diamond. "If you build it," says a voice, "they will come." While the local-foods diamond may be built and Americans' interest is growing, we also recognize that there's a great deal of room to expand our efforts.
Today, communities around the country are finding innovative ways to expand the agricultural economy into this important new space. These efforts strengthen the producer-consumer connection and bring new jobs and economic benefits to rural communities. To further expand regional food systems will take work: the development of innovative production techniques, utilization of new and repurposed infrastructure, and creative marketing tactics. The USDA has resources to support these efforts. We've built the Compass. We are waiting for people to come and see what we have to offer.