Academic Writing Isn't a Throwback to the 1950s
The woman who inspired the "writing revolution" described in a new Atlantic magazine story explains why her methods are neither rigid nor formulaic.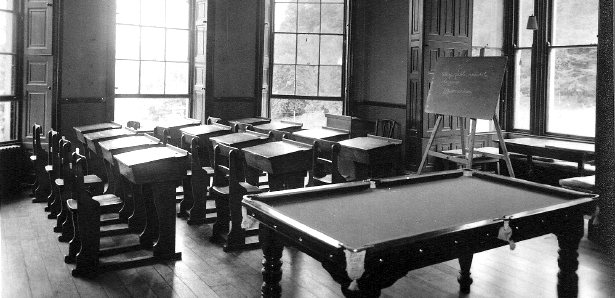 Charlie Dave/Flickr
Over the course of a long career, I have been a classroom teacher, a reading specialist, a head of an independent school for learning and language disabled students, and a superintendent of a public school district with a population of students from extremely deprived and troubled backgrounds.

It became obvious to me years ago that we educators were failing at teaching writing to all but a very small percentage of linguistically gifted students. Most of our students were not transferring and generalizing what they had been taught in one class to other subjects or to the next grade. I was acutely aware that despite three graduate degrees from a highly respected institution, I knew almost nothing about the research that would inform improved writing instruction.
This is the problem at the heart of Peg Tyre's Atlantic story "The Writing Revolution." The teachers at New Dorp, the Staten Island school she profiled, understandably expected incoming ninth graders to enter high school with a few fundamentals, such as how to construct a paragraph and write a simple essay. But the students there did not have these skills -- not because they couldn't learn them but because they hadn't been taught them.
Although "The Writing Revolution" is a fine description of the successful implementation of an innovative, evidence-based writing program, the article does not accurately reflect the instructional approach -- an approach largely modeled after the one I developed at the Windward School. It is definitely not the drill-and-kill 50's style writing curriculum, a throwback to a time when grammar was isolated from subject matter and feedback on student writing was too vague to help students truly improve their work.
Furthermore, it is misleading for Tyre to call the program "initially, a rigid, unswerving formula." The principles relating to sentences, outlines, and compositions are clearly established and remain the same from grade to grade. But from the outset, there is plenty of room for teachers to individualize lessons, adapt the strategies to any content area, and create a variety of activities that reflect the priorities that have been established for the class. And as Tyre makes clear, once students master the skills required for effective written communication, they are encouraged to bend the rules.
It is insulting to the students to assume that a topic has to be about their own lives in order for the assignment to be interesting.
The program adopted by New Dorp challenges the notion that preparing students to master expository writing will stifle their creativity. We've reared a generation of students on this diet and we see the outcome of that misguided thinking in test scores throughout the country.

But while the New Dorp program does focus on the fundamentals of writing, it doesn't do so in a dull, creativity-killing way. Assignments that ask students to explain a process, justify a position, describe a room, or trace the history of an event can be extremely engaging to them (depending on the topic, of course, and provided they are taught the skills needed to complete them). It is insulting to the students to assume that the topic has to be about their own lives in order for the assignment to be interesting.
My decision to focus on expository writing was driven by my belief that it was impossible for students to reach their potential -- either academically or in the workplace -- if they could not write well. The schools in which I worked became labs, developing the strategies that would move us toward our goal. As we achieved success, there were many requests for professional development, coming from affluent suburbs as well as the inner city. Visitors on tours of our school saw the astonishing progress the students were making and their enjoyment and pride in their work.
When my colleagues and I began presenting our principles of good writing instruction at other schools, we expected resistance, skepticism and maybe even hostility. Self-centered writing has been encouraged for so many years that there are many teachers wedded to the "creative" approach when they develop writing assignments. Much writing instruction prior to ninth grade, and at times even in high school, is based around journals, free writing, memoirs, poems and fiction.

Length -- the mere achievement of getting words down on paper -- is prized over the ability to construct succinct, powerful sentences and coherent, unified paragraphs. Writing activities are often "self-centered," championing students' ability to express feelings or relate a personal experience, instead of teaching them how to communicate effectively to an audience. Students are given little or no preparation for the types of expository writing required in high school, college, and the workplace.
I have learned that celebrating writing is not the same as teaching children how to write -- how to craft good sentences, develop a well-formed paragraph, and improve their work. Too often, teachers merely tell students to "add detail" or "summarize." Frustrated students don't know what to do, and many teachers haven't learned the proper teaching skills in their graduate or professional development classes to effectively help them.
Make no mistake -- done right, good writing instruction can extend learning. Diagramming sentences or doing page after page in grammar texts does not automatically result in better writers, although more able students enjoy these types of activities. There is evidence that confirms that teaching grammar in isolation does not lead to better composing. But research does confirm that when students begin to write more complex sentences, their reading comprehension improves. When they develop outlines, their organization and knowledge of text structure improves. When they respond to verbal questions using the prompts Tyre describes in the article, their oral language becomes more precise and sophisticated.
My colleagues and I have been pleasantly surprised by the positive reception we've received as we presented our methods to various schools. The vast majority of teachers do seem to recognize the value of teaching expository writing, even in the earliest grades, and they grasp the critical importance of sentence work. They understand the links between complex sentences, reading comprehension, and orderly thinking.
This is encouraging because our children deserve better instruction - and we need to help dedicated teachers learn how to deliver it. I know this is possible. When activities are geared toward reasonable developmental and academic expectations, I have seen many students master the fundamentals of writing -- and gain a sense of appreciation of the power of written language.