A New Gold Rush: Montana's Judicial Elections Are About to Get Political
The Citizens United case claims another victim.
The Citizens United case claims another victim.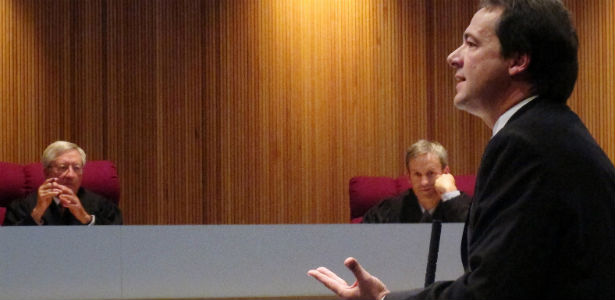 Montana Attorney General Steve Bullock argues an earlier campaign financing case in front of the Montana Supreme Court in 2011. Bullock is defending the state's Corrupt Practices Act -- later struck down by the U.S. Supreme Court, which cited the recent decision in Citizens United. (Associated Press)
Late Monday, the Citizens United case claimed another well-intentioned victim -- a Montana law which prohibited political parties from endorsing or contributing to the campaign of a candidate for judicial office. The statute, part of the state's scheme to protect the integrity of its nonpartisan judicial elections, had stood as a bulwark against the corroding effect of money's influence on judicial integrity. And now it is gone, thanks to the United States Supreme Court, prey to the dubious notion that the First Amendment should permit our judicial elections to look and feel as dirty as our political campaigns do.
In Sanders County Republican Committee v. Bullock, a divided panel of the 9th U.S. Circuit Court of Appeals overturned a trial judge, ruling 2-1 that Montana's law deprived its voters "of the full and robust exchange of views to which, under our Constitution, they are entitled." Because the law criminalized a form of political speech, always the highest on the First Amendment pecking order, and because Montana could not justify the restriction placed upon that protected speech, the statute had to fall. Don't like it, Montana? Stop holding judicial elections and select judges another way, the 9th Circuit declared. Here's the opinion.
America is going to get more of what it seems to want -- state judiciaries beholden to special interests and corrupted by money and lobbying
The majority decision was written by U.S. District Judge Jed Rakoff, a Clinton appointee who sits now in senior status in the Southern District of New York, about as far as you can get, geographically and metaphorically, from the wide expanse of Big Sky Country. Judge Rakoff is a gutsy judge -- for example, ten years ago, in U.S v. Quinones, he declared the federal death penalty to be unconstitutional, only to be overturned on appeal-- but there was little fight in him this time around. In fact, he dispatched Montana's rationale for the law so briefly, in so few pages, that I had to go back and see if I had missed something the first time around.
The judge probably took as little time as he did because he thought the matter a simple one. Quoting Supreme Court precedent, he wrote that "if Montana 'chooses to tap the energy and the legitimizing power of the democratic process, it must accord the participants in that process ... the First Amendment rights that attach to their roles.'" You can't have elections for judges, in other words, unless they look more like political elections. After Citizens United, Montana could derive "no legally cognizable benefit" from continuing to enforce the law, Judge Rakoff concluded, before ordering the trial judge to immediately enjoin it.
The matter wasn't so simple to Judge Mary M. Schroeder, a 9th Circuit jurist who also sits in senior status. In her dissent, the Carter appointee quickly pointed out that what the majority's decision really did was "encourage a judiciary dependent upon political alliances," one which lead to "political indebtedness, which in turn has a corrosive impact upon the public's conception of the judicial system." The Rakoff opinion, Judge Schroeder wrote, too quickly dismissed the fact that nearly every state which now holds some type of judicial election -- 39 in all -- has enacted laws designed in part to distinguish those races from political ones.
The Citizens United ruling may have made it easier for the Republicans to assert their first amendment rights in the first place. And Judge Rakoff could not have written the opinion he did without the cover the case provided. But to Judge Schroeder the most relevant Supreme Court precedent in the Montana case came from a 2002 decision, Republican Party of Minnesota v. White, in which the Court declared, by a 5-4 vote, that Minnesota officials could not enforce a provision of their own judicial ethics rules which prohibited judges or judicial candidates from announcing their views on legal issues during judicial election campaigns.
The White decision instantly gutted similar restrictions in states all around the nation. It is the reason you can sit home during an election season, in most any state, and see a judge or a judicial candidate begging for votes on television from the very people who are, or who may one day become, litigants. It was Justice Antonin Scalia, today's most cynical justice, who wrote the majority opinion. "...[S]ince avoiding judicial preconceptions on legal issues is neither possible nor desirable," Justice Scalia wrote, "pretending otherwise by attempting to preserve the 'appearance' of that impartiality can hardly be a compelling state interest either."
So what happens now in Montana? From Tuesday's Missoulian:
Matthew Monforton, a Bozeman attorney representing the Sanders County group, said its members are happy that "two Clinton-appointed judges agree with us on basic First Amendment rights." "Montana has a conservative electorate, but a Massachusetts judiciary, in large part because of state censorship laws enabling left-wing judicial candidates to masquerade as moderate," Monforton said Tuesday. "With this decision, that game is now over."

In its lawsuit challenging the endorsement ban, the Sanders County committee said "left-leaning judges" are intruding into state policy and that it wants to endorse candidates that "share its ideological views." Monforton said the group would announce later this week who it will endorse in the two races.
Guess which judicial candidates these folks are going to endorse? And guess at the extent of the obligations, both spoken and unspoken, those candidates, if they win, will automatically bring with them to the bench? Americans evidently have decided that they are okay with the idea of having their judges campaign like politicians. The Supreme Court's conservatives have consistently ratified the matter. And so now America is going to get more of what it seems to want -- state judiciaries that are as beholden to special interests, and as corrupted by money and lobbying, as the other two branches of government.