Who's Really Skipping School?
Think most truants are poor kids or kids with jobs? Think again.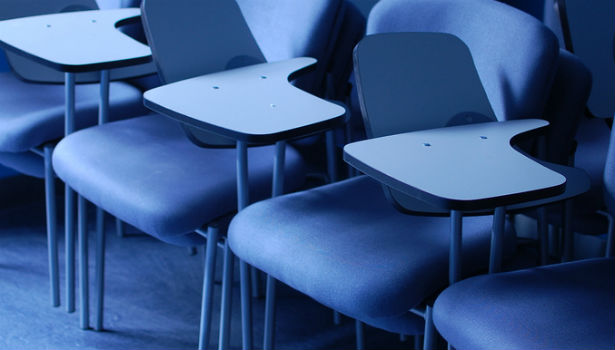 Renato Ganoza/Flickr
It's become a truism in the education world that students can't learn if they're not in school. But a new report on student absenteeism suggests many kids don't believe this behavior hurts them academically or even gets noticed by their teachers or parents.
Researchers from Get Schooled, a national nonprofit seeking to improve graduation rates and college success rates, conducted over 500 interviews with teenagers in 25 cities nationwide to produce Skipping to Nowhere, a new report released Wednesday. These respondents, interviewed at their local malls, were in grades eight through 12 and reported that they had skipped school at least once a month.
The nation's school absenteeism rate is significant. Researchers at Johns Hopkins University estimate that from 5 to 7.5 million students each year are not attending school on a regular basis. Students who miss more than 10 days per academic year are 20 percent less likely to graduate from high school than their peers, according to the University's Everyone Graduates Center.
Get Schooled's new report paints a portrait that offers fresh perspective about who, exactly, is skipping school. Among the findings:
Just over half of the respondents were white, with Hispanics accounting for 24 percent, African Americans for 16 percent, and Asians for 2 percent.

Nearly 60 percent of the respondents are growing up in two-parent households.

Two-thirds of the respondents described their household's income to be average or above average.

About a third of the respondents have parents who graduated from college, and an equal fraction had a parent who had dropped out of high school.

Only 6 percent of the respondents said they were skipping school either to work or to help care for a member of their family.
There is no "typical skipper," said Betsy Landers, National PTA president, one of several experts who participated in a conference call with reporters Tuesday to discuss the report. "The problem has no boundaries and threads across all demographics."
What might surprise some educators and parents (and should probably set off some alarm bells, as well) is the belief among the school-skippers that their absences go largely unnoticed at home or at school. Students rated their odds of being caught skipping by school officials as 50-50, and described their parents as even less observant. Those findings emphasize that "parents are the first line of defense," Landers said.
Also on the call with reporters was Todd Peterson, an assistant principal at Chaparral High School in Las Vegas -- one of the 25 cities in the survey -- who said campus efforts to address absenteeism are complicated by a lack of resources for support staff and truancy officers. At the same time, Peterson said, parents don't always treat early warnings from schools as seriously as they should, which means students often miss so many days that they have little chance of catching up.
The report suggests a sizable disconnect between students' perceptions of the consequences of their actions and the wealth of research indicating they are significantly hurting their academic prospects by cutting class. The student respondents said their grades and chances of graduating are only really at risk if they skip at least once per week.
When asked why they skip school, most common among students' "very big reasons" were that they find school boring (32 percent), that school starts too early (26 percent), and that it is more fun to spend time with friends (23 percent).
I was particularly interested in the students' answers when asked what would encourage them to attend school more regularly. More than half of them said they would be much more likely to come to class if "I could see a clear connection between the classes I take and the job I want."
That bolsters the argument for students' coursework to be more in line with their career interests, Steve DeWitt, senior director of public policy for the Association of Career and Technical Education, told me in an interview Tuesday. Unlike traditional vocational education classes, where students break off from their peers on the college track, CTE puts equal emphasis on academics and career training. Research indicates that students in CTE programs are more likely to graduate and to continue their educations beyond high school than their peers in traditional academic settings.
(DeWitt described two common hurdles to expanding CTE -- cash-strapped school districts have been cutting the programs, and there's a lack of support among policymakers who don't view CTE as an evolved instructional model.)
For some students, trying to capture their interest in high school could be too little, too late. Among the "school skippers" interviewed by Get Schooled, most of them said they started cutting classes regularly in middle school. Among the students in grades 10-12, nearly half -- 46 percent -- said they skipped school at least once per week.
Hedy Chang, director of the San Francisco-based national initiative Attendance Works, said addressing the problem of absenteeism has to start with the younger grades, rather than waiting until students are in middle or high school, when they're already struggling as a result of lost seat time.
The definition of chronic absenteeism is missing 10 percent of the school year. That typically means missing 18 days during an 180-day, nine-month calendar. The new report underscores the fact that too many students and parents don't understand how quickly a few missed days can add up to long-term academic troubles, Chang said.
"Two days a month on average - keep that up and you're going to fall behind," Chang told me. "We have to remember what we're seeing right now is the impact of not reaching those at-risk students early on."
This post also appears at The Educated Reporter, an Atlantic partner site.