What the Washington Post Can Learn From Vogue
Why does the upscale fashion glossy sell well even as other print media tank?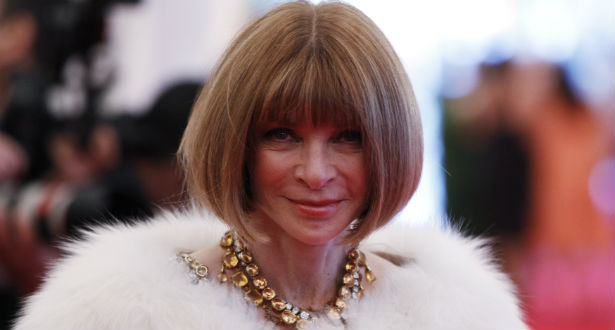 The Washington Post Style section, which has taken a 75 percent staff hit, has finally found some good news for print: the 916-page, 120th-anniversary September issue of Vogue. It observes a paradox actually common in hard times:
Besides actual clothing, fashion magazines sell ideals and aspirations, which can seem more valuable when economic conditions deem them less affordable. After four years of peril, these titles are all suddenly thriving, from the avant-garde (W has 412 pages) to the moms-and-proms (InStyle at 652). "The only trend I can say is that high-end women's fashion magazines are doing much better than magazines as a whole," said Steve Cohn, who edits the Media Industry Newsletter.

These magazines make money because they elevate the eye and sometimes the spirit, take the reader someplace special. These fantasy tomes feel a boost during economic distress -- like liquor and ice cream and movie ticket sales.
Vogue's legendary editor Anna Wintour is not the first to understand this paradox, which once applied not just to fantasies of glamour but to business thinking. As Alan Brinkley wrote of the Time co-founder Henry Luce:
In 1930, the early months of the Great Depression, he launched the first truly serious business magazine -- Fortune, a dazzlingly beautiful monthly designed to examine business and capitalism in a way that would provide knowledge about the economy that he believed most Americans, not just businessmen, should know. He hired talented writers -- some of whom went on to important literary careers (Dwight Macdonald, James Agee, Archibald MacLeish, among others) -- who examined and explained areas of business that were largely new to them and to their readers. He recruited talented photographers, among them Margaret Bourke-White. Fortune was, for a time, a lively, literate, serious, and path-breaking magazine in a field that had previously been largely celebratory.
Each massive issue, signature-sewn and printed on heavy stock (paper, like so many other good things, was cheap in the 1930s), was a visual as well as intellectual feast. While the Depression was far more severe in its impact that anything we have seen recently, there also seemed to be a far greater reserve of optimism and a passionate interest in new ideas, reflected in the diversity of solutions even among Franklin Roosevelt's advisors. Not all enthusiasms were healthy -- there was alarmingly uncritical admiration of Mussolini on one side and Stalin on the other -- but many were far-sighted. And Fortune reflected that range.
The bulk of the new Vogue in particular is all the more impressive since a single ad page can cost (subject, of course, to volume discounts) more than $165,000. Would an app bring in this kind of revenue? No tablet is large enough, and even the Apple Retina display is not sensitive enough, to achieve the impact of great photography reproduced on carefully selected paper. And for this kind of publication, nothing can take the place of leafing through large-format pages -- although tablets are wonderful for large volumes of text, from classic Russian novels to flight manuals.
Of course, it's often been observed that the luxury market still prefers print, and that catering to the one percent is part of the problem, not grounds for hope. It's also been said that print has become an old people's medium. But according to the Post, Vogue has a less-than-exclusive circulation of 1.25 million and a median reader age of 37.4 years. The $5.99 price is less than that of three issues of the daily New York Times. (In the 1930s, Fortune sold for a dollar an issue at a time when an apple cost a nickel and the daily Times ten cents.)
Reading the article, I started to think that the Post has been cutting in the wrong places. It still has some of the best feature writers anywhere. Robin Givhan, now writing for the Daily Beast, virtually created a new genre of politics and economics seen through the lens of fashion. Yet among newspaper writers and editors there is a prejudice towards inside-baseball stories of political maneuvering and a relative neglect of the cultural assumptions of political life.
Of course newspapers shouldn't try do just what fashion magazines do; even their fashion supplements should be distinctive. But the union of graphics and text to attract loyal readers in both print and electronic forms and to bring back advertisers is still possible. Conventional media wisdom will say it can't be done until somebody does it.
And if I'm wrong and print is virtually dead, then the September Vogue is one heck of a wake.